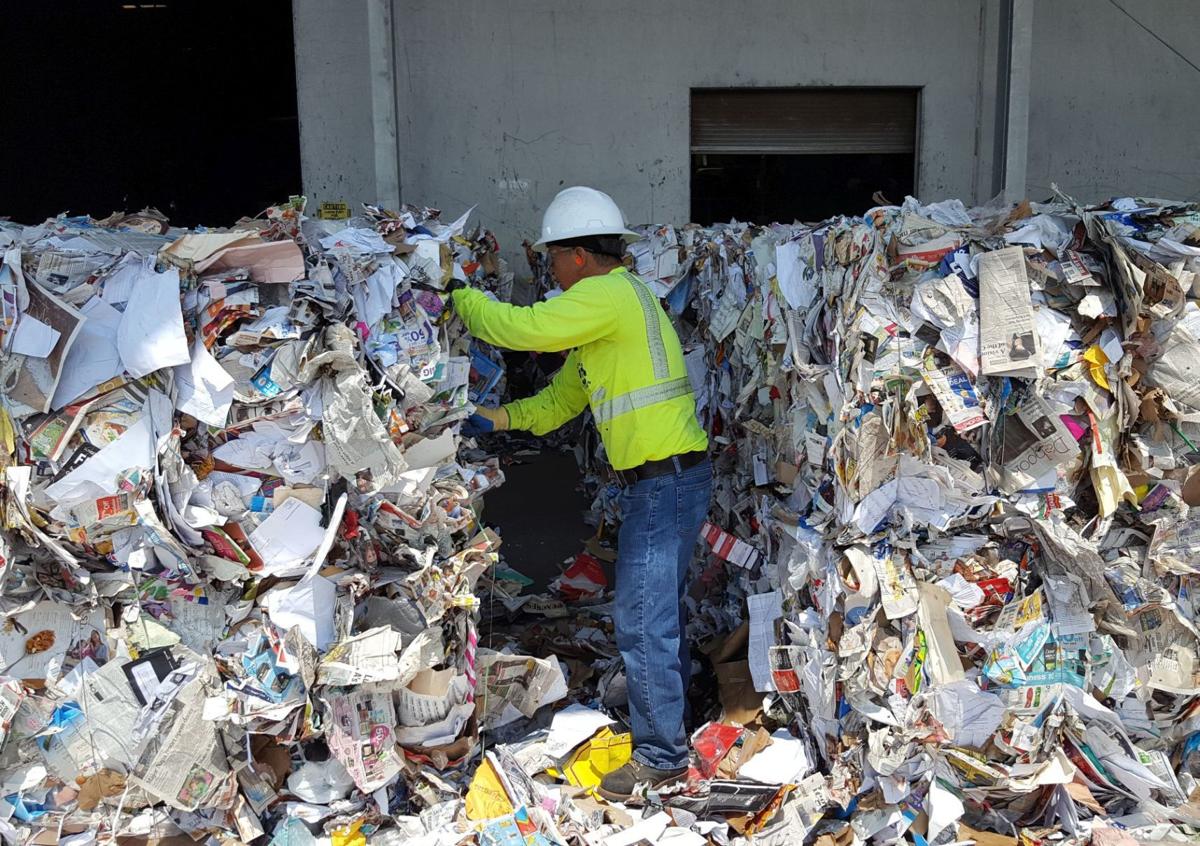 The recycling industry, both locally in Napa Valley and across California, is struggling mightily to process and sell recycled materials in the wake of changes in China's import policies and the U.S.-China trade war that has resulted in tariffs being imposed on both countries.
On Tuesday, recycling officials for Napa, American Canyon, and Upvalley communities gathered at Napa Recycling and Waste Services in American Canyon to send a common message to consumers: Clean up your recycling bins.
"It contaminates everything else we are doing" to recycle waste, said Kevin Miller, the city of Napa's recycling manager.
Every time a resident dumps garbage or liquids or the wrong material in a blue recycling bin, like Styrofoam or plastic bags that can't be recycled, it contaminates a bale of recycled material at a processing facility.
That contamination can bring down the value of bales, making them less profitable or impossible to sell to buyers who turn the recycled waste into something new.
"The biggest issue is the plastic film [and] the flexible plastic packaging," said Tim Dewey-Mattia, public education manager at Napa Recycling & Waste Services.
Things like shrink wrap, plastic grocery bags, food packaging, and other soft plastics can easily get mixed into paper recycling while going through machinery and conveyor belts.
Recyclers can't use soft plastics for anything, and ultimately it ends up in landfills, said Dewey-Mattia.
Sometimes, the problem for recyclers is consumers dumping items into blue bins that should never be there in the first place, such as garbage when the trash bin is full.
One day Napa Recycling and Waste Service technicians pulled a 2,400-pound "hairball" consisting of electrical "cords, garden hoses and stretchy plastic" from their equipment.
Miller said Napa has done "a great job" of embracing recycling over the past two decades, and, "we don't' want to go backwards."
In 1995, Napa recycling operation was diverting 27 percent of all waste from going into a landfill, according to Miller. Nowadays, that rate is up to 69 percent.
"That's tens of thousands of tons of waste that hasn't gone into a landfill," Miller said.
But, he worries that once people hear about the problems plaguing the recycling industry, they will "just toss" their recyclables into the garbage.
"We don't want that to happen," he said.
Erin Campion, communications manager for Recology, which handles recycling for American Canyon and Vallejo, agreed with her Napa counterparts that they need consumers to be more careful with their recycling carts.
"Keep recycling, keep putting things in the right bin," Campion said. "That means [no] food in the recycling, uncleaned plastics or liquids."
The message is the same for Calistoga, St. Helena and Yountville, according to Christy Abreu, community outreach coordinator for Upper Valley Disposal Service.
"We're focused on cleaning up" the recycled materials they get, she said. Currently, about 19 percent of the recyclables in the blue carts upvalley are contaminated with the wrong things.
Abreu also serves as president of the California Refuse and Recycling Council, a statewide association of recyclers. They have launched a statewide campaign aimed at "reeducating" communities on the importance of keeping recycling bins as clean as possible from troublesome items.
The more time companies like Abreu's take to pull out contaminants, the costlier their operations become.
"When you slow down the line," she said, "it reduces productivity and increases costs."
Compounding the industry's problems is China for multiple reasons, according to Abreu and others.
For a long time, the U.S. sold much of its recycled materials to China for reprocessing. But starting last year, Chinese officials adopted a greener policy aimed at cleaning up their nation's environment, and that included reducing the amount of recycled paper, cardboard, plastics and metals from American sources.
"It's a done deal at the moment" not being able to sell to China, said Abreu.
Campion concurred, saying: "Previously, most of it was going to China." But, "They've now banned most recyclables that don't meet a certain contamination level."
Instead of taking bales with 10 percent contaminants, Campion said of China, they're now accepting only those with ".05 percent contamination."
"It's nearly impossible" to meet that requirement, she said.
Napa's Dewey-Mattia agreed with Campion, saying China doesn't "want to take our recyclable materials anymore."
Additionally, China recently announced a 25 percent tariff on old corrugated cardboard and other recovered fiber, as well as scrap plastic, in retaliation of the latest U.S. tariffs imposed by the Trump administration. The new tariffs go into effect on Aug. 23.
As a result of China's actions, American recycling companies are selling their bales to Mexico and other Asian countries, including Vietnam, Malaysia and Indonesia.
The problem, however, is those alternative markets are getting flooded with recycled goods, driving down prices and making it tough for U.S. companies to make a profit.
"The revenue from the actual bales just isn't there anymore," Campion said, causing Recology to either break even or even lose money on some of their recyclables.
Dewey-Mattia said in some cases, such as soft plastics that don't have a market, recyclers ship it to landfills at a high cost to them.
"We have to pay almost $70 a ton if we send it to a landfill," he said, compared to selling recycled material for $10 to $20 a ton to a factory that can reprocess the material, be it paper, metal or hard plastic.
Abreu said California and the U.S. need to invest in domestic factories that can process recyclables instead of relying on foreign countries and make their industries more sustainable.