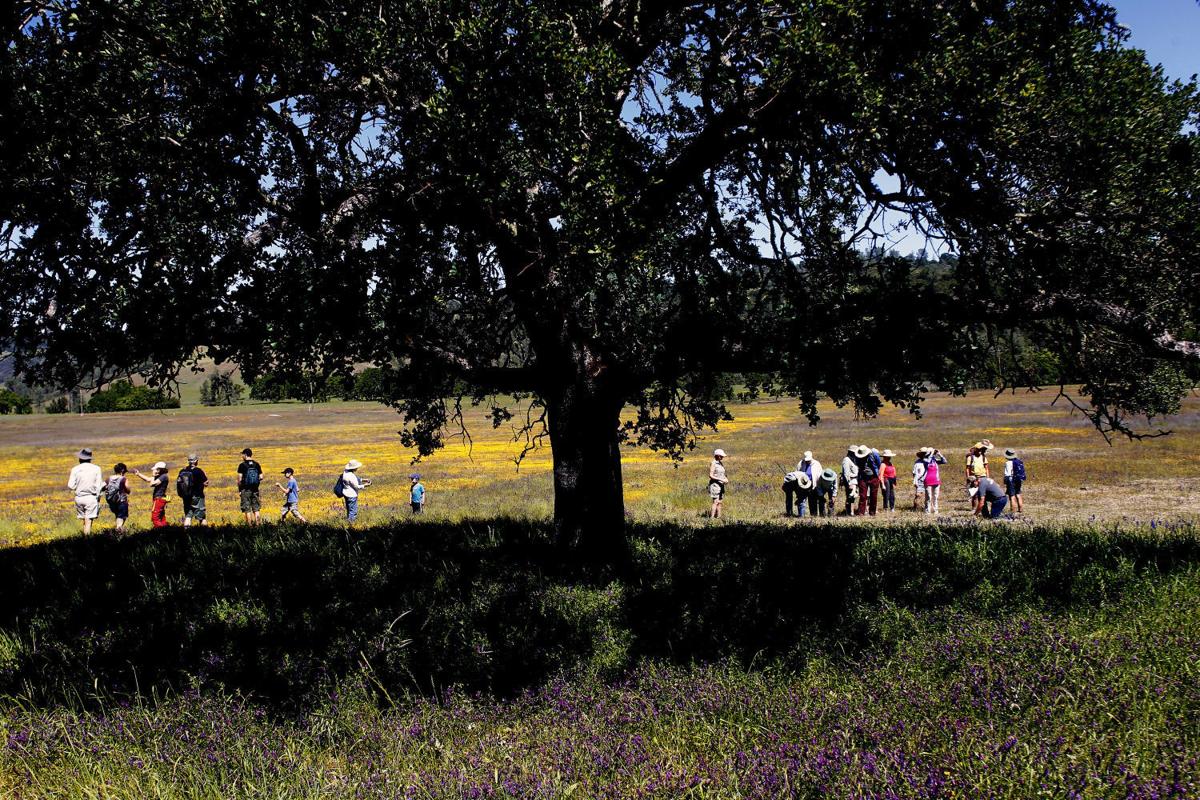 Sudden Oak Death, a plant disease that has killed more than 50 million trees since appearing on the West Coast more than two decades ago, is increasing in frequency in Napa County and has turned up in the city of Napa for the first time in eight years, according to researchers.
A volunteer-led study of Northern California woodlands revealed 50 trees testing positive for the disease-causing microbe out of 265 surveyed in Napa County, the forest pathology laboratory at the University of California, Berkeley reported earlier this month.
Trees bearing signs of the disease were most common in wooded areas on the Napa Valley's west side and also were found in Browns Valley, along Redwood Road west toward Sonoma County, as well as near the Napa River Trail between Lincoln Avenue and Trancas Street, according to Bill Pramuk, a Napa arborist who has directed a local survey by volunteers since 2011. Scattered finds also were detected off Green Valley, Wild Horse Valley and Coombsville roads, he said last week.
Statewide, 1,732 of 16,227 surveyed trees were found to carry the sudden oak death pathogen, nearly a fifth of the total. Overall, sudden oak death has infected trees in 14 California counties, killing some 50 million oaks and tanoaks, according to the UC Berkeley research center.
Directors of the survey advise property owners to track the progress of sudden oak death online and through smartphone apps, and to protect their trees by removing bay laurels – a tree type that often serves as a carrier for sudden oak death – within 10 yards of any oaks. Residents also can treat oaks with phosphite-containing substances to boost their resistance the pathogen, although sudden oak death has no cure, said Pramuk.
"I'm concerned, but I would not say alarmed," he said. "Some trees are resistant, and bay trees can be managed – cut off the lower branches, or remove trees entirely if they're not critical to local ecology."
"If SOD is within a half mile of your property, then it's probably time to start doing something to protect your oaks. Bottom line is, the most effective approaches we have devised are preventive. You can do something to slow down this disease if you act preventively; you need to take measures before the disease infects your oaks."
UC Berkeley's sudden oak death survey relies on the SOD Blitz, an annual joint effort by teams of citizen surveyors who track the disease's progress in various parts of California. Surveys take place in the spring when seasonal rainfall allows the microbes to spread.
"People come to town hall meetings around the state and take a (training) course to learn how to survey for sudden oak death," said Pramuk. "We tell them to go where they want to go – homes, neighborhoods, parks – and they get 48 hours to survey and area and collect samples."
For Napa County's April 26 excursions, volunteers were given collection packets with envelopes to store bay laurel leaves showing dead or dying leaves indicating blight, he said. Surveyors included with each sample a card marked with a tree's location compared to a map of other infected trees, along with information about nearby dead oaks and living bay laurels, infected or not. Pramuk then collected the samples and took them to the UC Berkeley lab for study.
The disease-causing agent is Phytophthora ramorum, a type of oomycete or water mold that requires water to transport its spores from one host tree to another. P. ramorum typically reaches its oak and tanoak hosts after first establishing itself on nearby bay laurels, and gradually erodes a tree's circulation before causing it to die in two to five years, according to Matteo Garbelotto, director of the UC Berkeley lab.
Sudden oak death is believed to have been accidentally introduced into California more than a decade before biologists identified it in 2000, Garbelotto said last week.
Although sudden oak death does not spread as quickly as insect-borne maladies like Dutch elm disease, humans can accidentally carry the pathogen farther afield on ornamental and nursery plants and firewood, or on mud and debris sticking to car tires and undersides, according to Pramuk.
Garbelotto attributed the resurgence of sudden oak death, in Napa and elsewhere, to the return of vigorous wintertime rainfall after five years of drought.
"What's happening is every time we have a rainy year, sudden oak death spreads farther in the state," he said last week. "What we detected is result of what happened two years ago when we had a very wet year; that really helped organism spread significantly. Last year, we didn't quite notice because it was drier, but this year it was wet again and all of a sudden, outbreaks became evident throughout the state. In some areas the level of infection is 10 times higher than in 2018."
Online maps showing the presence of sudden oak death in Northern California and Southern Oregon are available at SODMap.org and SODBlitz.org. In addition, smartphone users can download the SODMap app for iOS or Android devices not only to map the disease's extent, but also to estimate the risk of oak infection at the user's location. A "risk" button within the app indicates whether a specific tree is in danger of contracting the pathogen.
Get local news delivered to your inbox!
Subscribe to our Daily Headlines newsletter.