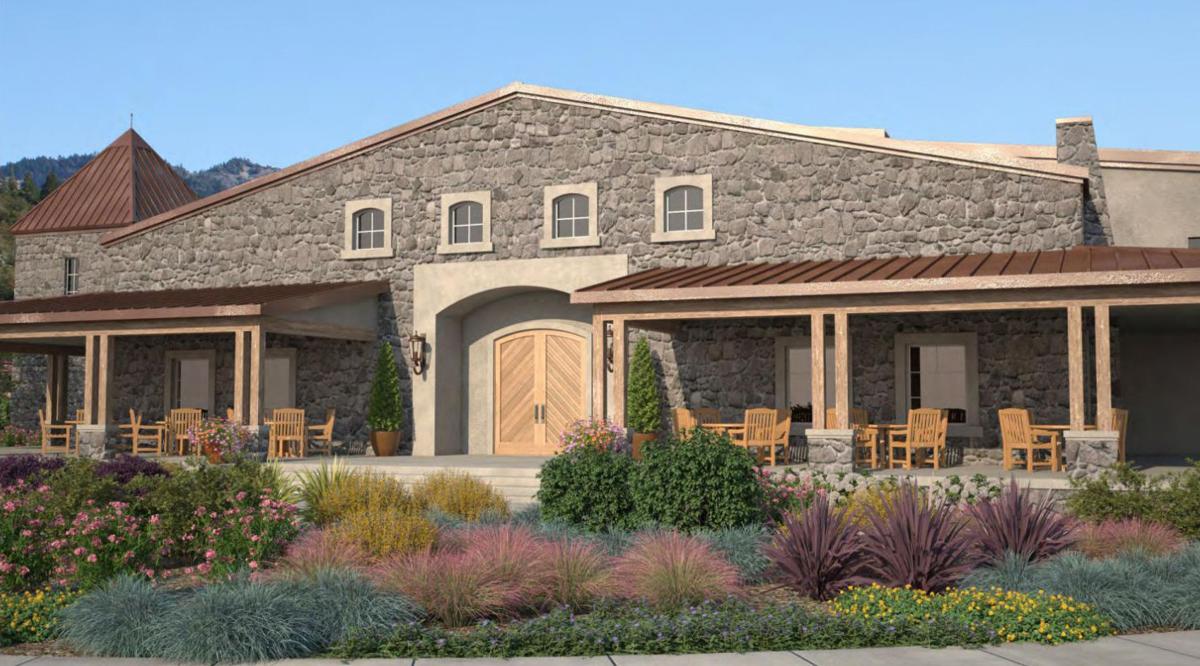 Girard Winery proponents are near to getting the answer that they've spent months seeking from Napa County – permission to build a new winery on the Napa Valley floor near Calistoga.
The Planning Commission deadlocked in October at 2-2 over the proposed winery, a vote that denied the project. Proponents appealed to the county Board of Supervisors.
Supervisors on Tuesday tentatively approved a proposed winery described in a county report as being "relatively large." They are scheduled to take a final vote at 10:20 a.m. May 10.
The case hinged on whether Girard and Clos Pegase Winery across the street can share wastewater ponds and a water system. Supervisors decided this move could save the vineyards, though they voiced concerns that still must be addressed in detail.
"If they can share a wastewater pond, that's that much more acreage that doesn't have to come out of production," Supervisor Diane Dillon said.
Vintage Wine Estates wants to build Girard Winery on 27 acres at 1077 Dunaweal Lane. It wants to produce up to 200,000 gallons of wine annually and have up to 550 visitors a week, plus up to 1,600 marketing event guests annually.
A 32,771-square-foot building would be up to 34 feet tall with two cupolas reaching 45 feet into the air.
The question dividing the Planning Commission focused on a county law allowing a new winery on parcels that are 10 acres and larger on the Napa Valley floor. The Girard property already has a water system and wastewater system that are being used by Clos Pegase Winery across the street.
Does county law allow a new winery on a parcel with improvements serving another winery, or does that equate to having two wineries on one parcel? Two commissioners weren't convinced that Girard should go forward.
Others also have doubts, even though Vintage Wine Estates owns both the Girard property and Clos Pegase.
Cio Perez of the Napa County Farm Bureau told supervisors that the idea of using the resources of one parcel to serve more than one parcel is urbanization. The practice removes limitations from properties that otherwise couldn't be used for anything other than agriculture.
Attorney Scott Greenwood-Meinert, speaking on behalf of Girard, saw no problem with the arrangement. Clos Pegase could install systems of its own. But having wineries share wastewater ponds in Napa Valley could save more land for vineyards, he said.
Wastewater ponds aren't wineries, so there wouldn't be two wineries on the Girard property, he said. Equating the two doesn't even make sense, he said.
"This project could be a model going forward," he said.
Supervisor Brad Wagenknecht had no objection to having shared systems in the Girard case. But he added he doesn't want to see a case where a property that couldn't support wastewater and water systems is able to be developed by using this method.
Dillon said the county could clearly state that the Girard property with a new winery and the shared systems has only one winery.
But she had concerns that Girard and Clos Pegase might someday end up under separate ownership. She could foresee a situation where Girard overloads the shared system on its property, leaving Clos Pegase without service.
For example, she didn't want Clos Pegase trucking in water if it cannot get enough water from the Girard property.
Those are the details that must be worked out in the final language going to the Board of Supervisors on May 10. Girard proponents said they were willing to make changes to the Clos Pegase use permit to address concerns.
Pat Roney of Vintage Wine Estates said most of the grapes for Girard come from northern Napa County. Girard, which at one time had a Napa County winery, presently ships grapes to leased property in Sonoma County to make wine.
"We want to bring the production back to Napa Valley," Roney said.