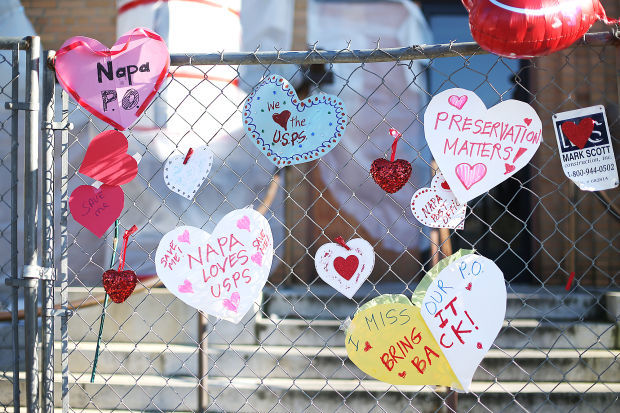 Napa County Supervisors are opposing the proposed demolition of earthquake-damaged post office building in downtown Napa.
The Board of Supervisors on Tuesday by unanimous vote said it wants the building to be preserved. Chairman Diane Dillon added this doesn't mean the building must continue to be used as a post office.
The United States Postal Service says it would take more than $8 million to repair and retrofit the historic building. Demolishing the structure at 1351 Second St. would cost $500,000. The 1933 Art Deco-style building was red-tagged following the Aug. 24 South Napa earthquake.
The USPS will be consulting with the State Historic Preservation Officer, since the Franklin Station outlet is on the National Register of Historic Places, officials said.
Last week's announcement that the USPS wants to raze the post office has brought out a chorus of critics who want the structure somehow preserved.
This week, the postal service opened a new downtown post office in rental space at Second and School streets, opposite City Hall. 
Get local news delivered to your inbox!
Subscribe to our Daily Headlines newsletter.