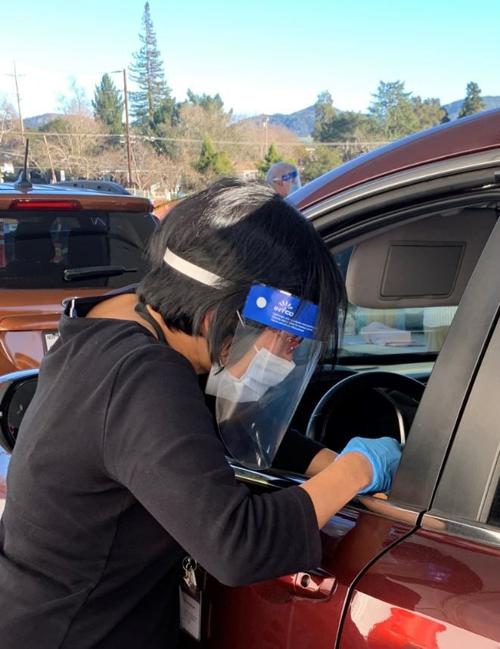 An insufficient supply of the COVID-19 vaccine has hampered Napa County's effort to immunize the segments of its population deemed currently eligible by state and federal officials, county public health officials say.
The county is eager to see as many of its eligible residents vaccinated as soon as possible, according to Public Health Officer Dr. Karen Relucio, and has worked diligently to create the infrastructure needed to support such a campaign. Still, the same obstacle has plagued the county's efforts since the arrival of the first doses in late December: there simply isn't enough vaccine to go around.
"At this point, we'll have enough vaccine to get us to Wednesday," Relucio said in an interview Thursday morning. "Unless we find out on Tuesday what our allocation will be for the coming week, that's all we have. It is literally day by day."
Complicating things further for local officials is that federal and state level guidance seems almost completely oblivious to the situation on the ground. In mid-January, Governor Gavin Newsom announced a goal of vaccinating more than 1 million California residents over the course of a single week – a time period in which Napa County, as part of that effort, was supposed to vaccinate 10,000 of its own residents.
County Supervisor Alfredo Pedroza at the time said the state would have to provide an adequate supply of doses if Napa County were to meet its goal.
Almost in tandem with Gov. Newsom's announcement, both state and federal level officials revised earlier guidance and recommended that municipalities prioritize residents age 65 or older for immunization, drastically expanding the vaccine-eligible pool of the population and therefore the demand for what were already limited resources.
That revised guidance reneges on earlier recommendations to prioritize residents by their work sectors, Relucio explained. Last week, the county had said it would move forward as directed to vaccinate workers in the education, childcare, food and agricultural sectors.
This week, in light of the direction, to expand the pool to ages 65 and up – a population 25,000 strong in Napa County – it's not clear when those workers will be able to receive the vaccine after all.
"I wanted to get to our education and childcare sectors vaccinated as part of our efforts through Wednesday, and now we're only able to do a portion of them," said Relucio, explaining that the changing guidance has provoked much frustration. The county has not yet begun vaccinating workers in the food or agricultural sectors, including winery workers, she said.
Part of the confusion, Relucio thinks, is that state officials had forecasted vaccines would at this point be available "in abundance" – when in reality they remain scarce. She asked that county residents remain patient. The vaccine interest list, which must be sorted through by county staff, is more than 30,000 names long, many of whom may not be eligible.
"It's not that they are being forgotten," Relucio said, of residents who expressed interest and have not heard back. "They're on the list. We're asking for more doses – our elected officials are lobbying for more doses. We just don't have enough vaccines."
Asked what steps she believed the state should take to simplify mass vaccination efforts, Relucio cited an improvement in tracking the number of vaccines administered in real-time; having more clear and consistent guidance that "doesn't change so frequently," and providing local public health departments with "a predictable supply" of doses.
So far the county has reported 13,911 doses administered, though officials say there may be a slight lag in real-time reporting. Residents looking for the latest administered count can go to https://www.countyofnapa.org/2739/Coronavirus-COVID-19 and scroll to the bottom of the page.
WATCH NOW: MONICA FLORES, A REGISTERED NURSE AT ADVENTIST HEALTH ST. HELENA, GETS HER COVID-19 VACCINATION
PHOTOS: FACES AND PLACES, JANUARY 17
CATCH UP ON NAPA COUNTY'S TOP NEWS STORIES
Catch up on Napa County's top news stories