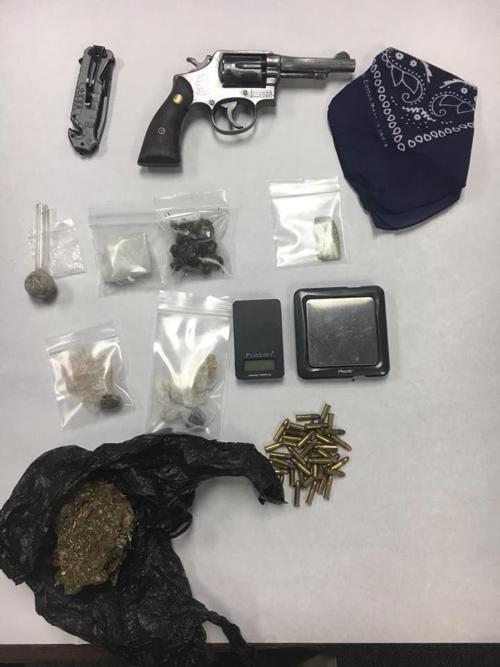 A 19-year-old transient from San Diego was arrested after allegedly being caught with a loaded .38 Special revolver and drugs packaged for sale during a traffic stop in Napa on Wednesday afternoon, according to Napa Police.
Police said on Facebook that Donovan Jordan Escalera "lied about his name, had gang paraphernalia, a loaded gun, ammunition, heroin, meth, marijuana, meth pipes, and items used to sell them."
Escalera was contacted after the vehicle he was riding in was stopped for a vehicle code violation. Officers could smell marijuana coming from the vehicle and Escalera, who was a passenger, admitted that he and the driver were in the process of rolling a blunt when they were pulled over, police said.
Escalera showed the officers loose marijuana on a tray. He then provided a false name to officers and was placed under arrest, according to police.
Police said that a loaded .38 Special revolver was found in Escalera's waistband.
Methamphetamine, marijuana, heroin, meth pipes, digital scales and .22 ammunition were also located during a search of Escalera and the vehicle.
Escalera is suspected of having ties the Sureno gang. Police said that he was wearing a blue shirt, blue shoes, had a blue bandana on him and, inside his backpack, was a notepad with Sureno gang related writing on it.
Escalera was arrested and booked at the Napa County jail on suspicion of being in possession of narcotics for sale, carrying a loaded firearm in a vehicle, being a prohibited person in possession of a firearm, being in possession of narcotics while in possession of a loaded weapon, providing false identification to a police officer, and possessing an open container of cannabis while in a vehicle.
Bail was set at $100,000.