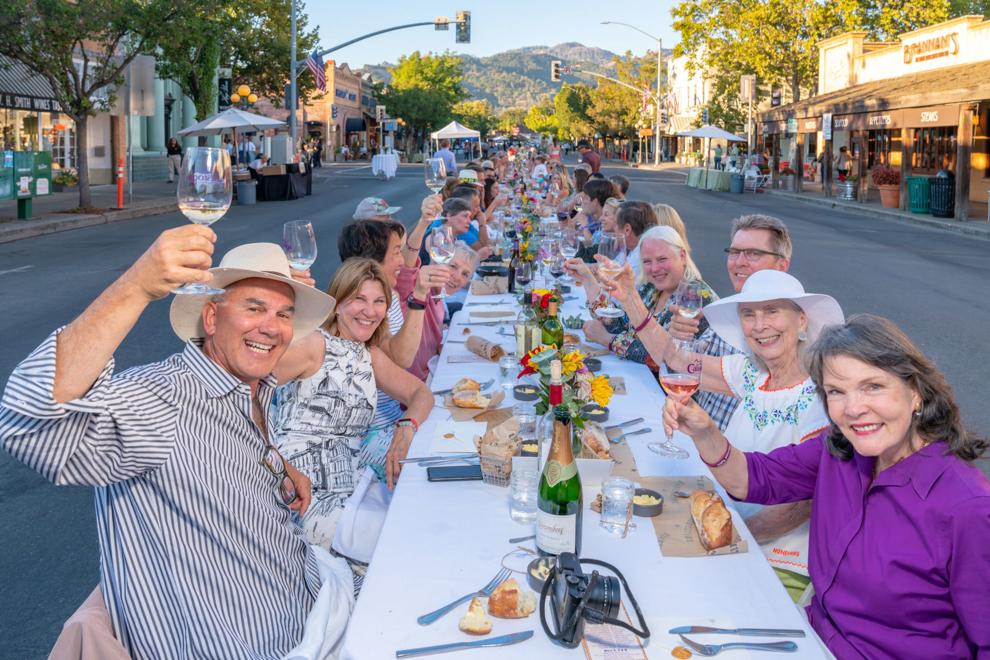 CALISTOGA — This dinner party stretched beyond the walls of any restaurant – all the way to the edges of downtown.
Down the middle of Lincoln Avenue, white linens, grapevine centerpieces and wildflower-dotted napkins extended nearly as far as the eye could see – from the Embrace Calistoga bed-and-breakfast all the way north to within steps of the Cal Mart. Along 1,000 feet of tables through the heart of Calistoga, nearly 800 guests would sit down to an open-air banquet furnished by a dozen local restaurants and numerous Napa Valley wineries.
Under a setting sun, locals and visitors alike dined, sipped, chatted and laughed during Sunday's sixth annual Calistoga Harvest Table, an event drawing the culinary fruits of the wine country into the outdoors as few other local celebrations can.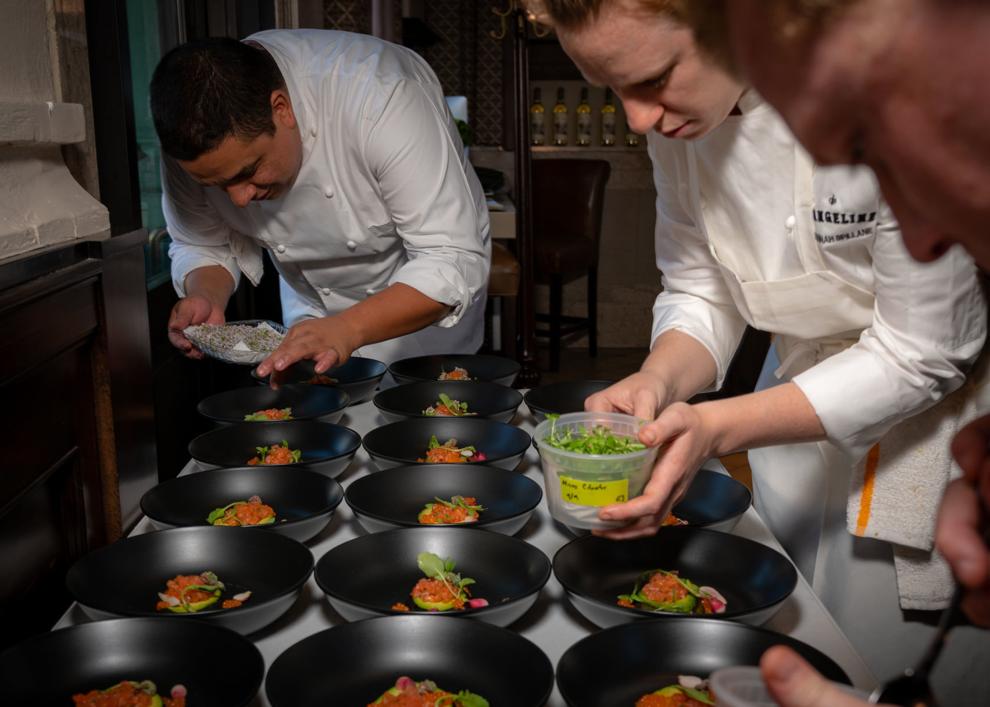 The chain of tables spanning Calistoga's heart was the canvas for winemakers and chefs to show their skill, and to share it literally in the atmosphere of early fall in the wine country, amid a backdrop of vineyards and the valley hills.
"It's a lot of work, but it's worth it," said Aldo Nuñez of Napa Valley Crust beside the truck-mounted oven he would use to bake 50 pizzas for the occasion. "To see this table, to see the tables all the way out to the Cal Mart – it's very, very heavy work but very cool. To bring the restaurants out onto the street is hard work, and I think people appreciate that."
Calistoga's Chamber of Commerce debuted its downtown-spanning feast in 2013, modeling it on a similar open-air banquet in Park City, Utah, according to the chamber's marketing director Charlene Peters. The banquet has taken place every September since (with one interruption, when the 2015 Valley Fire in Lake County moved the event into downtown restaurants), and is expected to raise more than $4,000 for the Calistoga Cares food pantry through a portion of ticket sales.
Over time, according to Peters, the Harvest Table has drawn nearly equal numbers of those visiting the Napa Valley and those living there. "It's a way we can intermingle; visitors can have that local immersion," she said.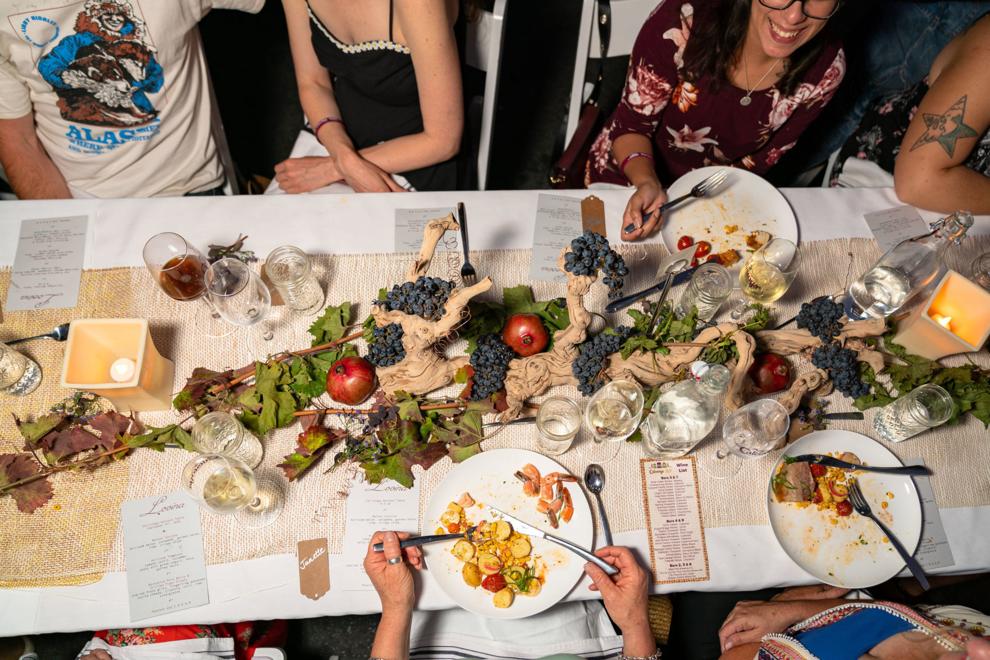 That mingling was especially visible near the west end of the 1,000-foot dinner table, where several dozen banquet guests packed the porch of Embrace Calistoga for glasses of wine and animated, laugh-filled conversation. Among them were a group of more than 30 people – from California and beyond – who had returned to Calistoga that weekend expressly for the Harvest Table and had raced to buy their tickets online in July before they sold out in 102 minutes, organizers said.
Holding court on one section of the patio, amid guests from Texas and Louisiana and elsewhere, were a couple wearing sashes marking them as royalty – or at least as the prom "king" and "queen" of last month's Yountville Residents Bash.
"What impresses me is the sense of neighborhood," said Rob Stout as he and Rita Simke moved from one guest to another. "The whole town seems to be here; you keep meeting people and they're so friendly."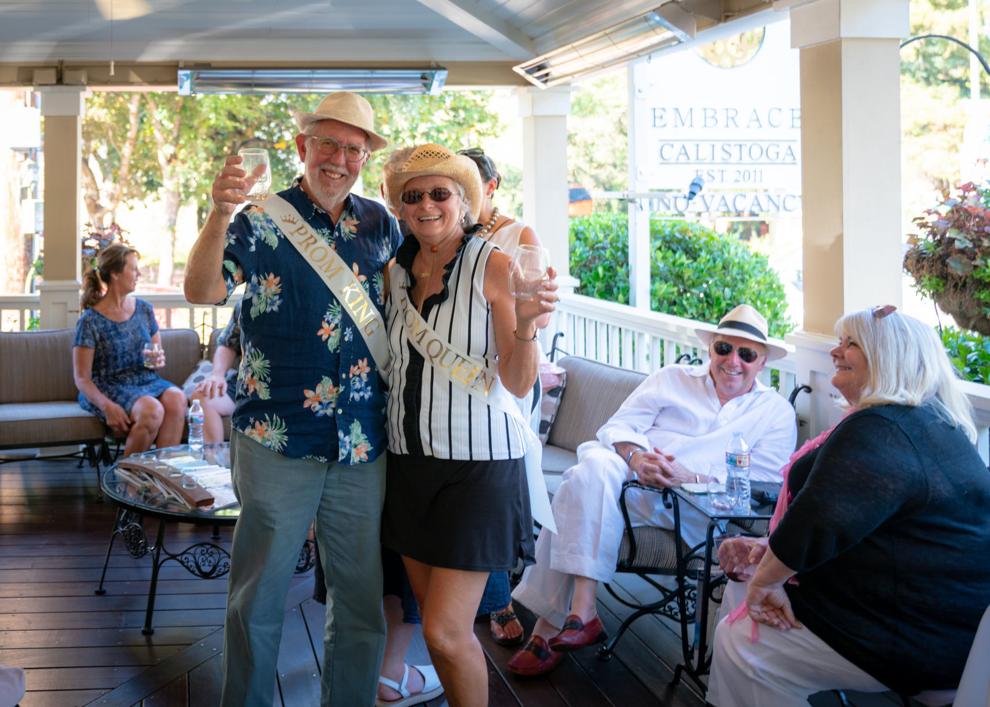 Some of the guests returning for this year's banquet remembered their instant camaraderie with total strangers, and the good cheer that reigned in 2017 despite punishing temperatures over 100 degrees. "The conversation just flows, as well as the wine flows!" said Kelly Ortego, who was making a repeat Calistoga visit from Lafayette, Louisiana with her husband Craig. "You just eavesdrop on a conversation and drop in, and we talk to everybody."
"As Cajuns, we like to say, 'Two people by themselves might be boring, but three is a party,'" quipped Craig Ortego.
While the Ortegos and others were chatting, those who soon would feed them were hard at work. Outside the Checkers restaurant, a thick and savory scent emanated from a large rotisserie where Mirko Petrovic was overseeing the slow roasting of two suckling pigs.
"I'm Serb and this is our heritage," said Mirko Petrovic, the designer of the rotisserie, as guests stopped by to pose for pictures beside the roasts. "At home, our recipes aren't made for five people, they're made for 50. I just love making people happy, showing people something my parent and my heritage have given me."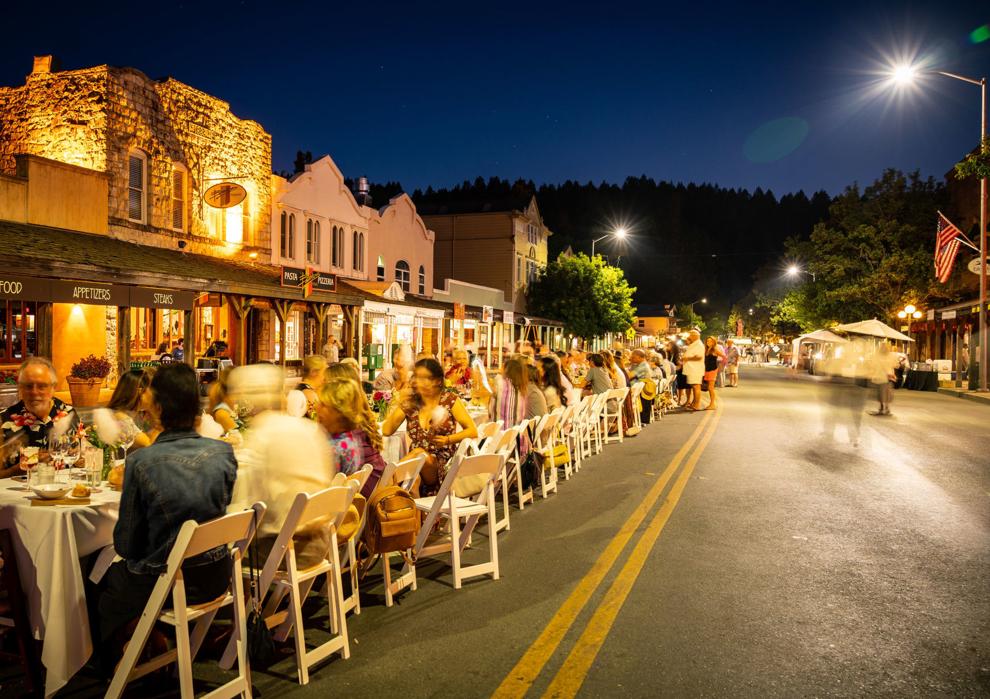 As 6 p.m. approached, the pigs were done to a savory crispness, staff inside the Evangeline restaurant readied dishes of king salmon tartare and charred avocado, and waiters emerged from other eateries to head straight for the table with bowls and platters of their own delicacies in hand.
A dinner bell sounded on Lincoln Avenue. The hundreds of guests, seated now, posed for pictures, cheering and hoisting their wine glasses aloft, ready to enjoy Calistoga's bounty into the night.