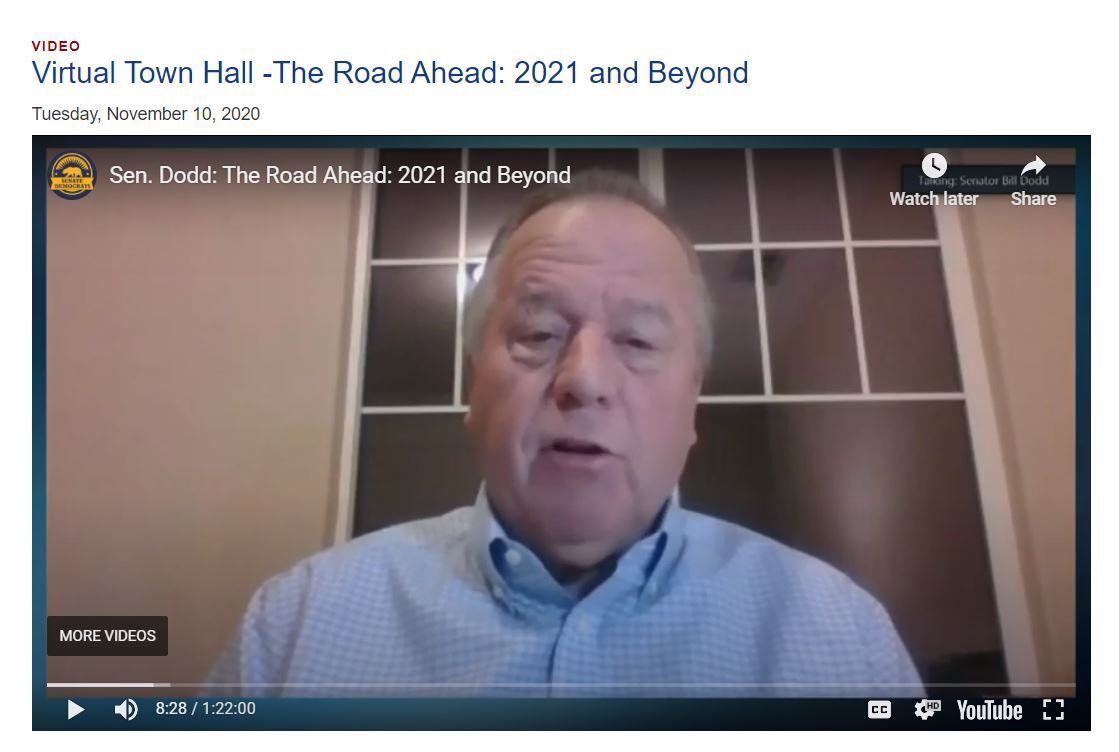 The year ahead for Napa County and the North Bay will be an uncertain one for businesses and residents alike, experts concluded at State Senator Bill Dodd's latest town hall.
Napa County residents need to do more in their personal lives to stay safe from COVID-19, local officials said.
Held virtually Tuesday night, the discussion — which featured Napa County Public Health Officer Dr. Karen Relucio — touched upon the pandemic's progression, the subsequent economic volatility as well as the passage of various ballot measures and state and federal elections. Each of those things, Sen. Dodd said, would play a role in shaping the road ahead for his district, which includes the entirety of Napa County.
Economic recovery in Napa County specifically could be challenged by the region's reliance on its hospitality and service industries — two sectors that have had "less job growth" even as the local economy began to recover after shutdowns were loosened in the summer and early fall, according to Sonoma State University Professor of Economics Robert Eyler.
"We're having a 'K-shaped' recovery; high wage workers are doing better than low wage workers," Eyler explained. "That split, especially in counties that have relatively large amounts of risk in respect to hospitality — Napa County being one, for example — is something to watch, as well as how the wine industry weaves through … a very strange harvest this year relating to the local fires."
The North Bay this year has dealt with twin crises in the pandemic and the recent wildfires. Fire season is near its end, though the pandemic remains a looming concern.
"COVID fatigue" is being blamed for the dramatic surge in new cases in Napa County.
On Tuesday, the Napa County Board of Supervisors was told that the county may soon regress into the more restrictive Red Tier or even to the Purple Tier because of rising COVID-19 cases. Neighboring Sonoma County has remained in the most restrictive tier, Purple, since the inception of the state's reopening blueprint.
An announcement this week of a promising vaccine in the works from Pfizer was "good news," Dr. Relucio told listeners Tuesday, though its storage requirements — the vaccine must be kept in temperatures far below freezing — could pose some logistical challenges. County officials, she added, spend "several hours a week" planning an eventual rollout of mass vaccination.
"Hopefully at the end of 2021 or perhaps in early 2022, there will be a mass vaccination for the community to actually provide immunity to the community in a way that's safe," she said.
Napa County and the North Bay are seeing a "high rate of rise in cases" at the present moment, Relucio continued, which will further complicate the region's reopening. She spoke optimistically about moving ahead with reopening different sectors once this wave is contained.
The Biden-Harris administration may also alter the course of the pandemic. President-Elect Biden's stated intentions to control the pandemic could encourage the passage of a second round of CARES funding, according to SSU's Eyler.
Eyler's colleague, David McCuan, professor of political science at SSU, warned listeners to brace for "some level of upheaval" from the Trump administration into 2021. He spoke of the regional diversity among residents of Senator Dodd's district — the pronounced differences, McCuan said, between Yolo, Sonoma and Napa counties.
"Anyone who lives in the Bay Area … know(s) about that diversity … and the impact of that on our economy," he said, noting not just political but socioeconomic diversity.
Perhaps most pressing for Dodd's district, Eyler said, would be determining how to best support local businesses whose revenue under normal circumstances leans heavily on tourism. Job growth would be stunted by closure of local businesses, he explained, citing hotels, restaurants and bars.
"We need a pickup in tourism to support a lot of this district's workers and households," Eyler said. "It's going to be another couple of years (until we return to normalcy); people need to be patient."
Watch Now: Repeat wildfires ruining grapes in Napa Valley
Photos: These Napa County families lost everything in the Glass Fire
Catch up on Napa County's top news stories
Get local news delivered to your inbox!
Subscribe to our Daily Headlines newsletter.