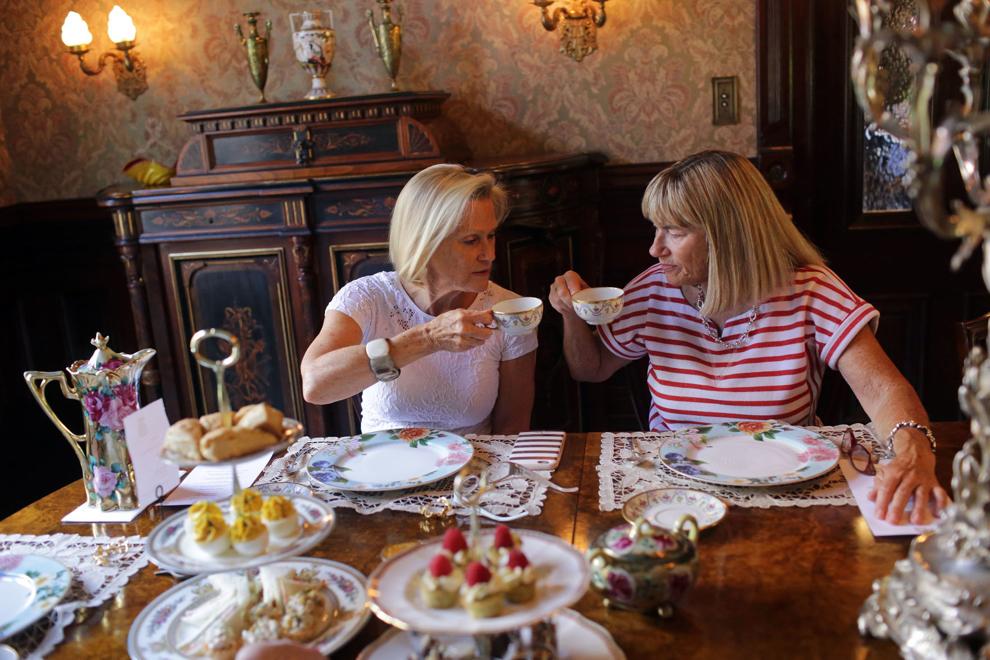 It was a genteel scene tucked amid the bustle of modern-day downtown Napa – 17 women enjoying the company of their friends, and an assortment of teas and pastries on painted china, amid the Victorian-era trappings of the Ackerman Heritage House.
Wooden paneling, oil paintings and crystal-fringed chandeliers framed the dining room where visitors made small talk and jokes over tiny cups of Earl Grey, finger-size salmon sandwiches, and scones sweetened with marmalade from the kumquat and lemon trees outside.
Later, a guide would lead them through a tour of the home and its late 19th-century furnishings – the cigar-scented library room, the master bed with its four pole-thick bedposts, even a hand-carved mahogany birdcage that had survived more than a century under this aged roof.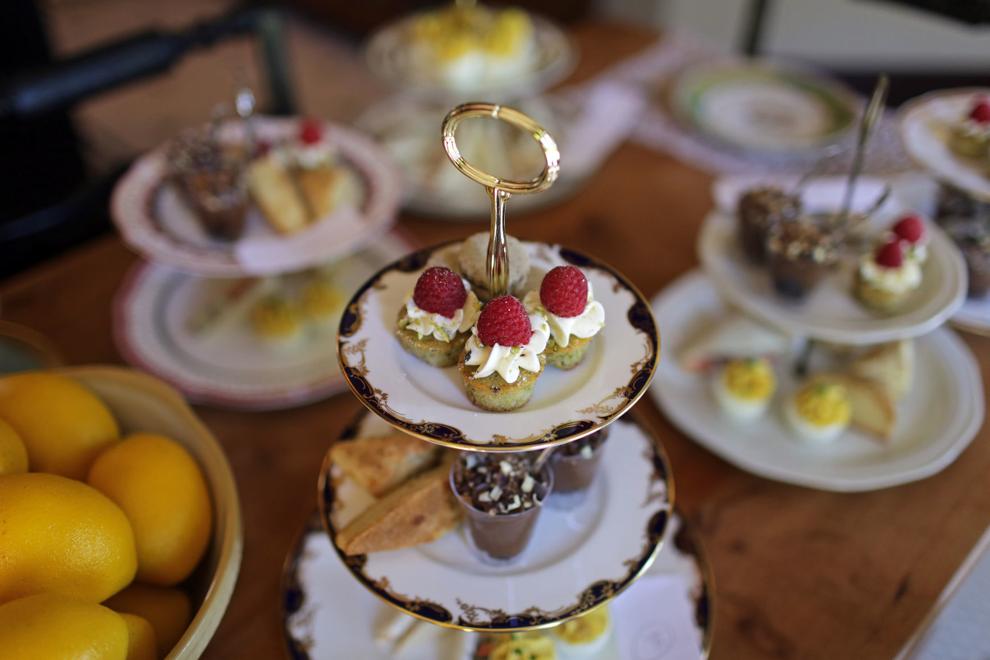 "It's kind of a walk through history, an experience with a historical feel to it that makes people appreciate it more," said Joe Hinde, the Ackerman house's hospitality assistant.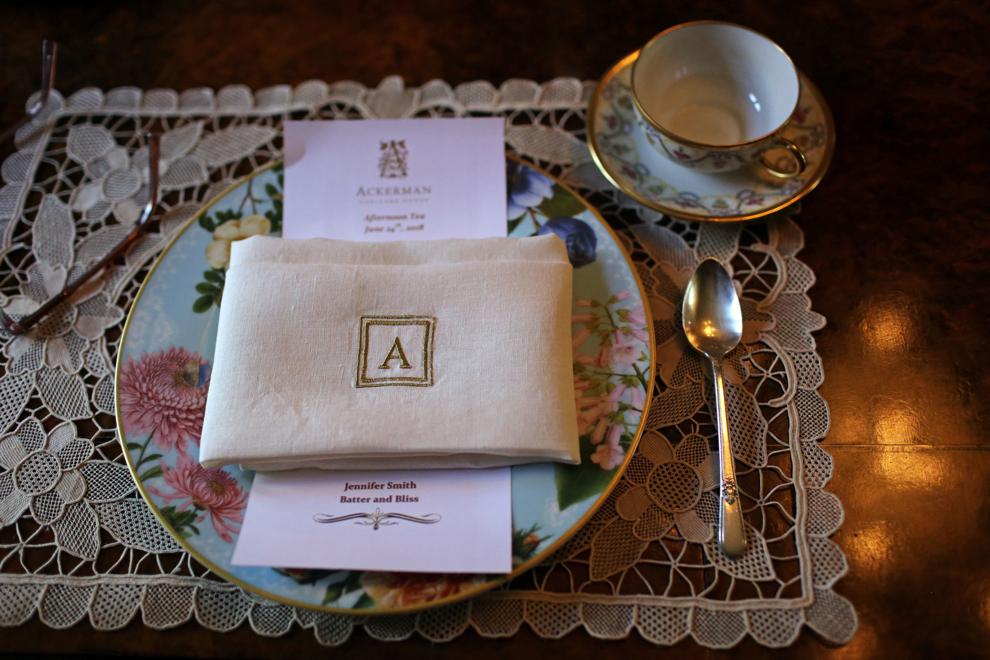 While most guests took their places at the burled walnut dining-room table, others took their tea at side tables in the living room, where curtains gently filtered the summer sunlight into a soft half-glow that matched the relaxed mood of the repast inside.
"You enjoy a lovely meal, you enjoy a lovely tea, you meet new people and you enjoy the company you're with," said Anne Rossitter, a Napan visiting with her mother, Diane Evans.
"It's more set up for conversation instead of 'doing lunch,'" added Evans, who with her daughter has frequented formal teas at about 20 landmark homes in the Bay Area and beyond. "It has an elegance to it, that old-time elegance."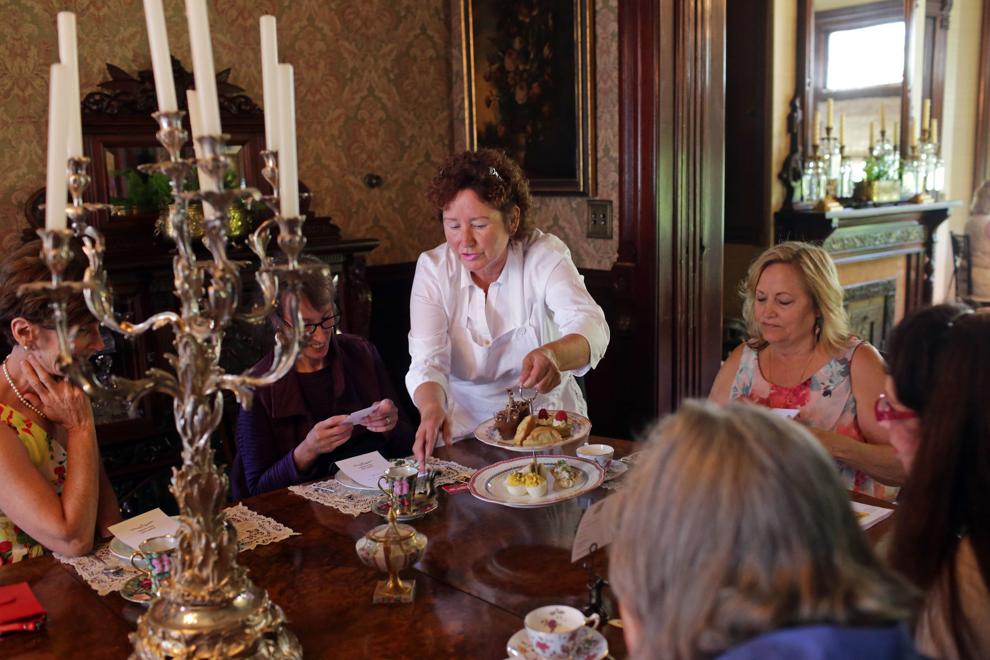 The air of bygone gentility left its mark even on the afternoon's oldest guest shortly after she stepped inside the Ackerman house for the first time. "It's magnificent. Oh, it's hard to describe how lovely it is," Monica Wetmore, born 96 years ago at Caymus and Brown streets, marveled while taking her place at the 14-place main table with her three daughters.
Following the tea lunch, the visiting women got to see the history of the house – and mementoes of daily life a century ago – up close.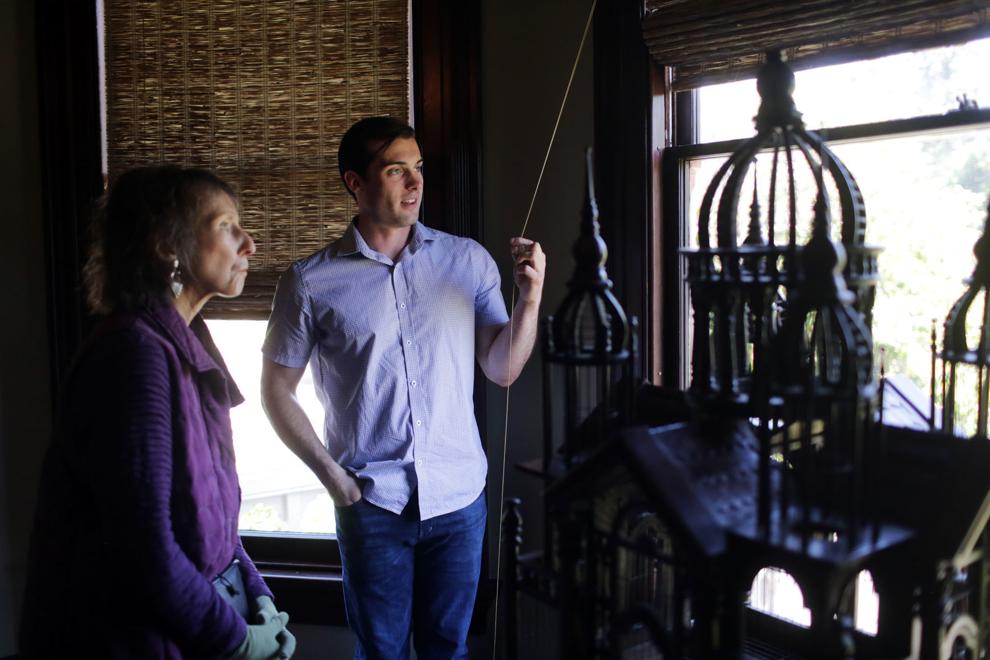 In the foyer, Hinde briefly slid hidden pocket doors closed and then open again, telling onlookers of their use to keep male and female social gatherings separated in the home's early years. Upstairs, he pointed visitors toward a puffy peacock-pattern pillow atop a sturdy bed, the wind-up phonograph with its protruding horn, the 25 stained-glass windows dotting the mansion (17 of which are original, according to Hinde).
The monthly teas and tours open a window for visitors into the society into which the Queen Anne Victorian emerged on its completion in 1888. They also keep in the public eye a landmark that had been become rundown, with a leaky roof and an accumulation of trash until Lauren Ackerman of the Ackerman Family Vineyards in Coombsville purchased the property in 2010.
After five years and $2 million in renovations, Ackerman opened the mansion to tours, wine tastings and wine-and-food pairings before adding afternoon tea events last year.
"We realized it was a great opportunity to showcase this house," said Molly Towey, event coordinator for the Ackerman house. "People are coming from all over the Bay Area (because) there's a culture of people who go to tea houses, and this house completely builds on the history of afternoon tea. To me, this house is made for this; this place is an actual Victorian house."
"It opens that door for people to find out about all these things," she said Monday. "They love idea of tea at a Victorian home, and once they're here they're educated on all of that (history). It probably brings a much greater appreciation of this era and the beginnings of Napa, which is amazing."
"It's an honor, frankly," said Hinde. "I never thought I'd see myself in a place like this; it's a heart-filled project."