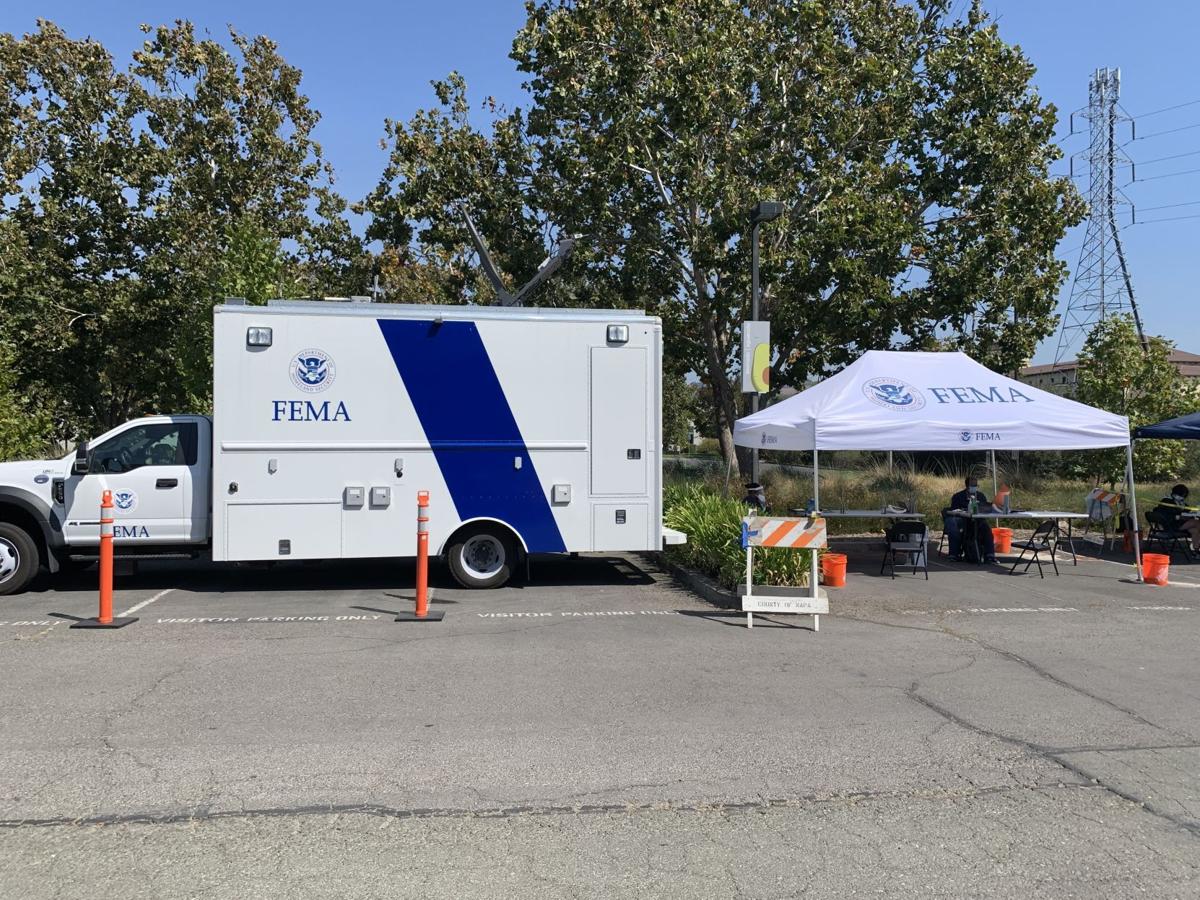 FEMA is offering drive-thru service for survivors of the recent wildfires to apply for financial assistance grants, as well as in-person service inside a local assistance office. FEMA personnel are on duty in the assistance center at 2751 Napa Valley Corporate Drive in Napa from 9 a.m. to 6 p.m. But for those who prefer not to enter the office, applications for assistance can be dropped off from a vehicle in the parking lot or submitted at a walk-up outdoor table from 8 a.m. to 4 p.m.
Survivors can access different services when they visit the Local Assistance Center/Mobile Registration Intake Center at Napa Corporate Center. They can find a representative from EDD, Abode Outreach Services (day/night service shelters, housing navigator), mental health services, HHA, Cal Fresh, health insurance or undocumented individuals and the Bay Area Legal Aid.
According to Maria Padron, spokesperson from FEMA, 381 fire survivors from Napa County had applied for aid.
The FEMA grants help eligible survivors with financial assistance that include rent, home repair, home replacement and other disaster-related needs such as childcare, medical and dental expenses.
Before you apply, contact your insurance company and file a claim for the disaster-caused damage. Take photographs or video of the damage and keep all receipts related to home repair.
If you have uninsured or underinsured losses, contact FEMA online at disasterassistance.gov; download the FEMA app and register on your smartphone or tablet; or call 800-621-3362.
When you apply, be prepared with the following information: Social Security number; insurance policy information; address of the damaged primary dwelling; a description of disaster-caused damage and losses; current mailing address; current telephone number; total household annual income; and the routing and account number of your checking or savings account (for direct transfer to your bank account).
After registering, create an account to check the status of your application, view messages from FEMA, update your personal information, and upload important documents.
If you are unable to upload your documents, mail them to FEMA at P.O. Box 10055, Hyattsville, MD, 20782-8055 or fax them to 800-827-8112.
If you have any questions, contact the FEMA Helpline at 800-621-3362. For TTY, call 800-462-7585. If you use 711 or Video Relay Service (VRS), call 800-621-3362.
"Once survivors apply, they should pay attention to their phone calls, because inspectors can call them from any other area codes," said Padron.
During COVID-19, inspections will be conducted by phone. Remote inspections are comparable to traditional, in-person inspections and can expedite recovery assistance, based on eligibility.
For security purposes, the inspector will verify your identity by asking a series of qualifying questions and then provide you with the first four digits of your application to complete the verification.
If you reported that you cannot safely live in your home, a FEMA inspector will contact you by phone and ask about the type and extent of damage sustained.
Survivors with minimal damage who can live in their homes will not automatically be scheduled for a home inspection when applying to FEMA, but they still may request an inspection.
Remote inspections have no impact on the types of "Other Needs Assistance" available that do not require an inspection, including grants for childcare, transportation, medical, dental, funeral expenses, moving and storage assistance.
Get local news delivered to your inbox!
Subscribe to our Daily Headlines newsletter.