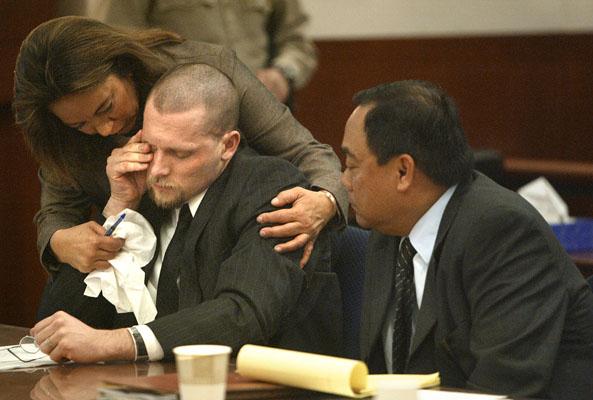 Arlene Allen pounded her fist on a podium time and again in a packed Napa courtroom Thursday morning, echoing the stabbing motion she said Eric Copple used to take the life of her daughter, Adriane Insogna, in 2004.
Allen's dramatic appearance in Napa County Superior Court was part of a lengthy hearing where Copple, who pleaded guilty to killing Insogna and her roommate, Leslie Ann Mazzara, was sentenced to life in prison without the possibility of parole.
Thursday's event was much more than just a routine sentencing. It was the first time the victims' families and friends were able to express their emotions to Copple, 27, whose crime took place at a west Napa home on Nov. 1, 2004. Emotions ran high for both the victims' families and those who have stood by Copple since he turned himself in to authorities in September 2005.
Allen was the last to speak to the man who robbed her of a life with her daughter.
"Eric, you knew Adriane, and Eric, I know you. I know that you are a man who brutally and callously took the life of wonderful woman you never met (Mazzara). You are the one who violently stabbed to death the best friend of the woman you loved. You cannot love Lily (Copple's wife) and murder her best friend. You cannot love Lily and bring a knife into Adriane's home and stab her again and again and again and again and again and yet again," Allen said, slamming her fist on the podium each time she thundered "again."
"My baby never wore a turtleneck sweater in her life, and yet she had to be buried in one — and still — it could not hide the extent of her wounds."
"You are the man who is so cruel as to invite me, the mother of the woman you murdered, to stand up for you at your wedding, to read scripture to you of love and death and to bless your union. Throughout that weekend you brought me into the heart of your family, knowing all the while it was you who destroyed mine.
"So, I say to you Eric, go. Leave this world of family and friends of hopes and dreams of life and love and laughter. There is no place for you here," Allen said, directing her words at Copple, who clasped his hands on the table and hung his head. "You will be forgotten. And when that door closes behind you today, I will think of you no more."
Thursday's sentencing packed the largest of the Napa County courtrooms to capacity.
The victims' families occupied the left side of the gallery, while Copple's supporters and loved ones filled the opposite side.
Dressed in a pin-striped suit, black tie and white shirt, Copple, wearing glasses and a mustache, goatee and close-shaved head, fidgeted with the buttons on his coat as he was escorted to his seat between his defense attorneys, Greg Galeste and Amy Morton.
Seated at the adjacent table were Napa County Chief Deputy District Attorney Mark Boessenecker, who prosecuted the case, and head investigator, Napa Police Detective Todd Shulman.
Copple is married to Insogna's close friend Lily Prudhomme Copple, who worked with Insogna at the Napa Sanitation District.
Copple also made an emotional speech. He wiped his head with his hands and after a brief silence he began to speak, at times almost inaudible due to his sobbing.
"I'm a broken man. I cannot fathom an explanation for my sinful deeds … the terrible agony inflicted upon a great number of people. Words evade me," Copple said. He told the audience he has suffered from depression and been suicidal since he was an adolescent.
Speaking of the events leading up to the murders of Insogna and Mazzara, Copple said, "I've always been an introverted person. My beloved grandfather suffered a stroke and died. I could not secure gainful employment. My relationship with Lily was (in jeopardy) and crashing. It was all like it fertilized the seed of anger in my heart.
"There was rage inside me. If I had only listened to those who pleaded with me to get the help I needed."
Copple said he used alcohol to fight his depression, but it only made things worse.
Turning to the audience, he addressed Allen, Mazzara's mother Cathy Harrington, as well as their children.
"Arlene, Cathy, I am so sorry for stealing your beloved Adriane and Leslie. Paul, Andy, Lexi and Allison, I am so sorry for taking your precious sister from you," Copple said, sobbing.
He told the court on the day he turned himself in to authorities, "I was going to end my life. But I didn't want to take the answers (of the murders) to my grave," Copple said. "When I talked to the police, I told the truth, as God is my witness."
A motive for the slayings has not been revealed to the public. Copple has told investigators he does not remember some of the events of that night and does not know why he killed the two women.
Lily Copple also made a statement to the court.
"Adriane and I were good friends. Arlene (Allen) and I have grieved together. Our friendship bond was stressed when Eric confessed, but it was not broken," she said. "I know a gentler Eric."
Eric Copple became emotional when his wife made her statement. He stared at her as she proclaimed support for him, and soon, it seemed to overwhelm him. He rhythmically rubbed his head and removed his glasses to wipe his eyes. A wave of red came over his face.
Lily Copple blamed her husband's actions on depression and alcohol.
"It sent Eric into a violent explosion. But he has paid his debt through Jesus Christ," she said. "In the days before he confessed I knew something was terribly bothering him. I told him, 'Eric, there is nothing in this world that you could do to make me love you less.' Those words are just as true today as they were that afternoon."
Harrington, Mazzara's mother, read a 13-page statement to the court. During the 10-minute speech, Harrington looked directly at Copple, who avoided eye contact.
"I demand resurrection for Leslie … it was her dream to meet her perfect partner and have four boys … babies that I will never hold in my arms."
Harrington said, "For the rest of your life you and your family will experience what both your victims and loved ones have felt: Terror, desperation, hopelessness, violence. … I wish I could tell you that I forgive you. At this time, I cannot. And finally, I pray that never again will any mother's child grow up to be a murderer."
The night Insogna and Mazzara were slain, a third roommate, Lauren Meanza, was asleep downstairs. The commotion in Insogna's bedroom woke her up. She climbed the stairs and saw the bloody scene, left the house and called 911 on her cell phone.
Meanza, who had only met Copple on a few occasions, told the court of the nightmares that haunt her.
"Even though he had run away and disappeared, the fear was embedded inside me for months and months. I was frustrated that the evil in one person could have such a horrible, strong grip on me," Meanza said.
Insogna's father, Tony Insogna, recalled the many obstacles his daughter had overcome during her life. She had lived through the divorce of her parents, moving from Texas to California and healing from severe injuries she suffered in a car crash.
If convicted at trial, Copple could have faced the death penalty. However, after prosecutors conferred with the victims' families and Copple's attorneys, Copple pleaded to first degree murder in exchange for a sentence of life in prison without possibility of parole.
The night the women were murdered, they had gone to bed around 10:30 p.m., after passing out Halloween candy to neighborhood children.
Around 2 a.m., Nov. 1, 2004, Copple climbed through a downstairs window and entered the house. He went upstairs and stabbed Mazzara in her room and then went into Insogna's room, where he repeatedly stabbed her. An investigation led authorities across the country and into several DNA databases looking for clues. Napa Police announced in the fall of 2005 that they had matched the killer's DNA to cigarette butts — from an unusual brand, Camel Turkish Blend — outside the house. Copple turned himself in shortly thereafter.
Get local news delivered to your inbox!
Subscribe to our Daily Headlines newsletter.