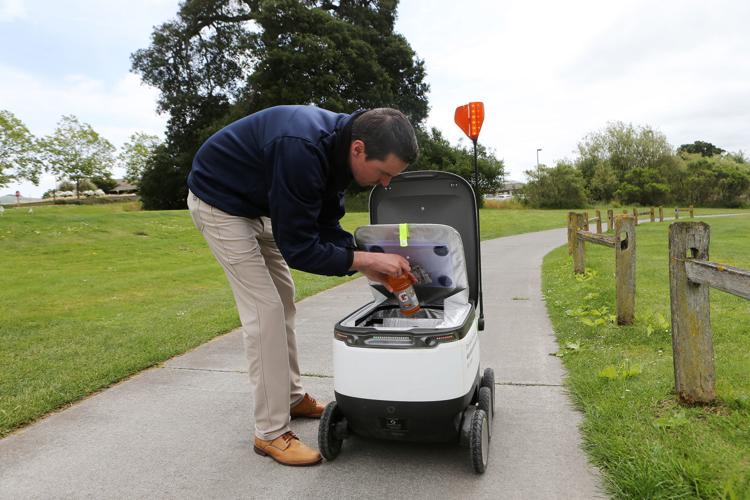 AMERICAN CANYON — The newest helpers at a Napa Valley golf course have nine eyes and six wheels — and fetch snacks and drinks for golfers at the touch of a cellphone button.
Eagle Vines Golf Club, at the north end of American Canyon, is a test bed for what a director says is the world's first use of a self-driving, self-navigating food and beverage delivery vehicle at a golf course. Four battery-powered carts, partnered with GPS mapping and a smartphone app, allow visitors to order food, beverages, golf balls and other items and receive them on the course in as little as 15 minutes – with the icebox-like contraptions then automatically returning to the clubhouse from whence they came.
Starship Technologies, the designer of the drone-like carts, aspires to turn the contraptions into a "last-mile" solution to get restaurant and retail deliveries to customers' doors. In the meantime, they have become an unusual injection of high technology at a home for one of the most traditional of pastimes.
"Customers seem to enjoy it," said Eagle Vines' general manager David Griffis of the wheeled robots, which entered service in January. "I don't think there's been one person who hasn't asked about it and taken pictures with it."
Resembling a white-and-black picnic cooler on wheels, each 22-inch-high robot weighs about 45 pounds unladen and can carry a payload up to 20 pounds, according to press release from Starship, an Estonia-based firm launched by Skype co-founders Ahti Heinla and Janus Friis in 2014.
Club visitors who have downloaded Starship's companion app can order and pay for items from the clubhouse, after which the app shows the estimated time needed for delivery. The order is transmitted to a tablet computer in the clubhouse, where workers pack a drone with the requested food or merchandise.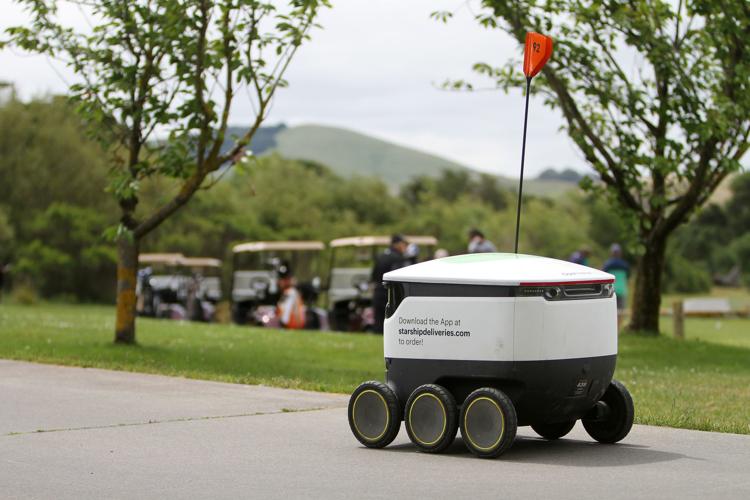 Seven cameras in front and two in the back work in tandem with GPS technology to enable each cart to follow a path toward the spot on the 18-hole course where a customer has placed an order while avoiding obstacles like cars, people and pets. The vehicle can travel at 4 mph, stick to sidewalks, ascend slopes and stop at intersections to let cross traffic pass through.
On reaching its destination, a latch opens at the rear of the robot, revealing the items a customer has ordered. Club employees can place heating and cooling packs inside the bay for hot and cold foods, or leave the bin plain for non-food items such as balls and tees.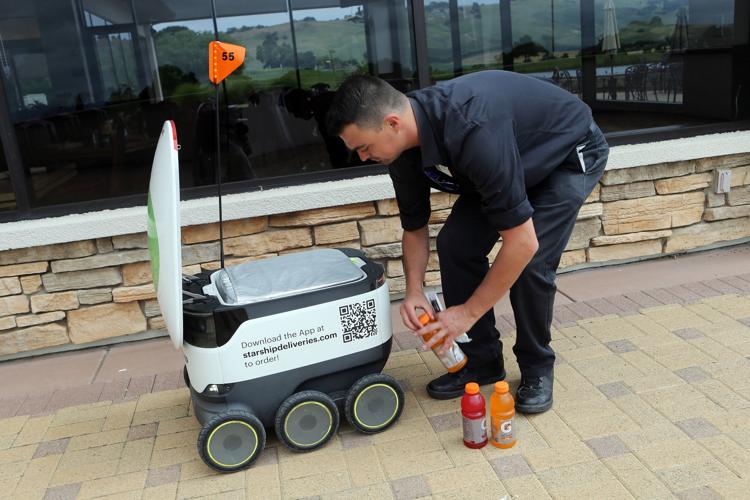 After each delivery, the cart drives itself back to a lot outside the clubhouse, where a "doghouse" enclosure protects the vehicle from weather and swaps spent rechargeable batteries for fresh ones in as little as 30 seconds.
On Monday morning, one Starship robot rolled silently down a cart path before pausing at a driveway, "looking" both ways, continuing downhill and stopping beside a practice green where Griffis had placed his phone order. Under the front-hinged lid were a bag of potato chips and two bottles of Gatorade – one orange flavor and one fruit punch, exactly as selected on his phone.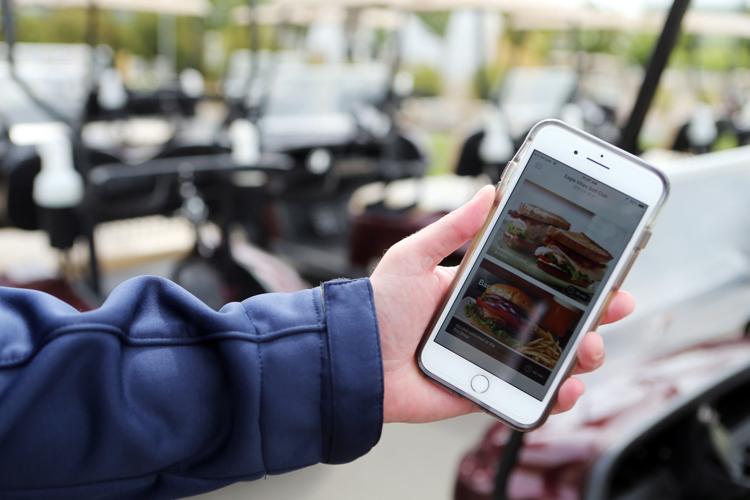 At that moment, a husband and wife on a golf cart passed Griffis as the robot turned to start its return journey. "Very cute!" the man, an Eagle Vines member, called out admiringly.
Griffis, who has managed golf clubs for 15 years, described the self-driving carts as complements to rather than replacements for conventional on-course deliveries using human-driven carts. Each robot fulfills only one order at a time before returning to its base, while employees can make multiple stops on a delivery round – although Griffis suggested the driverless vehicles could stay on duty during days when rain or inclement weather limits food orders on the course to a handful.
For now, the knee-high couriers rolling around Eagle Vines are increasingly the object of curiosity and interest, according to Griffis.
"Most people are really inquisitive about it," he said. "I worked on Saturday and a lot people were downloading the app; you see people staring at it and once you explain it, they get excited and they want to try it.
"Tech advances have always been about the shaft, the head, the golf ball. Golf's such a traditional game that when you see something new, they want to see what's going on."
Get local news delivered to your inbox!
Subscribe to our Daily Headlines newsletter.