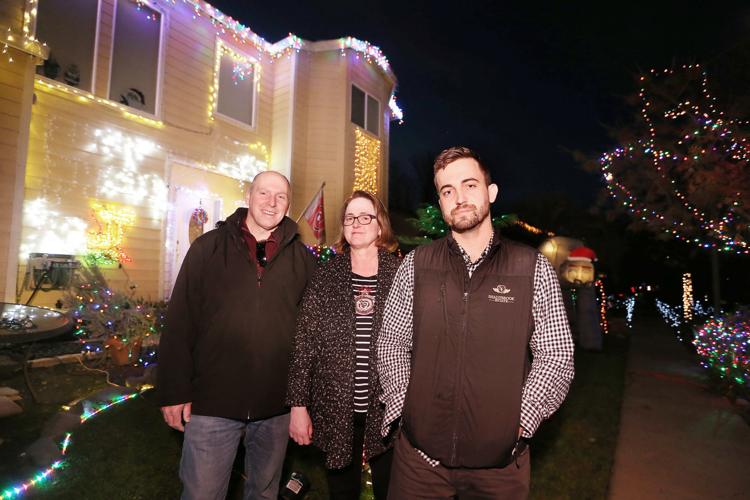 There are only 14 houses on Paradise Drive in north Napa, but those 14 really know how to shine a light on the holidays.
Since 1994, when the first homeowners moved into the new north Napa street, every December they've decked their homes with many lights fantastic.
About 24 years ago, Kenneth and Tamara Brown were among the first to move in.
That Christmas, her husband had the idea to decorate the house with strings of lights for their young family, said Tamara Brown.
The other new neighbors joined the holiday fun, she recalled. Over time, as word of the lighting spectacular spread, the street became a go-to destination for locals.
In the early years, it became a friendly competition to see who could put up the most lights or the best arrangement.
"All the guys would get out there at night," she recalled. "They helped each other out. There'd be lots of trips to Target and Orchard" for yet more and more lights.
"It was a special time for me," she said. A number of neighbors had young kids or were starting families. The block started having Christmas parties, baby showers, potlucks, barbecues and birthday parties. The kids on the street were like cousins, she said.
"What brought us together was that sense of community around the Christmas lights — and it continued throughout the year," said Tamara Brown.
"It was a lot of fun growing up," said Austin Brown, Tamara and Kenneth's son, now 25.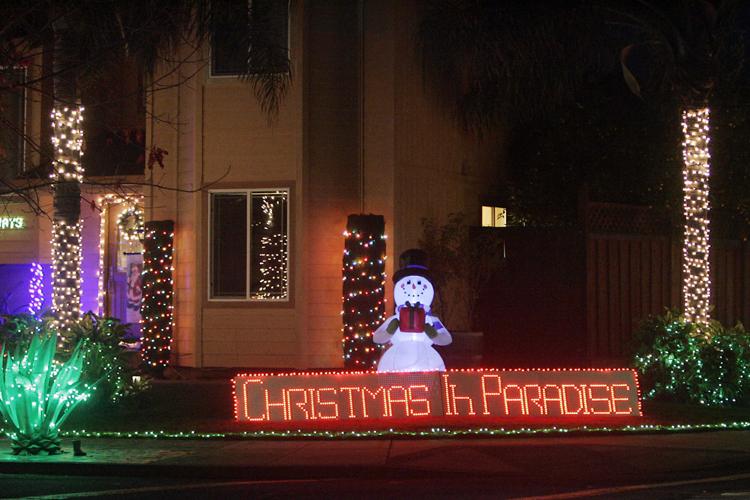 Paradise Drive "was the perfect neighborhood," he said. When the lights were installed, "It kind of felt like Disneyland."
"There was always a Christmas party at someone's house. It was like one big family or small community."
"Even today, I could go to anyone's house now and have a beer and catch up with them," said Austin Brown. "The feeling of community is still there."
Over the years, neighbors have come and gone. A few new houses were added at the end of the street. The Browns moved up the street –- from a smaller house to a larger house on Paradise Drive.
Mary Cooke, a local orthodontist, said she and her family were already aware of the lighting tradition when they bought their Paradise Drive house in 2009.
When Cooke moved in, she was pregnant. "I was super-excited my kids were going to be able to grow up in this environment. It's become an awesome family tradition."
Cooke said her husband, Gary Awai, likes to up the ante each year.
As a result, the lights at the family's home are dazzling. A computerized system synchronizes lights with music for a custom light show. Visitors can listen to the music via an FM transmitter.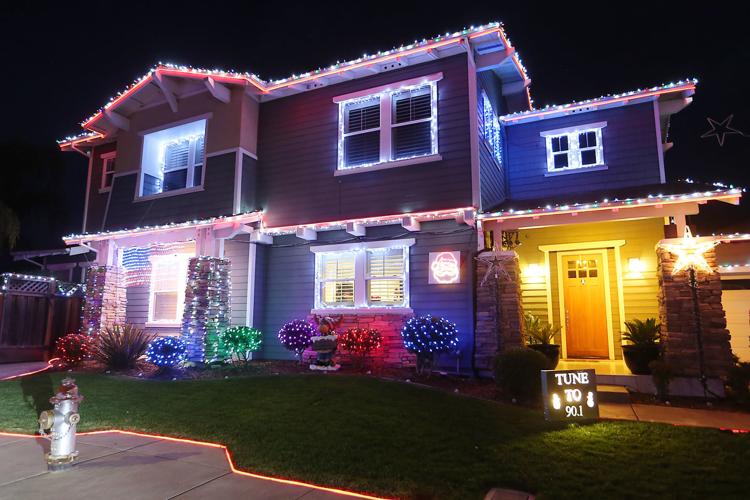 And that's not all. Using Wi-Fi, "we've coordinated music and lights with two other houses" next door, Cooke said.
Because Cooke's house uses mostly LED lights, their PG&E bill goes up by only about $100 in December. One of the biggest challenges is that it takes four to six days to put up all those lights. "We have over 4,000 feet of custom- made extension cords" to get the job done, she said.
Tamara Brown said their PG&E bill usually doubles during December. Even though most Paradise Drive homes faced similar increases, Brown can only remember one house that refused to participate.
Back in the '90s, a homeowner declined to hang lights as a way of protesting the U.S. military's involvement in the Middle East.
"It was quite the thing," recalled Brown. "The protesters lasted one year and they moved."
As time has passed, other changes have come to the street.
Two years ago, at age 52, Kenneth Brown was diagnosed with early onset Alzheimer's disease. Today, he is retired from his job at Chevron. Tamara Brown retired from the health care industry.
Kenneth Brown is no longer able to create the light display, so Austin Brown has taken over much of that job.
That change has been difficult, Tamara Brown admitted. Her husband still helps with the lights "but he's not the one doing them," she said. "My son has really stepped up."
Taking over the lights is a strange feeling, acknowledged Austin Brown.
Carrying on his dad's legacy is bittersweet, he said. "I'm just trying to make the best out of it."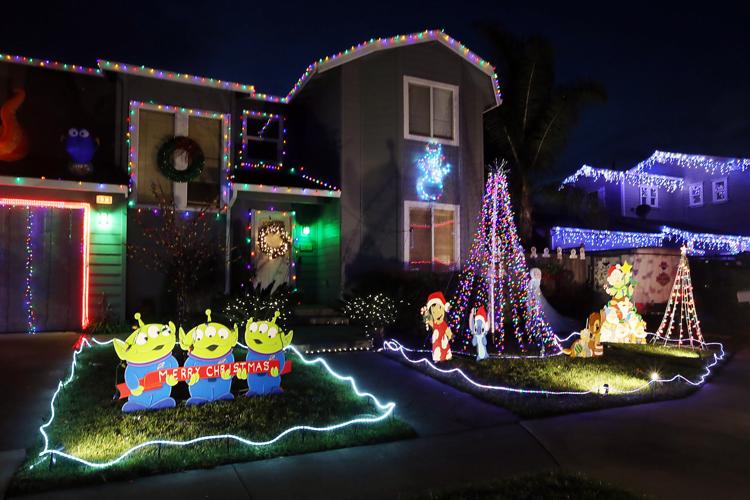 Today, Austin Brown has already hung many lights at their home but "It never feels like it's done."
"I feel like I have to go buy more lights," he said.
"That's just full circle for me," said his mother. "I'm so proud of him and his father for doing this. I'm so proud of what everybody does."
The Browns aren't the only ones enlisting the second generation. Now that other neighbors' children are growing up, those kids are also participating, like Cooke's children.
"That's one of the coolest things," Cooke said. "It is definitely a multi-generational effort."
On a busy night, Brown said as many as 500 cars could visit the block.
"On Christmas Eve, it's backed up to Jefferson Street." She's not sure who sends him, but "usually Santa Claus comes through in a limo."
Most Paradise Drive residents have their lights on from about 5 to 10 p.m. To best experience the glow, visitors are encouraged to turn off their vehicle headlights and enjoy Paradise by the dashboard lights.
Tamara Brown said she's not bothered by the traffic.
"We sit out on Christmas Eve every year. My husband loves that. People come around with glasses of wine, neighbors come from other streets. A lot of kids walk around with their parents. The retirement buses come around."
"We have a drink or two. The kids hand out candy canes. People say 'Merry Christmas.' They are all so thankful."