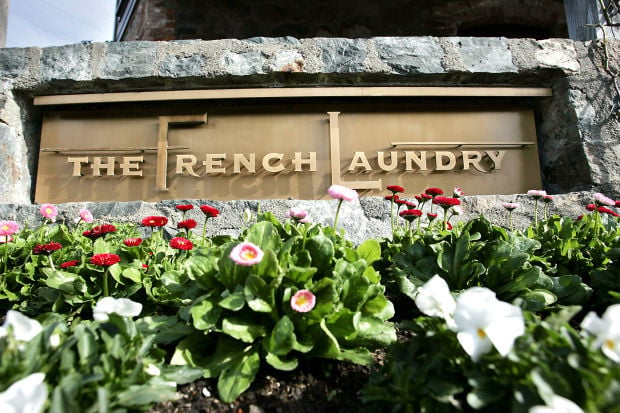 After five years of working as a server at Per Se, Thomas Keller's acclaimed New York City restaurant, Vanessa Scott-Allen set her sights on the Napa Valley. But after moving here to work at The French Laundry, the job fell through.
Scott-Allen, who claims she was discriminated against because she was pregnant, filed a lawsuit last month in Napa County Superior Court against both Per Se and The French Laundry, the Thomas Keller Restaurant Group that owns both operations, and Keller himself.
Samantha Shuman, a spokeswoman with The Thomas Keller Restaurant Group, said last week that the company has a policy of not commenting on pending or ongoing business litigation.
According to the lawsuit, it all started this past January when Scott-Allen and her husband traveled to California. They had been thinking about heading west, but didn't have any plans yet. While in the Bay Area, Scott-Allen arranged to visit The French Laundry in Yountville.
By the end of her visit, The French Laundry's general manager, Michael Minnillo, who is also named as a defendant, told her that his restaurant "would love" to have her work there, according to the suit. Taking him seriously, Scott-Allen said she notified the general manger of Per Se, Antonio Begonja, via email that she wanted to look into possibly transferring to The French Laundry.
She also notified him that she was pregnant, the suit contends.
Both managers agreed to the transfer and the ball was rolling – Scott-Allen was to start work at The French Laundry on April 1, according to the filing. Between February and March, Scott-Allen and her husband had made necessary moving preparations, including terminating their lease in New York, buying a car, and making housing arrangements in California. They even began shipping their belongings, the suit says.
On March 7, Scott-Allen was told that, as part of the transfer process, she needed to sign resignation documentation, the lawsuit alleges. The next day, when Keller was visiting Per Se, the server told the restaurateur that she was transferring to The French Laundry. "That's wonderful," he replied, hugging her.
According to the suit, during Scott-Allen's last day at Per Se, March 10, the restaurant's daily bulletin included a photo of her and Keller hugging and wished her luck in California. It read: "Thank you Vanessa! May your warmth, grace and impact shine just as brightly at TFL as it has here."
After that, Scott-Allen was informed that her start date at The French Laundry had been pushed back a few days, the suit states. She was scheduled to meet the restaurant's entire management team on April 4.
Now living in California, Scott-Allen showed up to her meeting to find that Minnillo, the general manager, wouldn't be there because he was in New York visiting Per Se, the suit contends.
During her meeting, Scott-Allen spoke with another manager, Olivia Wallace, who proceeded to ask her several questions about her pregnancy and maternity leave plans, according to the lawsuit. She asked Scott-Allen when her due date was, how long she expected to work before giving birth, and how long she expected to be on maternity leave, the suit alleges. Wallace told Scott-Allen that she would get back to her about her training schedule after speaking with Minnillo.
Shortly after, Minnillo informed Scott-Allen that the position was no longer available and that there were no positions available at The French Laundry, according to the suit.
Scott-Allen contends that three positions were open at the time.
She filed a complaint with the California Department of Fair Employment and Housing on April 21, then received a notice of case closure and right to sue, according to the lawsuit.
Scott-Allen filed her lawsuit in Napa County on Sept. 26. Her attorneys, Sami N. Khadder, Dustin L. Collier and V. Josh Socks, all out of San Francisco, did not respond to media inquiries.
Scott-Allen is seeking an estimated $5 million in damages for allegations that include fraud and deceit, sex discrimination, violation of pregnancy disability leave law, negligent misrepresentation, breach of implied contract, wrongful termination and failure to prevent discrimination, as well as violations of labor codes and the California Family Rights Act.
Scott-Allen is suing in addition for attorneys' fees and the cost of the suit. She also demands a jury trial.
A case management conference is scheduled for March 7, 2017.