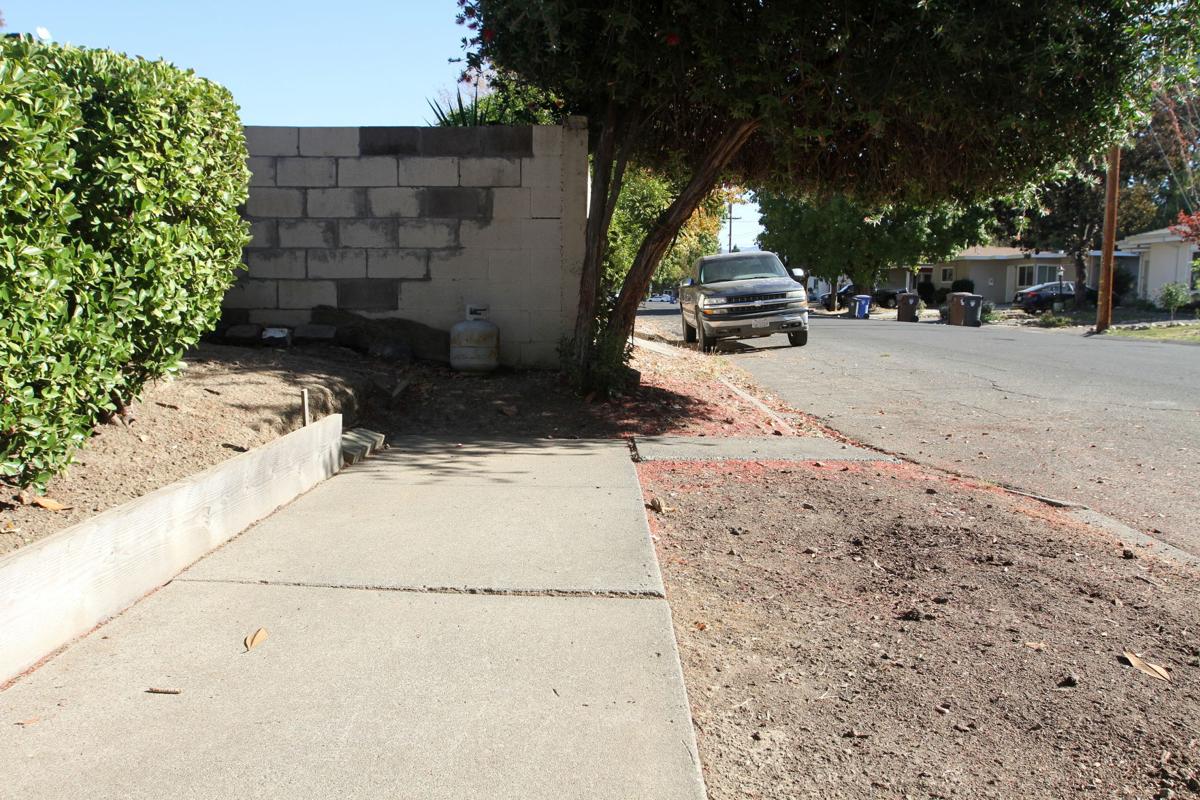 The streets, front yards and houses may look similar to those elsewhere in Napa, even those just a few hundred yards away. But more than a dozen plots of land fully or mostly enclosed by the Napa city limits nonetheless remain — legally — outside of it.
Known as "islands" or "doughnut holes," these enclaves have remained unincorporated even as surrounding homes and streets have slowly been annexed into the city of Napa over several decades. At least 18 sites are hemmed in by city boundaries on more than half of their perimeter, and eight of those are completely surrounded by the city on all sides — including a cluster of more than 500 housing lots off West Pueblo and Linda Vista avenues, home to nearly 1,400 people.
Though their neighborhoods are often indistinguishable from city-controlled areas just a few blocks or yards away, the more than 2,100 people living in the unincorporated islands have no say in electing the Napa mayor or City Council, and authorities say they also generally pay higher fees for water, trash hauling and recycling services than city residents.
"I and my neighbors pay about 44% more for water and sewer charges, and more for trash pickup," Larry Alexander wrote of the area in an October letter to the editor. "We have hardly any streetlights, no sidewalks, and I have yet to see a storm drain in this neighborhood. If I look across my backyard to my neighbor directly behind me, he is not located on my 'island' and has all of the benefits and rights that us unfortunate residents, in some cases just some feet away, do not have."
Soon, the question of whether and how to bring some of those lands into the city fold may come to the foreground.
City staff are preparing a report on the issue for the City Council to review in January or February, according to Planning Manager Erin Morris. A city-commissioned study is focusing on the West Pueblo-Linda Vista neighborhood, by far the largest unincorporated area ensconced within the city, as a starting point to look into annexation of other areas, she said last week.
The discussion is moving forward more than three years after the Napa County agency overseeing annexations by local cities offered to help Napa speed the process in what both governments describe as a move toward more efficient delivery of services, without questions of which agencies hold sway in which areas.
Renewed attention to eventually absorbing the remaining bits of non-city land also follows an election-season push this year by the Napa County Progressive Alliance, which has framed annexation — specifically of the West Pueblo neighborhood — as an imperative to give its residents a voice in city government.
As tracts of small, one-story homes went up near West Pueblo and Linda Vista in the years after World War II, whether the new neighborhood was under city or county control apparently was not a major concern for many of those who built and occupied the area, according to Morris, who said surrounding tracts began to be absorbed into Napa in 1959, with the pace quickening during the 1960s and then slowing through the 1980s.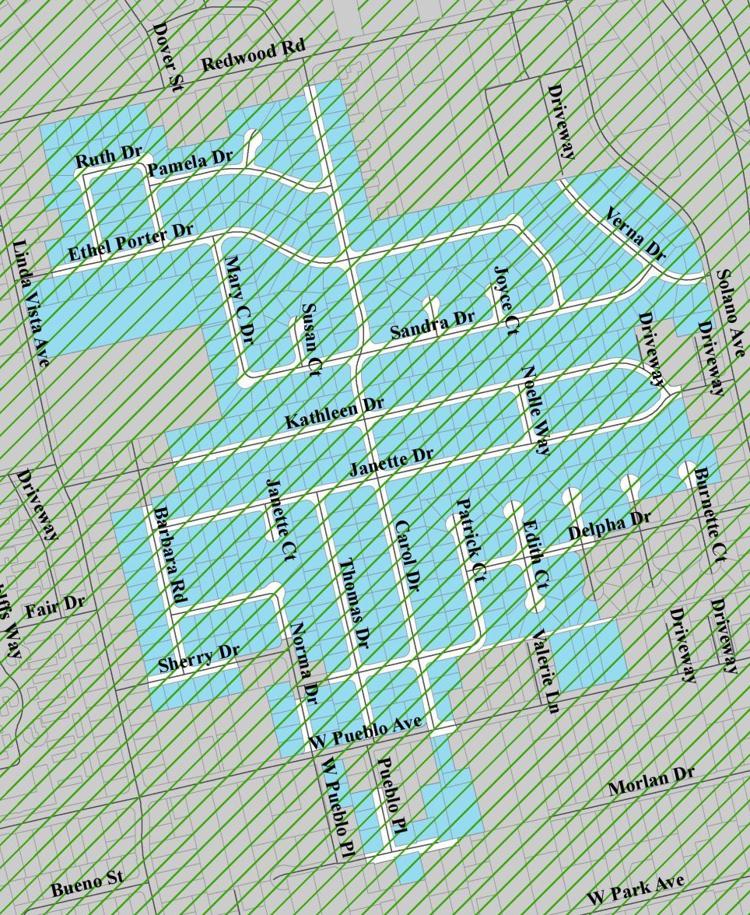 "(Owners of) land subdivided in the counties for single-family homes didn't have much motivation to get annexed," she said. "If they got water and sewer, there was no great push to annex."
Twenty-six separate annexations took place over more than half a century in an 87-acre area bounded by West Pueblo, Linda Vista, Redwood Road and Solano Avenue, the most recent in 2014, according to Morris. That trend has left residential routes like Carol, Janette, Kathleen, Sandra and Ethel Porter drives within the boundaries of the city, but not quite of it.
In recent years, the absence of large-scale annexations may have been less the result of active resistance by the city or property owners than of a lack of engagement in the issue, said Brendon Freeman, executive officer of the county's Local Agency Formation Commission, which regulates county-to-city transfers.
Most recently, he said, a 2010 campaign in which LAFCO mailed an informational flyer and survey to all landowners and residents in all of the islands drew only a trickle of a response, with the agency hearing back from just 3% of the 2,000 people contacted — about equally divided between those favoring and opposing annexation.
"We don't truly know what the landowners and residents actually think," he said Tuesday. "That suggests to me there is not a large and organized opposition to annexation."
Annexation efforts can be launched by residents, landowners or the city itself.
Landowners within an island may join to petition to merge it into the surrounding city, provided they pay fees to LAFCO for the application, prepare a map of the parcels to be annexed, and provide a geographic description of the area, according to Freeman, the agency director. At least 5% of the area's property holders, owning 5% or more of its total assessed value, must sign the petition.
A petition to annex an island also can be launched by a petition signed by at least 5% of the registered voters living there. If LAFCO approves the annexation, a so-called protest proceeding follows within 21 to 60 days in which written objections by half of the area's landowners blocks the move.
A California law passed in 2000 offers a faster track for cities to absorb country-controlled areas within their borders — but requires the city, not landowners, to propose the annexation. This streamlined process drops the requirement for a protest proceeding while exempting between $6,000 to $8,000 of the application fees LAFCO would charge voters or property owners.
The state's streamlined annexation process applies to 13 such islands within Napa, excluding any enclaves containing prime agricultural land. Tracts that could enter the city range from whole neighborhoods like West Pueblo and the Imola Avenue-Parrish Road area — home to 541 people on 32 acres — to individual lots on the Silverado Trail and Devita Drive.
The latest overture by LAFCO to Napa dates to August 2017, when the county agency offered to work with the city if it would pursue a fast-track annexation drive.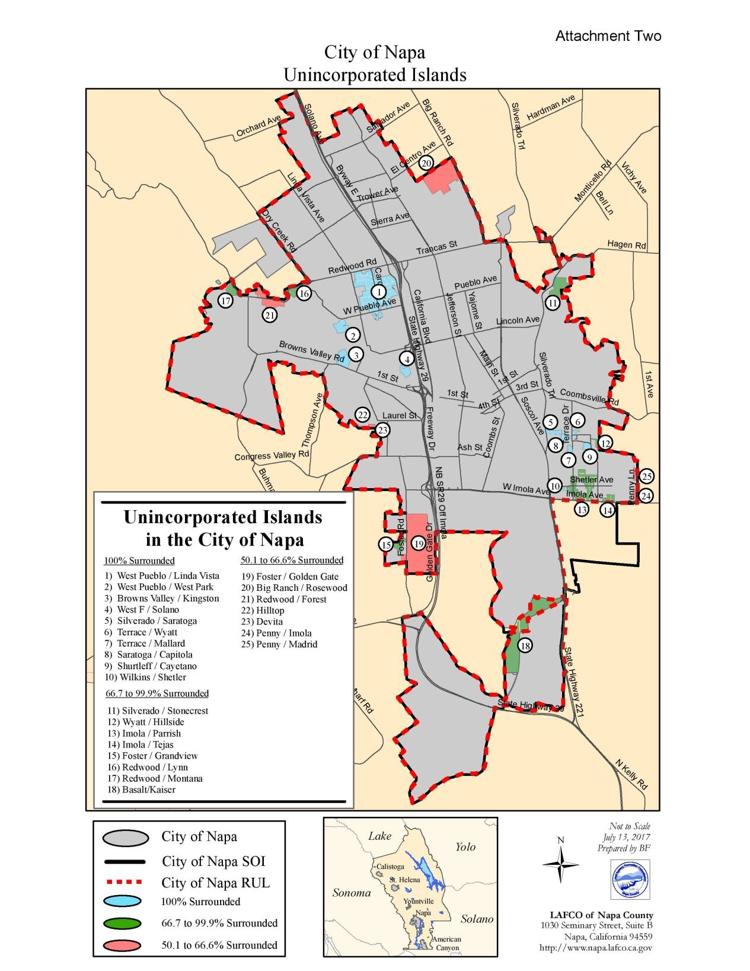 "Annexation to the City would provide numerous incentives to landowners, residents, and the City," a memo to the commission said at the time. "These incentives include — but are not limited to — political empowerment for registered voters, new or elevated levels of public utilities and services, public service efficiencies, orderliness of jurisdictional boundaries, greater land use potential, and an overall reduction in annual public service charges."
To address some residents' fears about taking on new fees after being folded into the city, LAFCO released a list of typical expenses it said would total about $62 less a year, dropping from $1,974 to $1,912. Water service would become cheaper, trash hauling more expensive, and sewer service rates would not change, while residents would take on a $75 paramedic tax plus $12 for storm drainage.
However, the initiative began at a time of turnover for both the city and county staffs — with the county changing its CEO in 2017 and the city its city manager a year later — creating a transition period Freeman said slowed progress toward pursuing an annexation.
A faster road to folding West Pueblo and its inhabitants into the city became one of the prime planks for the Progressive Alliance during this year's Napa City Council races, the first in which voters chose candidates to represent one of four areas.
Running for the 2nd District seat in west Napa, David Campbell, who placed second in a four-person field, made the strongest push in favor of annexing county islands including West Pueblo — a stance he said was driven by a desire to give a city vote and voice to Latinx and lower-income residents in the neighborhood.
However, four-term Mayor Jill Techel pointed to the longstanding preference of some West Pueblo residents for the quieter atmosphere and more lenient land use rules of the county — even with the trade-off for better-maintained streets and sidewalks, which come to a halt at several spots on the neighborhood border.
"When you go there, you find some people have enjoyed the more rural nature of some county islands and don't lust after sidewalks and street lights," said Techel, who is stepping down next month after more than two decades as a mayor and councilmember. "They become very possessive of what they have. It's been a robust discussion in the past with the various groups affected about what they want, and whether they want to move into the city."
Techel agreed with the greater efficiency of public services should all people living inside the Napa boundary eventually become part of the city. But whatever form new annexations take, she added, new city residents should make that choice willingly, and be told of the savings and costs they can expect — and that city leaders should take their time planning the shift.
"If they start looking at it now, four years from now at the next mayor's election would be a good benchmark to say, 'OK, let's see if we can get all that work done by then,'" she said.
How annexations of county islands would change their arrangements for policing and fire protection remains to be seen, according to City Manager Steve Potter, who previously spent three years as the Napa Police chief. Currently, the Napa city and county fire departments have an automatic aid agreement to deploy the fire crews and trucks closest to an incident regardless of agency. A similar pact allows either Napa Police or the Napa County Sheriff's Office to respond to violent acts or major threats in county enclaves, although lesser incidents and quality-of-life complaints generally will be handled by sheriff's deputies.
Potter cautioned that the city of Napa will have to take into account its COVID-19-stressed budget and staffing in any future decisions to extend its services further, but said he would let studies of the existing islands guide the city's actions.
"The potential for additional needs, we really don't know that because we haven't analyzed that yet," he said Friday. "If it's the right thing to do, we're going to do it."
Watch Now: How to cope with election stress


: A look at Napa's new Chrysler dealership
This story has been modified since the original posting to correct the name of the Napa County Local Agency Formation Commission.
You can reach Howard Yune at 530-763-2266 or hyune@napanews.com
Get local news delivered to your inbox!
Subscribe to our Daily Headlines newsletter.