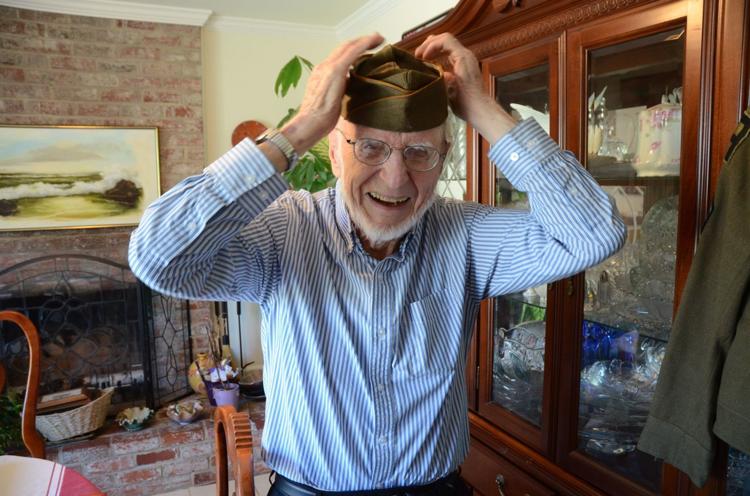 Editor's note: This is the fourth of a 10-part series profiling veterans who live in Napa County. To submit suggestions for other veterans to profile, email sscully@napanews.com.
Harold Bunnell's invasion of France started behind the wheel of a two-and-a-half-ton GMC truck, plunging off the back of a landing craft into the surf off Omaha beach.
"We made it so you could drive the engine underwater," recalls Bunnell, now 96 and living in Napa. "Now you say how is that possible? Now that wasn't easy but they showed us how and when we came off the landing boat, I landed right in the surf and the engine was underwater and it was chugging away, and I thought 'oh lord, keep it going.'"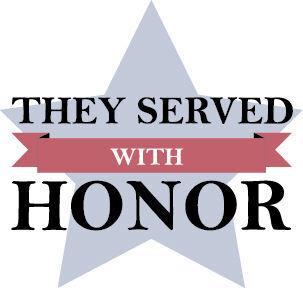 It was a few days after the D-Day landings, but debris and bodies still littered the shoreline. And the Germans were still lobbing shells hoping to slow the arrival of allied troops and equipment.
"They were five miles in and they were shooting artillery at us," he said.
Before taking off from England, Bunnell had built a clever apparatus for driving through the crashing Atlantic surf.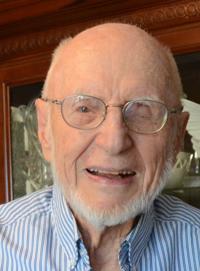 To bring air into the engine, a "snorkel came off the carburetor all the way to the top of the windshield, so it was well up there," he said, laughing at the memory of his awkward aquatic truck. "And then everything else was plugged up and the fan belt was released, so by the time we got out and on up into France, Normandy, the motor was really getting hot, so they ran us up into an apple orchard and we all stripped all that stuff off and it was ready to go.
"And from then on," he said, "our company worked on trucks."
Bunnell, a skinny 19-year-old from Los Angeles, was part of the 3509th Ordnance Automotive Maintenance Company. Its work garnered little glory or attention from history, but it was vital to the men fighting in France.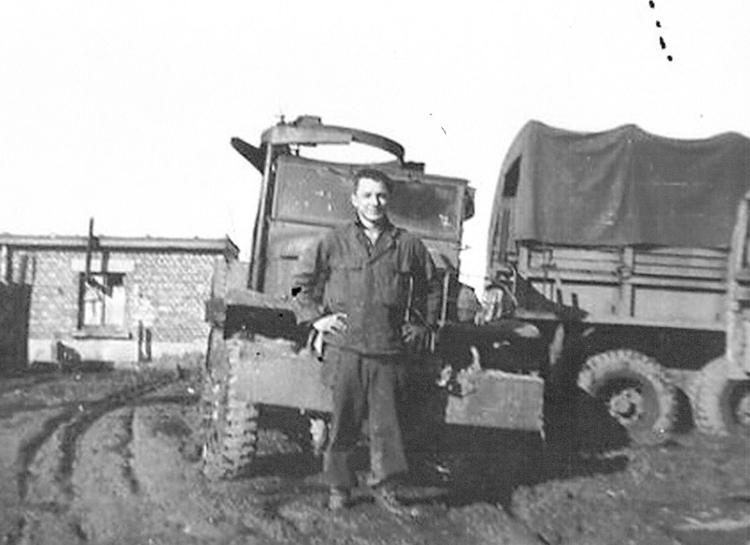 "We ran the supply routes," he said. "In other words, keeping the supply trucks (running), these two-and-a-half-ton GMCs that fed the army—water, clothing ammunition everything that the army needed — and our company, that was our whole mission in the whole thing … to keep the supply trucks running from the depots."
But Bunnell and his fellow GIs weren't driving the trucks. Rather, they functioned as kind of a military AAA roadside service, dodging German aircraft and shells behind the lines to revive broken-down or damaged trucks on the vital supply routes.
"When one of (the trucks) would stop, we'd get the word and we'd be on the Jeep to get the danged thing going … I'd say 'OK, start it up,' and he'd try to start it and I could almost always tell exactly what was the problem," he said. "In the Jeep we had a lot of stuff that we could stick in, even carburetors and stuff like that that we could put in the truck – anything to keep the danged thing moving. And that's what we did, the whole war."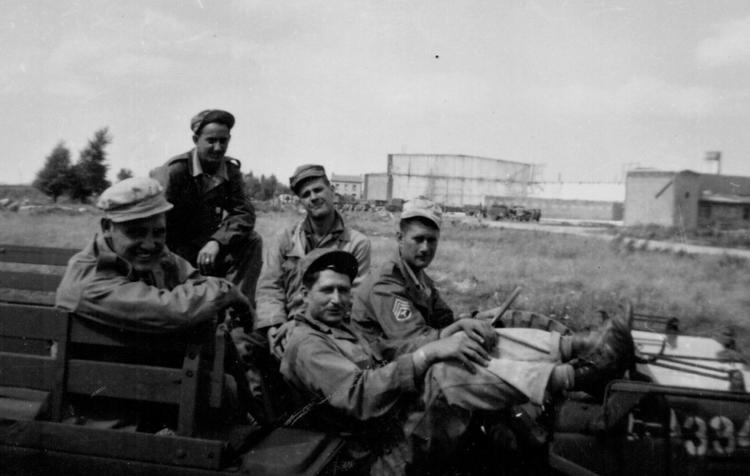 Bunnell hadn't started out to go to war. After high school, he worked at a machine shop, creating pipes and water tanks, but when they asked him to move to the graveyard shift, he got a job at a car company, a shop that specialized in building race cars.
When he was drafted in 1942, the Army realized he had some mechanical talent.
"I often wondered why I didn't go into the infantry. Most of the guys I knew became riflemen. It was because I worked at that race car shop," he said.
During his training in Texas, he managed a short leave back to Los Angeles, where he married his high school sweetheart, who was just 17 and still in school.
"Some of the guys started calling their girlfriends telling them they wanted to get married because they didn't want someone else to take over when they were gone," he said. "I felt the same way so I asked her if she'd marry me and she said yes. So I wrote her parents a letter, which I still have, and asked for her, would it be all right? And her mother said she hated to see her daughter so young marry a soldier. You can understand."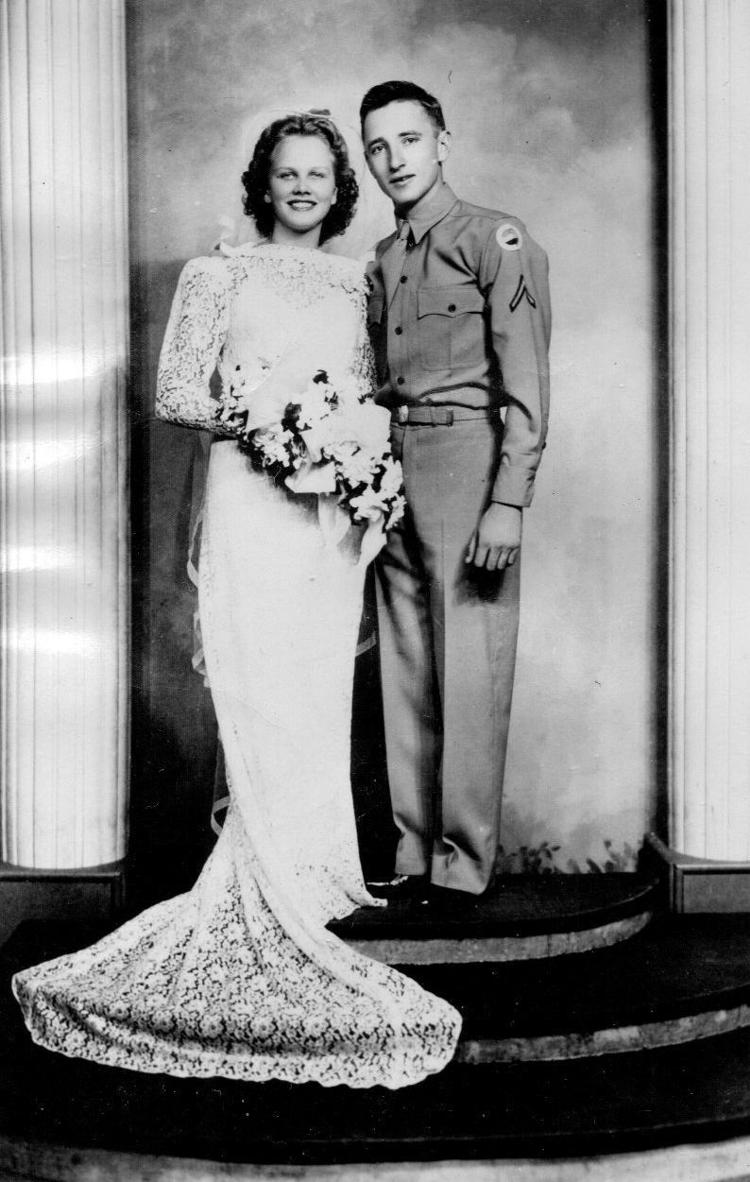 "Well, it was just the way things were then," wife Charlotte Bunnell says with a shrug. "All the young men were going away, there were no young men around. It was not like you have a choice. I was ready to get married. I was quite mature."
Even though he wasn't going into a front line position, Bunnell knew perfectly well that he might not return. But his thoughts were mostly on his new wife back home.
"Keep one thing in mind about soldiers: They're not thinking about going to war and being killed or anything, they're thinking of one thing: Going home," he said. "That was me. I wanted to go home."
Although he wasn't in the direct line of fire, repairing disabled trucks just behind the front lines was no cushy posting. German artillery was a constant menace, as were aircraft, which would engage allied bombers overhead then drop down to attack vulnerable ground targets, like the unarmored supply trucks.
After attacking the bombers, "if they had any ammunition they would shoot up the road until they were out of ammunition and then they went home ... we were always watching for German planes, but we were never strafed," he said.
On Dec. 23, 1944, Technician Frank Braun and a few other mechanics were repairing a truck at a quiet crossroad when a German bomb blew down high-voltage power lines. Those lines landed on the truck they were working on.
There is confusion in our community as to who a veteran really is, even among those who have served in the military.
"When they jumped out of the truck, they had their hands on the (metal) and it stopped their hearts. Three of them," Bunnell said.
Frank Braun, Bunnell's best friend in the unit, now lies in Plot H, Row 10, Grave 31 of the Henri-Chapelle American Cemetery in Belgium.
"It makes me want to weep when I think about him, because he was a fine man, young man," Bunnell said, "and he had a full scholarship in an eastern college to play football and it all ended right there in the road."
Even though his unit suffered fewer casualties than front-line troops, death was a constant companion for Bunnell and others running the supply lines.
"I can remember going along the road, going to pick up something and going along the road and where there had been an outbreak (of fighting), the GIs — nice, bright, handsome young men — lying along the road, waiting to be picked up, put in a body bag and taken away to be buried."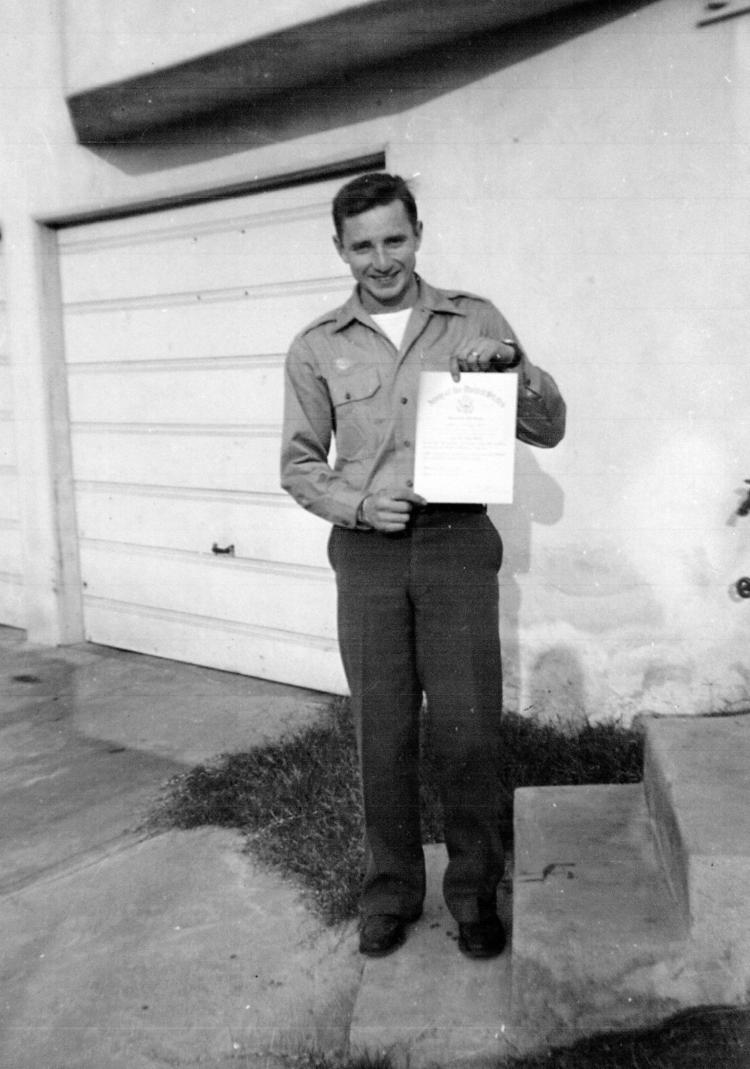 Even support troops needed to be ready to fight when necessary. They all took standard infantry training and carried the same small arms as front-line troops.
In late 1944, Bunnell had his one call to take up arms. Word had it that the Germans were mounting a surprise offense and were headed straight for Bunnell's sector. They dug foxholes, pulled out their rifles and waited.
"We were ready, all ready to go, and wait for the Germans to come," he said. "I prayed because I was a Christian. I asked God for help. And he sure shared it, he sure gave it to us."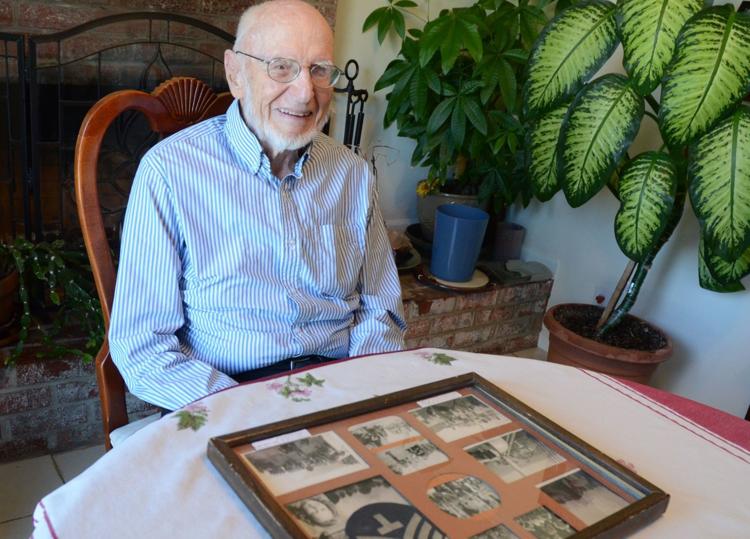 Instead of German tanks from the front, Bunnell said, a wave of American tanks swept by from behind, signaling the end of the Battle of the Bulge, the last major German offensive of the war.
It was cold, supplies such as drinking water and decent food were often scarce, and the work was hard, but after the failure of the German offensive, it was obvious the war was winding up.
"We just kept moving like that. We knew we were moving toward Germany and that's all we needed," he said. "The infantry guys, the artillery guys, all of them, they were the ones that were suffering and I felt sorry for them. I am so thankful that I managed to make it into an ordnance company."
Within a few months, the war was over, and there was little need for mobile mechanic units, so he packed up his duffel bag and returned to the United States aboard the cruise ship Queen Mary, which had been commandeered as a troop ship. Bunnell still has a photo from the deck as the troops cheered the sight of the New York skyline.
"There was guys practically with tears in their eyes ... I remember, yeah," he said, becoming visibly emotional at the memory. "I remember 'we're home.' I just couldn't believe we were back in the United States."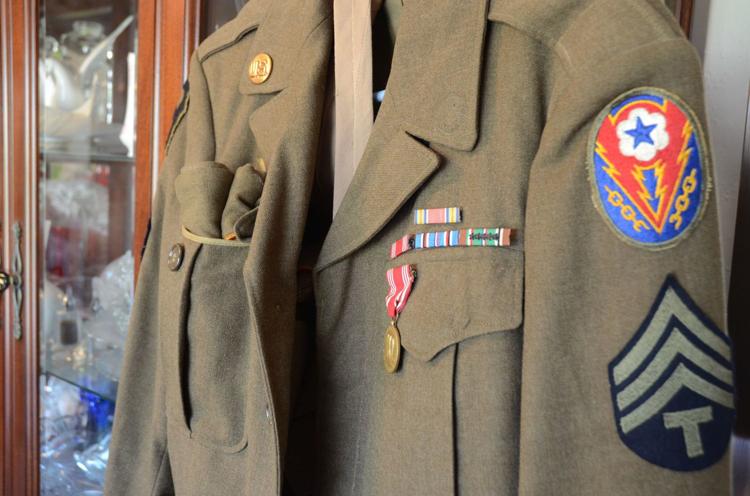 Back in civilian life, Bunnell trained as an electrician – better pay than a mechanic, he says – and landed a job with the Los Angeles Unified School District, where his wife was working as a secretary. The couple raised three boys and worked their way up to senior jobs in the district – she as administrative secretary to the superintendent of instruction and he as an area maintenance director, in charge of 100 schools.
In 2000, after they both retired, they moved to Napa to be near their youngest son Dan, a radiologist at the Queen of the Valley Medical Center.
Bunnell credits his wife of nearly 76 years for his success, and his survival in the war.
"When I made the decision to ask her to marry me, it was the best decision I ever made," he said. "She has been the best friend, the best partner, the best lover any man could have had in a wife, as far as I am concerned; I honor and praise her for being so good."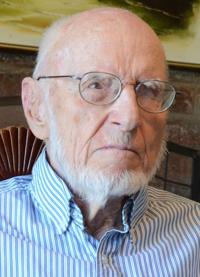 When asked about his view of the war now, he pauses.
"I think it was a horrible waste of humanity. I think of the war, in my mind I see the bodies lying along the road. Boys like me. We were all 19 to 23, just kids," he said. "I just remember and I think of it and I think what a shame that men can't come together, our leaders can't come together and make decisions rather than spend billions of dollars to kill each other. I always felt that way about war. I hate war. There's nothing about it that's good."
He worries that world leaders today have forgotten how awful war can be.
"There is no reason for killing people by the thousands to satisfy some jerks living in an office thousands of miles away," he said. "Is there?"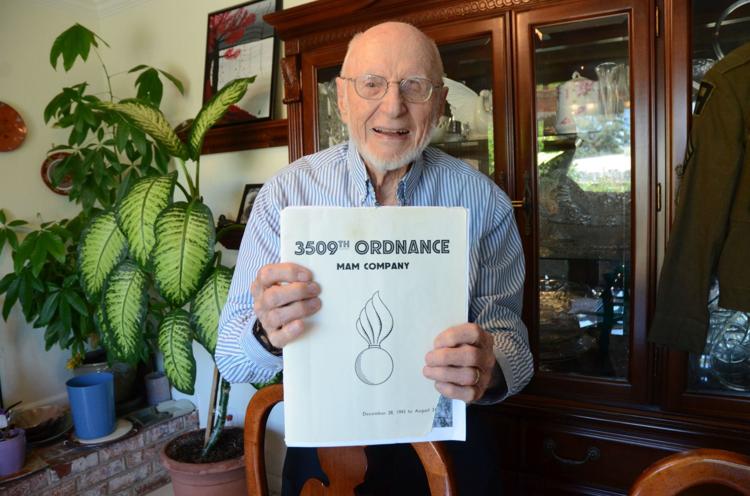 Get local news delivered to your inbox!
Subscribe to our Daily Headlines newsletter.