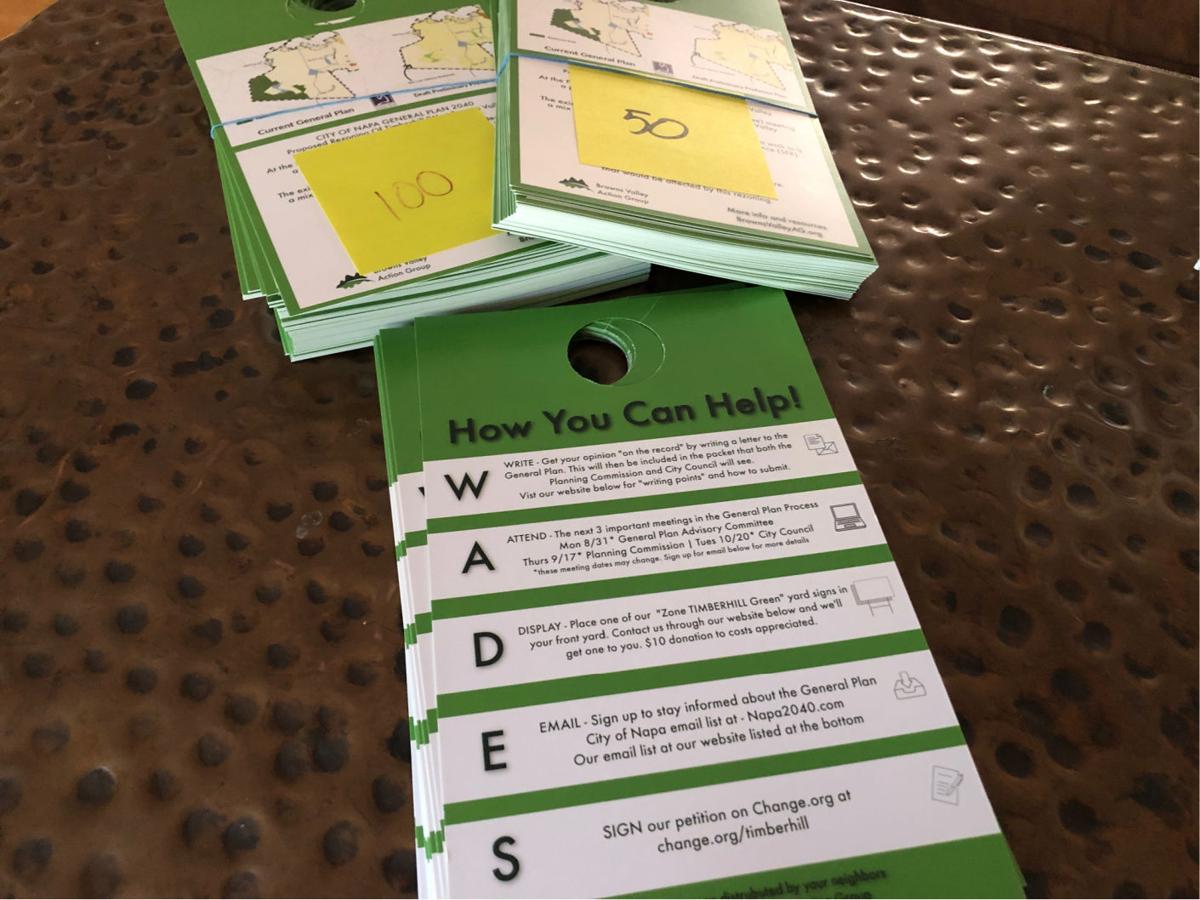 As a committee appointed by Napa plots a possible road map for the next two decades of development, residents of three western neighborhoods are asking that future growth avoid taking over some of the city's remaining open lands.
On the western edge of the Browns Valley area, homeowners alarmed by the prospect of even small-scale home construction near Timberhill Park have formed an action group to call for land protections in the neighborhood – largely by distributing door hangers and lawn signs calling on the city to "Zone Timberhill Green."
Near Old Sonoma Road on the way to the Carneros wine country, residents who have successfully repulsed two attempts to build homes in the nearby hills over the past two decades have joined their Timberhill peers in promoting a "greenbelt" designation sharply limiting construction, in hopes of blocking further attempts to build the Napa Oaks development.
The third area under review is 144 acres along Foster Road and Golden Gate Drive, west of Highway 29 in south Napa. Proposals released by the city would change the current mix of single- and multi-family zoning to medium-density housing on Golden Gate Drive, along the freeway, and low-density housing along Foster Road.
Last week, advocates for both communities appeared to gain support from Napa's General Plan Advisory Committee, the team of 15 volunteers tasked with shaping a new set of zoning and development rules with community input. Its recommendations will be shared with the Planning Commission and the City Council, which may approve a general plan to govern growth and land use through about 2040.
At the committee's online meeting Aug. 31, creating greenbelts around both Timberhill and the Napa Oaks site appeared to win strong support from members, who doubted whether home builders could overcome residents' worries about steep slopes, earthquake faults and vulnerability to wildfire – or whether housing affordable to service and tourism workers was likely to develop there.
"I just don't believe it will help our community goals and mission," said Ricky Hurtado during the meeting, which was conducted via Zoom teleconference. "... Although we need an array of housing, I don't think it's appropriate for this area. I understand there are people commuting to Napa that wish to live here, but I don't believe that this will meet that criterion in supporting our blue-collar workers, or our work force in general."
Committee member Lauren Ackerman hoped that greenbelt zoning for the 81-acre Napa Oaks site would put to rest neighbors' fears of another attempt by the developer Davidon Homes – which backed home-building projects the City Council rejected in 2002 and again in 2018 over concerns with fire safety, seismic safety and emergency access – to revive its plans in the future.
"The fact it's been before the City Council before, and the City Council has twice turned this down based on the recommendations of people living in the area, is enough for me to say there shouldn't be a third time," she said.
Perhaps the most energetic push for greater land protection has grown around Timberhill Park, where neighbors quickly organized an action group after the city in February issued a proposed land-use map that could change the zoning of the area. Currently designated a "resource area" with no more than one home allowed per 20 acres, Timberhill's environs would have been mapped for "very low density" housing – allowing one or two residences per acre.
Residents appeared in force to oppose a rezoning at the general plan committee's meeting in February – the body's last before the coronavirus pandemic forced government meetings and other assemblies onto the internet the following month – and then created a website, a sign campaign and an email list to keep up pressure on Napa officials to keep open space open. A report compiled by the group and submitted to the city also outlined the natural features in the area, as well as the various conservation easements created since 1970.
The presence of the West Napa Fault, which triggered the August 2014 earthquake, presents one major hazard to new construction around Timberhill – but the wave of wildfires that have menaced Napa County and much of California over the past month may be an even more persuasive argument now, according to Andrew Healy, a resident and representative for Browns Valley Action Group.
"Those who have lived here for a number of years, we have a long list of reasons why building doesn't make sense, and fire is at the top of the list," he said last week.
After the action group presented an alternative map to mark Timberhill as a greenbelt, city staff, in a memorandum before last week's meeting, recommended moving away from rezoning the area for more housing, even at very low density.
The general plan committee has struggled to agree on how to rezone the acreage along Foster Road and Golden Gate Drive, west of Highway 29.
While the area currently does not have the same restrictive zoning as Napa Oaks and Timberhill, several residents urged Napa leaders to protect its open space and valley views they said make it a vital southern gateway into the city. In addition to worries about increased traffic on two-lane roads, Foster Road-area residents shared many of the same concerns about earthquake vulnerability, of the kind that led to the rebuilding of Snow Elementary School farther from the West Napa Fault.
"We need to preserve the natural resources that we have," said Katherine Lambert. "Water is an issue; earthquakes are an issue; traffic is an issue. There are so many issues around this particular site."
Committee members did not make a united stand for or against restricting development near Foster Road, describing a difficult balance between land preservation and the scarcity of land for new homes.
"Regardless of what happens, we're always going to have groups of people who don't want housing in their area," said committee member Tony Zand. "... At the end of the day, Napa has only so much space, and as a community we have to decide if we want to make it more affordable to live here.
"There's never a good spot for housing. People don't want it on their block, that's just the reality of it. It's unfortunate, but it's part of the reality we all face," Zand said.
No development applications are pending for the Timberhill, Napa Oaks or Foster Road areas, city senior planner Michael Walker said last week.
The Planning Commission is scheduled to take up the Napa general plan at its next meeting, to be held at 5:30 p.m. Sept. 17 via Zoom. No vote is scheduled.



Watch Now: Burned-out Lake Berryessa residents return to homes turned to rubble