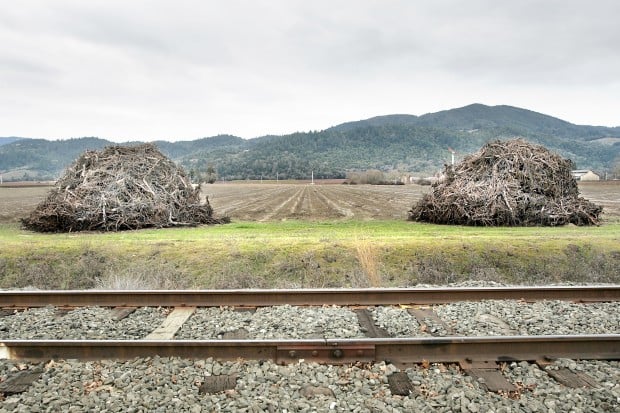 Joe Ghisletta replanted 13 1/2 acres of merlot with chardonnay and pinot noir vines last year in the Carneros district at the request of a winery that had offered a long-term contract. Older vines like the merlot, pulled last spring, produce less fruit as they age, making them less economical.
"The vines, like us, get tired," Ghisletta said with a laugh.
Many Napa Valley grapegrowers are deciding to replant vineyards at the moment, but the trend will continue for a while, Jennifer Kopp Putnam, executive director of the Napa Valley Grapegrowers, said Friday.
Vineyards planted after the phylloxera infestation of the late 1980s and early 1990s will soon need to be replanted, Putnam said, referring to the root louse plague that killed about a third of the Napa vines.
The life cycle of a grapevine is between 20 and 30 years, when the vines are at their productive best, industry experts maintain.
"Vineyard owners look at a number of factors when making this decision: Does their vineyard continue to be productive; are there pest (and) disease pressures that a replant could rectify; and, overall, is the variety planted the most appropriate for their site," Putnam said.
"There is a lot of replanting about to take place," she added.
Like Putnam, Andy Beckstoffer, who grows grapes in Napa, Mendocino and Lake counties, said grapegrowers replant for all sorts of reasons.  Most vineyards were replanted between 1989 and 1993 because of the phylloxera infestation, said Beckstoffer, who expects more replanting to take place in the coming years.
"I think you're beginning to see the new planting cycle," he said.
Julie Nord of Nord Vineyards manages 900 acres of planted grapes at a dozen sites including Pope Valley, Yountville and Carneros. She expects to replant 60 percent of the vines over the next few years.
"We're looking at the finances," said Nord, who noted that low interest rates make borrowing the investment money relatively inexpensive.
Buckland said vineyard owners pay on average $50,000 to $60,000 to replant an acre of vines in Napa County. In an effort to help vineyard owners, the Napa Valley Grapegrowers organization is updating a cost study of establishing and producing grapes in Napa County in conjunction with the University of California Cooperative Extension, according to the trade association.  The demand for grapes is strong, Nord and others said. "We have offers on everything," she added.
There were about 45,500 acres of planted grapes in Napa County in 2010 — or  42 percent more than in 1990, according to the Napa County Agricultural Commissioner.
On average, 100 to 200 acres of grapes are removed annually — or about 4 percent, according to the agricultural commissioner. Since fall, about 145 acres have been removed, Napa County Assistant Agricultural Commissioner Greg Clark estimated.
"Much of that will be replanted this year, although it is possible that a portion may not be replanted this year but in subsequent years," he said.
Garrett Buckland, a vineyard consultant with Premiere Viticulture Services Inc., said he's surprised to see so many vineyards being replanted.
"I see it as a very good sign," he said, referring to the rebounding economy.
Get local news delivered to your inbox!
Subscribe to our Daily Headlines newsletter.