Napa County and California saw a five-year drought washed away with a watery exclamation point during the 2016-17 rain season. Make that several exclamation points.
Huge storms brought attention-grabbing sights. Water surged through the new flood control bypass in downtown Napa. Lake Berryessa tumbled into its spillway at Monticello Dam for the first time in a decade.
Some sights were less welcome. Mud and debris from hillsides oozed over parts of Silverado Trail, Redwood Road, Mount Veeder Road and other roads, shutting down traffic and wreaking millions of dollars in damage.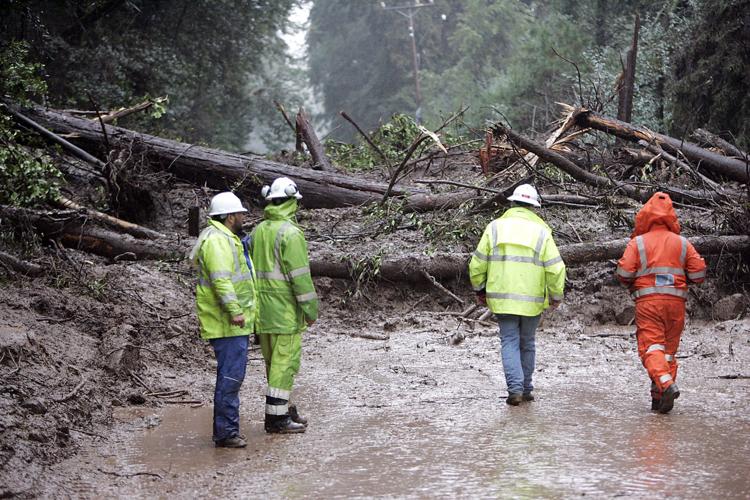 Phrases such as "atmospheric river" and "Pineapple Express" ruled the day. Big, soppy storms fed by plumes of moisture from the Hawaii area pummeled Napa County.
"That's the main culprit of the rain," National Weather Service meteorologist Brian Mejia said in late March as the storms petered out. "Just a whole bunch of atmospheric rivers, just the right setup."
When all the rain had fallen, the statistics told the story.
The National Weather Service station at Napa State Hospital received 45 inches of rain from Oct. 1 2016 through Sept. 30 2017. This total made for the third wettest winter in records dating back to 1892.
That 45 inches at Napa State Hospital may sound impressive, given the site in an average year receives 27.71 inches. But it pales compared to the more than 99 inches received on Mount St. Helena or the 80 inches on Mount Veeder.
Heavy rains in early January triggered the city of Napa's new flood control bypass for the first time.
The quarter-mile-long bypass channel runs from the Oxbow area to just north of Veterans Memorial Park downtown. Completed in 2015, it usually is dry and serves as a park with paths, lawns, benches and natural habitat.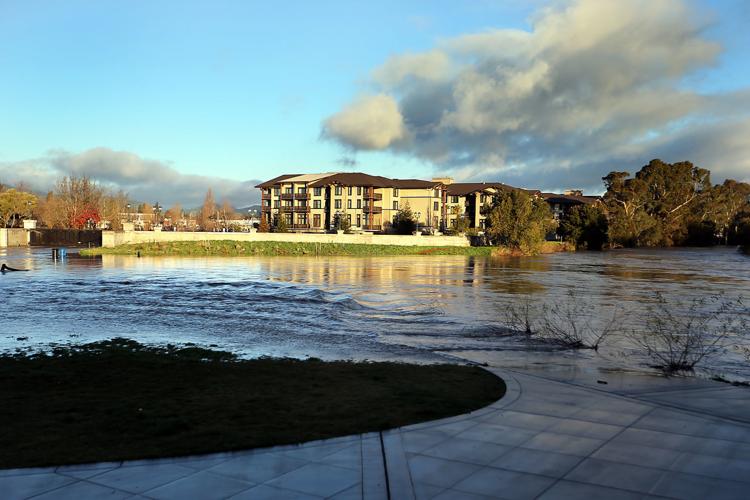 But on Jan. 8 and 9, it served as a relief valve for Napa River floodwaters that would otherwise back up along bends in the river. The park disappeared underwater.
Patrick Rinehart of Rinetel Photography of Napa came to the bypass at 7:30 a.m. Jan. 9 with his camera.
"Just want some documentation of the historic event," he said.
Napa County and the U.S. Army Corps of Engineers had created not only a flood control feature, but a new tourist attraction. People lined the bypass to see it in action, to the surprise of county Deputy Public Works Director Phil Miller.
"It was like a circus," Miller said. "People had their kids, they were up at the flood walls next to the Oxbow. We were just a little surprised about the local awareness of this project. We thought only the (district) engineers would get out here to watch this stuff."
Perhaps most importantly, downtown Napa survived the big storms without flooding.
"I'm just happy that it's actually working," Napa resident Chelse Baumgaertel said after peering into the bypass during its initial dunking.
The rains kept coming, and massive Lake Berryessa reservoir in eastern Solano County filled for the first time since early 2006. And when Berryessa fills, it spills.
In mid-February water poured down the 72-foot-diameter concrete funnel that serves as the lake's spillway near 300-foot-tall Monticello Dam. People came to watch, as they have during the periodic spills ever since the reservoir filled for the first time in April 1963.
But this was the first time Lake Berryessa spilled in the age of drones and YouTube. Drone footage of the spillway shot by Berryessa resident Evan Kilkus went viral, with more than 8 million hits to date.
The powerful storms also wreaked havoc. Though they didn't cause major, widespread flooding in Napa County, they flooded roads and triggered mudslides.
Tumbling rocks closed Silverado Trail near Pratt Avenue on Jan. 9.
"Every time a piece comes down, it blocks the entire roadway," county Public Works Superintendent Steve Stangland said. "They are about the size of a Volkswagen."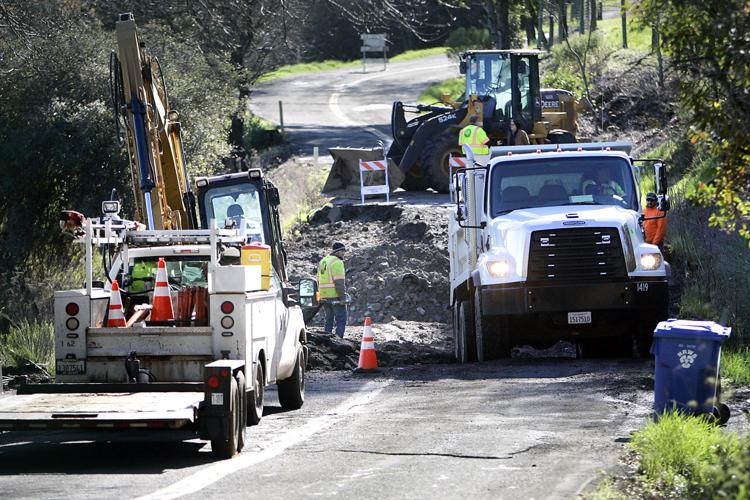 The county hauled away truckloads of debrs, built a 10-foot-tall retaining wall to catch tumbling debris and reopened the road.
A swathe of hillside came down on Redwood Road west of the city of Napa. It left behind a wall of mud, trees and other debris covering the road, at some places twice as tall as a person. County crews hauled away a few hundred dump truck loads of this soupy mixture.
The storms ended up doing more than $30 million in damage to rural roads. Crews could be repairing the various sites through 2020-21, according to a county work plan.
Winter storms of 2017 may have seemed like a distant memory in recent months. Napa County in October was hit by devastating fires and has seen below-normal rainfall for the 2017-18 rain season that began Oct. 1.
Still, the huge storms were a reality and not a mirage. Napa County experienced a monster rainy season on a scale seldom seen over the past century.
Get local news delivered to your inbox!
Subscribe to our Daily Headlines newsletter.