Napa County in 2017 burned on a destructive scale never before seen in its 167-year history.
This past October saw three massive blazes break out on the same windy night in three different locations. The Atlas Fire burned in the hills east of the city of Napa, the Nuns Fire in the hills to the west of Napa and the Tubbs Fire near Calistoga.
The sun dawned on Oct. 9 to a Napa Valley caught between pincers of flames. Hundreds of homes burned along the valley's hilly edges and thousands more seemed like possible fuel, should an ill wind blow the fires in the wrong direction.
"We're no strangers to natural disasters, having had numerous fires in the past and floods and earthquakes," state Sen. Bill Dodd, D-Napa, said in October. "But this one has significantly impacted more people than any of those, probably all put together."
The 2014 South Napa earthquake rocked the south county and floods have hit various sectors of the community, but the Atlas Fire, Nuns Fire and Tubbs Fire stand out among local disasters because they over two weeks touched the lives of most county residents.
People evacuated by the thousands. They fled Silverado, Soda Canyon, The Avenues, Circle Oaks, Mount Veeder and portions of Carneros. All 5,300 residents of Calistoga received evacuation orders. Thousands of other people awaited possible evacuation orders that thankfully never came.
Seven people died, six because they couldn't escape the flames and one a firefighter who crashed his water tender. More than 600 people lost their homes.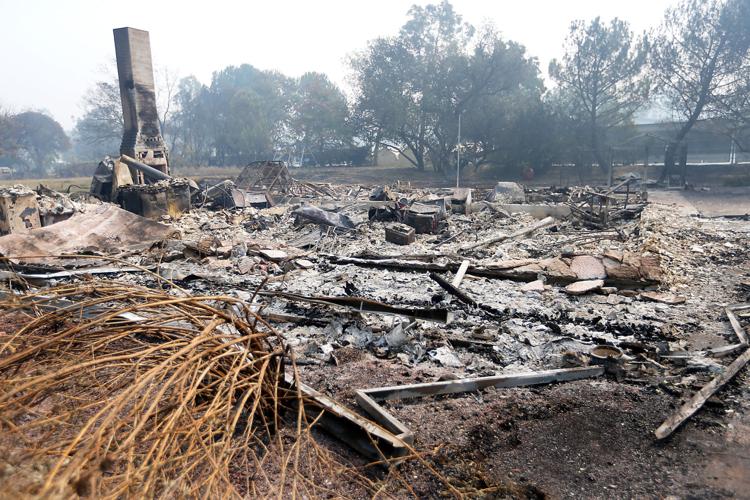 Almost all county residents lived with a toxic brew of smoky air, with many of them using breathing masks. On some days, one wondered whether the sky was sunny or cloudy above the thick, brown pall.
The fires created Napa County's shared horror of an experience. People bonded amid their varying degrees of misery, worry and coughing bouts.
Almost three months later, memories remain fresh. Everybody seems to have some type of fire story to tell. Instead of the weather, the fires are often the conversation jump-starter.
"Did your home survive?" "Did you have to evacuate?" "How close did the fires come to your house?" – those are oft-heard snatches of dialogue.
A smoky smell outdoors can still cause skittishness. So can the return of windy, red-flag fire weather, such as happened on Dec. 15 and 16.
County Fire Chief Barry Biermann at the Dec. 19 Board of Supervisors meeting talked about learning lessons from the causes of the wildfires, once they are known. That can help prevent future wildfires.
News reports have speculated that downed power lines sparked all three fires. Biermann, while offering no speculation himself, said some Southern California communities work with utilities to reduce power during episodes of heavy winds.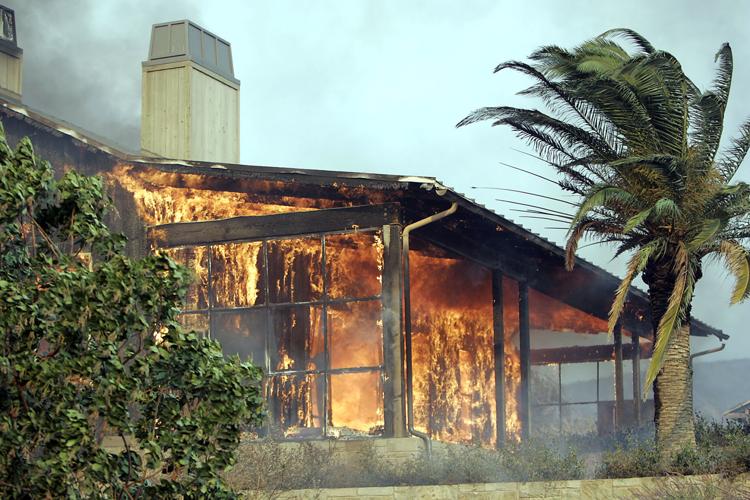 Supervisors at that Dec. 19 meeting reflected on the county's ongoing efforts to respond to what appears to be the worst local disaster ever. Those efforts involve everything from making sure burned-out homes are quickly removed to helping fire victims connect with aid.
"It's certainly been a long 73 days," Board Chair Belia Ramos said.
And a lot of long days are ahead.
Though the fires are out, the aftermath is only beginning as fire victims look to rebuild their homes and property. Meanwhile, Napa County's hospitality industry is trying quash any impression that world-famous Wine County has been reduced to a charred paradise attractive only to disaster looky-loos.
Napa County in 2018 will continue with what County Executive Officer Minh Tran called the "marathon" of recovery.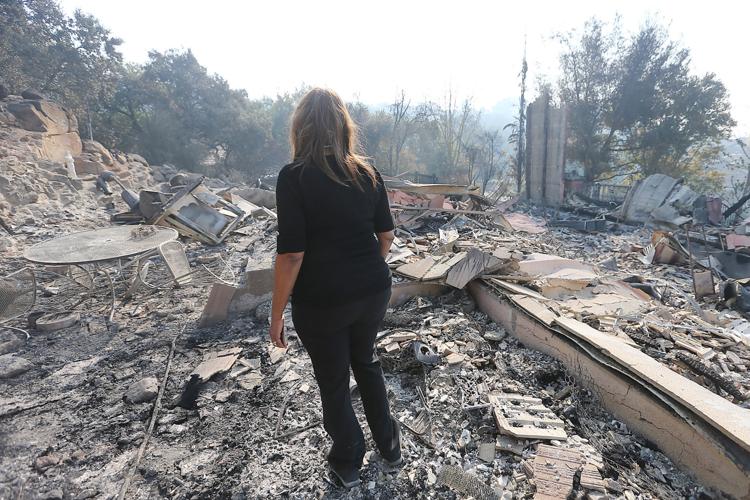 The fires of October 2017 were eerily similar to the fires that raged in September, 1964, also amid fierce winds. The Napa Register on Sep. 21 of that year had a banner headline saying, "Valley Is Flaming Nightmare."
The Hanley Fire broke out near Calistoga and, just as with the Tubbs Fire, burned to Santa Rosa. The Mount George Fire broke out in the hills east of the city of Napa and burned toward Solano County, similar to the Atlas Fire. A fire in the Mayacamas Mountains ultimately menaced the town of Sonoma, similar to the Nuns Fire.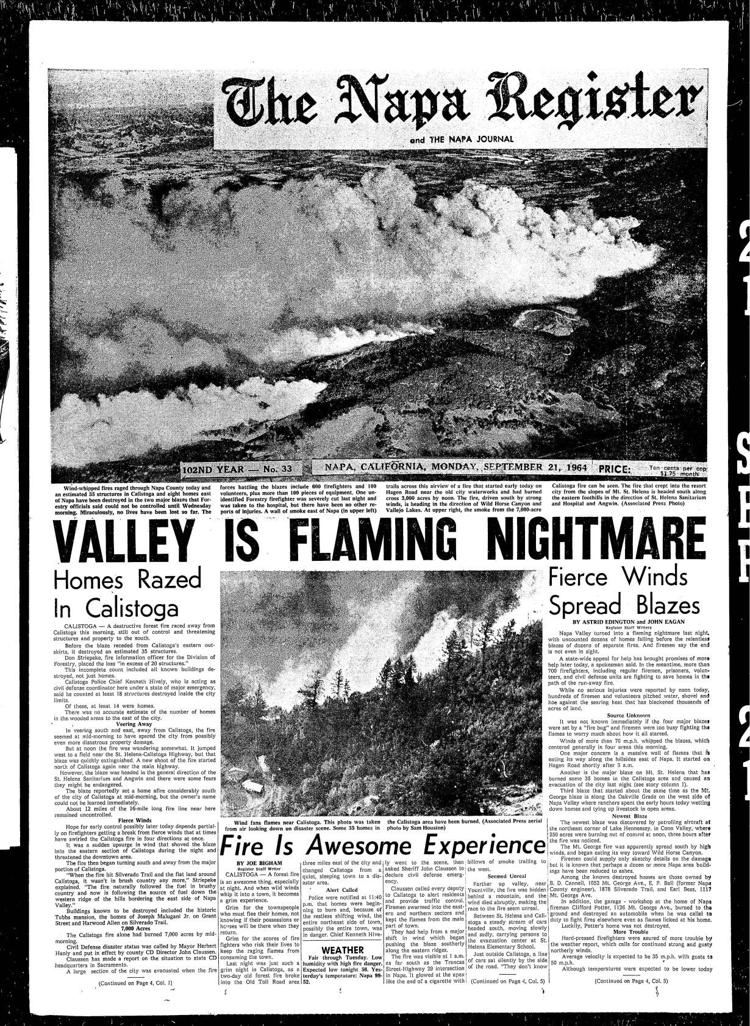 But Napa and Sonoma counties had far fewer residents at the time. Officials in late September 1964 estimated the fires destroyed 126 homes in the two counties. The total for the recent fires was more than 6,000 homes destroyed, most of them in Sonoma County.
Here is a box score of the devastation in Napa County from the October 2017 wildfires, with the figures released by the county:
- 611 homes destroyed and 94 damaged. The Atlas Fire destroyed 455 and damaged 75, the Nuns Fire destroyed 114 and damaged eight and the Tubbs Fire destroyed 42 and damaged 11.
- 22 businesses destroyed and 14 damaged. The Atlas Fire destroyed 18 and damaged 12, the Nuns Fire destroyed four and damaged one and the Tubbs Fire damaged one.
- 418 outbuildings destroyed and 62 damaged. The Atlas Fire destroyed 286 and damaged 37, the Nuns Fire destroyed 91 and damaged 14 and the Tubbs Fire destroyed 41 and damaged 11.
- $730 million in assessed value lost from the property tax rolls, or 2 percent.
- 844 damaged trees along county roads posing hazards. Cal Fire removed 769 and the remaining 75 are to be bid out because of size. In addition, PG&E said it would prune, trim or remove 8,000 damaged, dead and dying trees.
- 6,000 linear feet of wattles—more than a mile -used to control erosion at Napa's Milliken Reservoir and 11,100 linear feet—more than two miles—at Calistoga's Kimball Reservoir.