After purchasing the rail touring and dining business in 2015, this year the new owners of the Wine Train continued to add experiences to the railroad enterprise while announcing plans for a resort on the Oxbow.
In June, Noble House Hotels & Resorts, Ltd. and Brooks Street filed an application to completely redevelop the Wine Train property on McKinstry street.
The plan includes constucting a 348,000-square-foot, five-story resort at the current train station property just north of the Oxbow Public Market.
Such a project was estimated to cost $100 million, said Jake Donoghue, CEO of Noble House Hotels & Resorts.
In 2017, Wine Train owners helped fund four new murals installed along the Wine Train tracks in central Napa.
The art is part of a plan to create a Rail Arts District along the Vine Trail, where it parallels Napa Valley Wine Train tracks in central Napa. The Vine Trail Coalition and Wine Train are the private entities funding mural creation and maintenance.
The first mural is painted on the back of the Napa Valley Register building. Called "Knocking on Heavens Door," it was created by Polish artists Bezt of Etam Cru and Natalia Rak. It depicts a dark scene, including winter trees without leaves and several homes, some with broken windows, leaving a haunting impression.
In the middle of the mural, a woman wearing a backpack looks backward while reaching out with one arm toward glowing pink butterflies.
The second mural was installed on the back of the cement block building at 1551 Soscol Ave., home to Matthews Mattress. Argentinian-Spanish artist Felipe Pantone created the geometric graphic pattern he named "Chromadynamica for Napa."
A third mural is painted on a building near the back of Napa Auto parts and called 'Floating Napa' by Cinta Vidal. It features houses floating, as if weightless.
The fourth, and latest, art installation features a piece by the Napa-based Mikey Kelly. He transformed 710 feet of fencing between Lincoln Avenue and Jackson Street into a series of human and four-footed silhouettes mirroring those passing by, set against a rainbow-hued backdrop of diagonal lines.
In late August, the Wine Train co-sponsored the first Rock the Rails concerts. Some 350 people journeyed to V. Sattui Winery in St. Helena for three hours of rocking music by Mitch Woods & His Rocket 88's, then the featured act, Big Bad Voodoo Daddy, a swing revival band that played until 10 p.m.
In August, members of the Napa Valley Model Railroad Historical Society announced talks with the Wine Train to explore the possibility of moving part of the club's model train collection to the rail company's station house on McKinstry Street. The club is fighting efforts by Napa Valley Expo to reclaim its Quonset hut site on the fairgrounds.
The business also expanded the new Quattro Vino tours to include nighttime experiences including an evening train journey to Raymond Vineyards or Grgich Hills Estate.
This winter, the Wine Train also continued with its revived, and more elaborate, Santa train, which features a stop at a winter fantasyland in Yountville.
In announcing plans for a resort on McKinstry Street, Wine Train said the concept was inspired by "luxurious train stations found throughout Europe."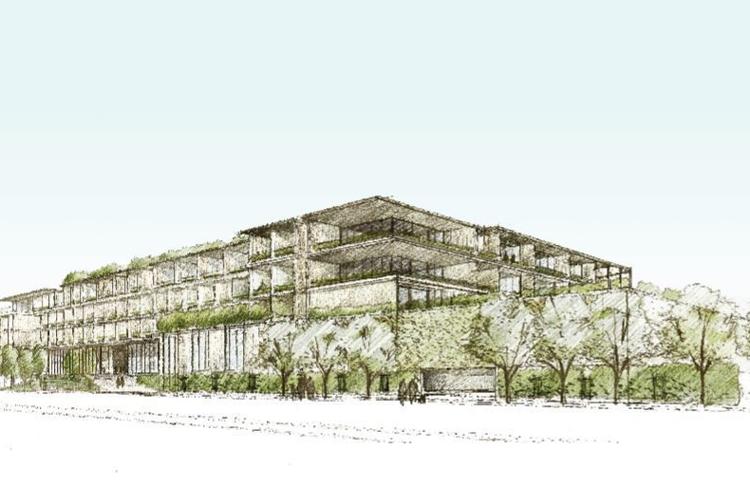 "We feel there's a need for an elevated hospitality experience in downtown Napa, and now we can offer these individuals world-class accommodations," said Scott Goldie, a partner of Brooks Street.
The three-acre parcel in the Oxbow area would be transformed to feature a luxury hotel with approximately 148 guest rooms, a rooftop restaurant, spa and pool, tiki bar, retail market and enclosed parking to accommodate the train station, hotel and restaurant.
The project should have six levels, including subterranean and ground level parking.
This summer, Donoghue said he expected the city's approval process to be approximately 18 to 24 months and construction to take 18 to 24 months.