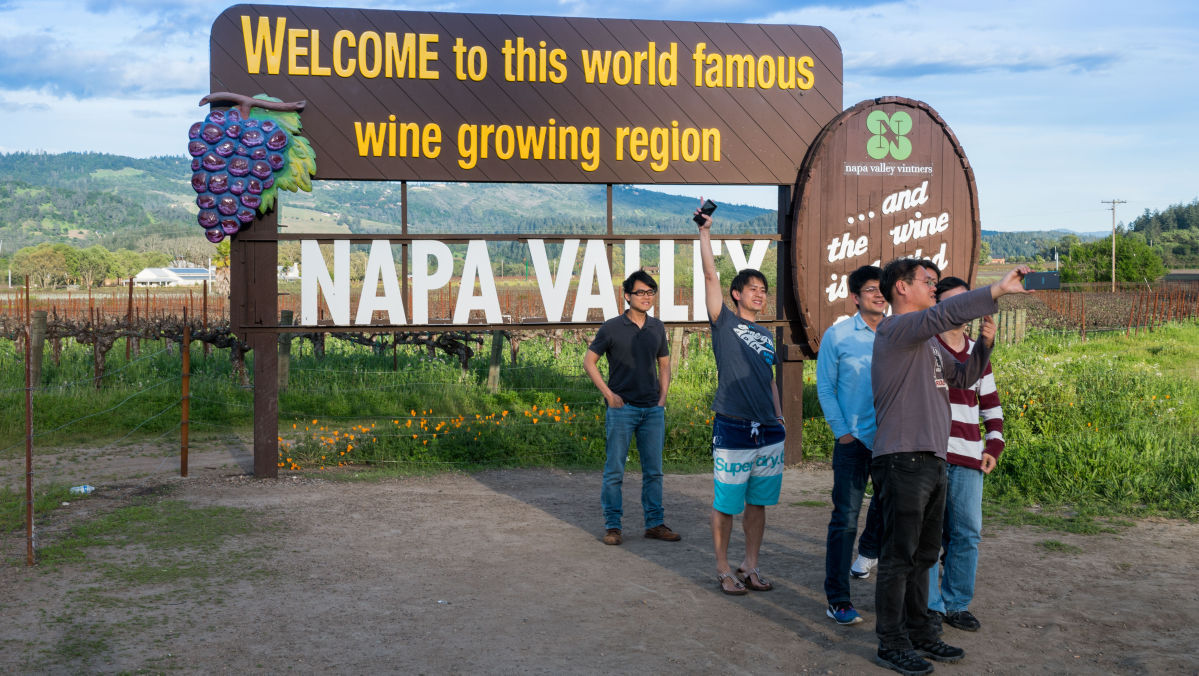 Napa County visitors spent a record $1.27 billion in the county in 2015, an increase of 8.9 percent over the year before. That's the highest percentage gain among all nine Bay Area counties.
The data came from Visit California's annual economic impact report, released on Monday.
Napa County tourism brings the area a total of $115 million in tax revenue, said the report.
Napa County's percentage increase "is pretty darn good," said Clay Gregory, CEO and president of Visit Napa Valley. "We're in really good shape in terms of growth."
"Luckily most of our growth is not in numbers of people, it's in rates and getting more folks to be here in weekdays, which is one of our priorities," he said.
As for 2016, Gregory said he expects revenue to continue to grow in the 6 percent range.
In the last Visit Napa Valley fiscal year, which ended in June, Napa County lodging revenue rose more than 10 percent, he said. However, it's hard to sustain double-digit growth indefinitely.
It will be interesting to see how new hotels like the Hampton Inn and others, along with properties adding rooms, will impact local hotel economics, Gregory said.
For 2016, "I think the occupancy will be flat, because there are more rooms but we should go up in revenue" for the same reason, he said.
Travel spending in Napa County has more than doubled since 1998, when the total reached $622 million. Tourist spending directly impacts employment. Napa County visitor-related jobs topped 13,680 in 2015, a 3.7 percent increase from 2014, according to the state report.
Bay Area-wide, travelers spent more than $33 billion in 2015, which supported 248,300 jobs for residents and provided $2.8 billion in state and local tax revenue, Visit California said.
The Bay Area was the largest regional contributor to a statewide tourism economy that topped $122 billion, sustained 1,064,000 jobs and generated $9.9 billion in state and local tax revenue – all record figures.
"Tourism is a significant and growing piece of the Bay Area's economy," said Visit California President and CEO Caroline Beteta. "As the region plans for future growth, it is important to keep the continued success of the travel industry top-of-mind as a source of benefits for the entire community."
A Dodge Market Research report found that from 2006 to 2015, new building and renovation projects in California that related to tourism reached $20 billion, with an average of $2 billion infrastructure investments per year. This includes airport modernizations, new shopping and dining experiences and cultural and civic amenities that both visitors and residents can enjoy.
Visit California's report demonstrates a sixth consecutive year of growth for the tourism industry, outlining the economic benefits of leading tourism sectors such as hotels, rental cars and retail as well as the statewide and county-by-county benefits. Out of California's 58 counties, 51 saw an increase in direct travel spending compared with 2014, including:
— Alameda: $3.89 billion in traveler spending, up from $3.71 billion (4.9 percent increase)
— Contra Costa: $1.58 billion in traveler spending, up from $1.56 billion (1.3 percent increase)
— Marin: $803 million in traveler spending, up from $777 million (3.3 percent increase)
— Napa: $1.27 billion in traveler spending, up from $1.16 billion (8.9 percent increase)
— San Francisco: $14.29 billion in traveler spending, up from $13.91 billion (2.7 percent increase)
— San Mateo: $3.36 billion in traveler spending, up from $3.18 billion (5.5 percent increase)
— Santa Clara: $5.40 billion in traveler spending, up from $5.08 billion (6.2 percent increase)
— Solano: $662 million in traveler spending, up from $643 million (3 percent increase)
— Sonoma: $1.82 billion in traveler spending, up from $1.78 billion (2.3 percent increase)