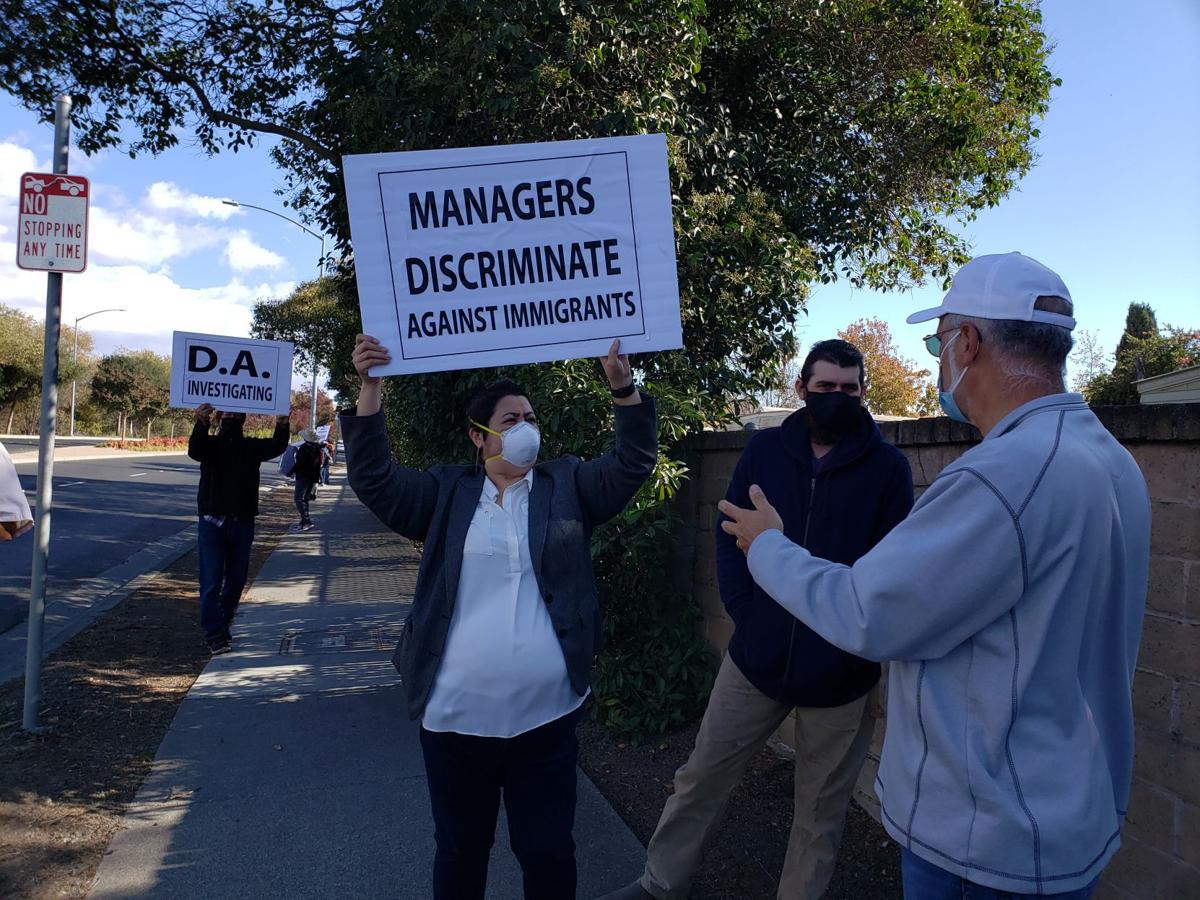 AMERICAN CANYON — At least a dozen disgruntled mobile home park residents and their supporters held a protest in front of the America Canyon Mobile Home Park on Sunday.
Complaints against park management were varied. "Managers Discriminate Against Immigrants," read one sign. The issue that precipitated Sunday's protest involved residents being charged for tree trimming, several residents said.
Melissa Lamattina, a social worker who spent decades living at the park, and whose mother still does, said many residents feel intimidated by management and are afraid to speak up for fear of reprisals.
"My mom still lives here," she said. "There's a lot of bullying and abuse of power going on here. Especially against the non-English-speakers," she said.
Someone who answered the phone at the park's offices directed a reporter's inquiries to the management at Southern California-based Santiago Communities. No response had been received as of Tuesday morning.
The tree trimming incident is what threw light on the matter, Lamattina said.
"Residents were charged more than $800 to trim the trees in the park, and that's not legal," she said. "The manager made up her own Civil Code. There are a lot of non-English-speaking residents who are afraid of her. No literature is distributed in Spanish, and they are afraid to stand up for fear of being evicted."
American Canyon Councilmember Mark Joseph, who attended the protest, said city officials are looking into the legality of the issue. Residents complain that if they were not able to pay the entire $800-plus tree trimming fee, the cost was added to their monthly space rent, effectively raising the rent.
"It sounds like the manager is charging residents for tree maintenance, and I understand this is not the law," said Joseph. "Also, we have a rent control ordinance, and (management) may be in violation of that. The city attorney is looking into it. Mobile home parks are the closest thing we have to consistent affordable housing, and we have to (protect) it."
The Napa County District Attorney's Office received a complaint about the park's operation and an investigation is ongoing, Assistant District Attorney Paul Gero said Tuesday. Gero said he couldn't comment further on a pending matter.
Longtime park resident Charlene Neill, a 71-year-old hairdresser, said she's angry about being charged for tree trimming.
"I've been here 40 years, and for years we've never touched the trees," she said. "We weren't charged to trim them. They (park management) don't care about us and neither do the owners — Santiago Corporation."
Margaret Caragan Aldrich, whose family was among the first to move into this park in 1989, said she is concerned about "a lot of discrimination going on here."
Terri Pohrman, a longtime advocate with the Vallejo Mobile Home Coalition (VMC), said she organized Sunday's protest to bring attention to the plight of the voiceless whose circumstances are already precarious.
"I feel sorry for these people — I really do," she said. "I hope to see the American Canyon City Council be more responsive to the residents of mobile home parks and the VMC."
Joseph said he intends to create a way for these under-served City residents to at least air their grievances.
"We have no mechanism whereby the mobile home park residents can air their concerns, and know someone is listening and doing what they can to help," he said.



Watch Now: Which apps may be draining your bank account
See plans for a landmark building in downtown Napa