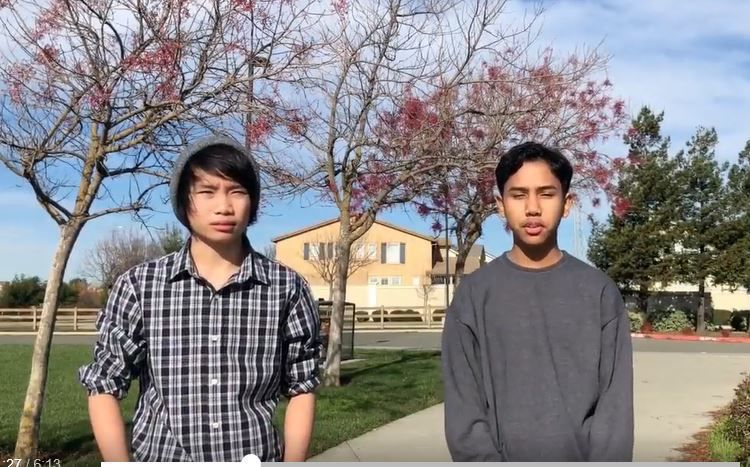 American Canyon Middle School 8th graders Josiah Ramelo and Jonathan Chau want the 2020 presidential candidates to address the issues surrounding homelessness and they earned high honors in a national competition with a video laying out their case.
The pair created and submitted their video, titled "A Downward Spiral," to C-SPAN's annual StudentCam competition, walking away with an honorable mention nod and $250 in prize money, according to the C-SPAN website. They were among some 5,400 entries from around the United States and even some from other countries, it says. They were among 97 Honorable Mention winners.
This year, 150 student prizes and 53 teacher prizes totaling $100,000 were awarded.
Every year since 2006, C-SPAN's national video documentary competition "encourages students to think critically about issues that affect our communities and nation," according to C-SPAN.
Each year, C-SPAN partners with its local cable television providers to invite middle school students (grades 6-8) and high school students (grades 9-12) to produce short documentaries about a subject of national importance. This year, the theme students addressed was, "What's Your Vision in 2020? Explore the issue you most want presidential candidates to address during the campaign."
American Canyon Middle School students have entered the contest annually for the past seven years and earned recognition last year when Kaitlyn Shea Andaya, Ava Acosta and Hailey Ledford, did so, Principal Dan Scudero said.
Scudero said he doesn't know if other Napa Valley Unified School District students have entered, but he attributes his school's success in this arena at least in part to the educational approach.
"I think it's wonderful recognition; C-SPAN recognizing American Canyon students are incredibly intelligent and able to effectively communicate their ideas in an interesting and engaging way, worthy of recognition," he said. "The teachers here utilize technology-infused, project-based learning – (as do a couple of other local schools). It's learning that's more applicable in their lives and involves sharing what they've learned with community members. That kind of academic rigor combined with school and community expectations that students can share their learning with anyone, totally predicts our students winning these kinds of awards."
In their video, Ramelo and Chau made the case for a raise in the minimum wage as a way to help put a stopper in the downward spiral of poverty to homelessness, from which statistically more than 550,000 people suffer in the U.S. as of last year – a situation they called "unacceptable."
The honored video includes statements by lawmakers in various settings remarking on the issues of poverty, minimum wage and homelessness. The students argued that the average wage earner in San Francisco doesn't bring home enough to pay the average rent there.
To present both sides of the argument, the students filmed Napa city finance director Bret Prebula saying a raise in the minimum wage would help "create a more level playing field," but also San Francisco Canyon Market owner Richard Tarlov suggesting that such a move could produce the opposite of the desired effect.
"It could cause some firms to let people go, or hire fewer people," he said.
A National Employment Law Project attorney is quoted admitting that raising the minimum wage won't cure poverty, but she suggests it will "set a more accurate baseline, reflecting what is really needed" to live in this area.
It is also noted that fewer homeless people means more people contributing to society in a positive way, rather than being a drain on it.
Ramelo said he and Chau decided on the topic of homelessness and the minimum wage after learning that the national federal poverty line had risen.
"This means that people with minimum wage as their main income cannot support a family," he said. "We can see this is especially relevant in California because it has the highest population of homeless people in the country. Jonathan and I wanted to dig a little deeper into the topic."
Ramelo said that having someone from American Canyon recognized in a national contest was surprising and gratifying.
"Getting honorable mention felt great. Considering that this was a country-wide competition, even getting an award is something big for me," he said. "Furthermore, American Canyon is a pretty small city. So, to be recognized in a small city is also something big for me. Also this was one of the first major awards I have received."
He added that he hopes people come away from the video with a greater appreciation of the issues surrounding homelessness in this country.
"When Jonathan and I were looking at the statistics, it really opened my eyes because I never really knew anything about homelessness before starting the project," Ramelo said. "So, what I hope people to take away from this video is to be more aware about homelessness and the things related to it so that we keep the homelessness population from rising. I really think that there can be a solution to homelessness. It just takes time."
Ramelo and Chau wind up their video saying that the United States is failing in its role as a driver of improvement in the human condition in this arena, and they urge a change.
The downward spiral must be stopped to help stem the growing problem of homelessness in U.S. cities, they said.
Though the competition has been held annually for 16 years, this year's has been impacted by the COVID-19 pandemic, C-SPAN officials said.
"C-SPAN is working hard to celebrate all of the winning student documentarians who placed in our annual competition this year," they wrote in a letter to the city of American Canyon. "Normally this time of year we are gearing up our C-SPAN Bus and traveling around the country to visit winners and honor them during a ceremony at the school. This, however, is not an ordinary year and with the health of students and communities in the forefront of our minds, we are thinking about new ways to highlight the hard work of these talented students. We would love if the city joined us in celebrating your local winners at American Canyon Middle School."
American Canyon Mayor Leon Garcia answered that call by creating and posting a video recognizing Ramelo and Chau: youtu.be/-FvqJOnTcEo?
Scudero said the student winners appreciate the congratulations conveyed by Garcia and others.
"Last year, they sent out a C-SPAN bus and invited local media to come, but because of the pandemic, it's all being dealt with electronically," he said, adding that like Garcia, he posted a congratulatory video as did the assistant superintendent for curriculum and instruction Pat Andry-Jennings and others have conveyed their congratulations, as well.
"We're very proud of them," he said.
Get local news delivered to your inbox!
Subscribe to our Daily Headlines newsletter.