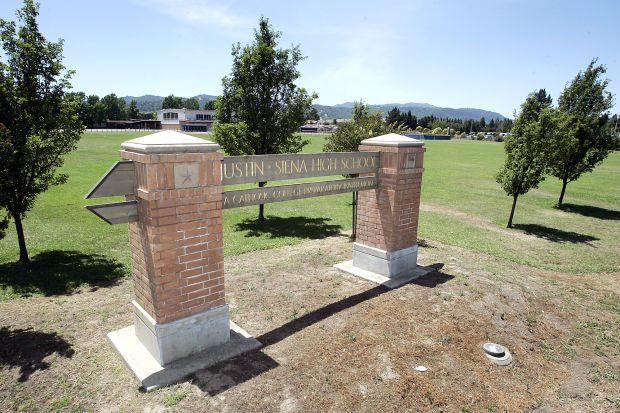 On Thursday, some 625 teenagers are scheduled to return to Justin-Siena High School an hour later than in past years and, school leaders hope, better rested and better able to learn.
The Catholic private academy in north Napa is shifting its daily schedule away from the early morning in the new school year, moving the first academic period from 8 to 9 a.m. In announcing the change last week, Justin-Siena cited months of discussion among faculty and parents, as well as a skein of research papers pointing to a lack of sleep as a cause of academic problems, fatigue, obesity and depression.
Back-loading the Justin-Siena school day – starting classes later and pushing back the end of classes by 30 minutes to 3:10 p.m. – is a recognition that students' natural resting periods shift later into the night during their teen years, according to Principal John Bordelon.
"It's all about the students' health and well-being," he said. "The bottom line is that we want to position students optimally for as much growth as possible, so we should design the schedule around adolescent biology."
Within the local public school system, American Canyon High School starts classes at 8:30 a.m., a half-hour later than at Napa and Vintage. But any effort to push back starting times across the Napa Valley Unified School District would run into a thicket of complications, according to district spokeswoman Elizabeth Emmett.
Wholesale schedule changes would require approval from the bargaining units that represent teachers, school bus drivers, the meal program and other workers, she said in an email. The district also would have to consult with outside groups, such as the county Office of Education and the Boys & Girls Club, that serve students at fixed times.
A later ending time to classes also could require Napa Valley Unified to rethink the scheduling of sports programs, as well as morning and afternoon traffic patterns around Napa's two public high schools, Emmett wrote.
At Justin-Siena, administrators, faculty members and parents discussed the switch to a later school day for about a year, Bordelon said Tuesday. In the end, the most persuasive case came from a group of studies analyzing why large numbers of middle- and high-schoolers fall short of the 8½ to 9½ hours of rest recommended by the American Academy of Pediatrics, he said.
"What stuck out to us were the analyses of sleep, that (teens) are not sleeping enough," said Bordelon. "Their bodies are being programmed to go to bed later at night and get up later in the morning. The greater the degree to which we can work around how their bodies actually function, the better."
In a letter to school parents, Justin-Siena cited a University of Minnesota report of higher standardized test scores and improved performance in various subjects when schools moved back their opening times. The analysis of existing studies found that "biological wake times" shift as children become teens – from 6:30 a.m. at age 10 to 8 a.m. at 16 to 9 a.m. at 18.
The natural shift in sleeping patterns during adolescence leaves most teens unable to readily fall asleep before about 11 p.m., and only 15 percent of high-schoolers report sleeping 8½ hours on school nights, according to the National Sleep Foundation.
"First period is always a drowsy time – you almost have to be a performer rather than a teacher to get them awake and motivated and moving," said Jake Spears, chairman of the English department.
"That's something we've noticed here and elsewhere," added Spears, who has taught at Justin-Siena for six years and will lead about 85 students, mostly freshmen, starting this month. "You've got to put on a show at 8 a.m., make it the fun opener of the day – maybe a funny video or a stretch break or a check-in on what was fun from the weekend. To dive right into the curriculum at 8 is difficult for the students as well as the teachers."
Moving back the first class of the day also will benefit Justin-Siena students who must travel to the Maher Street campus from more distant homes in the Upvalley or Solano and Sonoma counties, according to Bordelon.
Among Justin-Siena's incoming seniors is Neha Sidhu, 16, whose daily half-hour trip from her American Canyon home can stretch to 45 minutes in heavy traffic.
"Monday morning for every student is definitely a hard adjustment from the weekend," said Sidhu, who discussed the change with schoolmates last school year as a student body president. "I make an active effort to go to sleep around 10 on a Sunday night. When you start (classes) at 9, it's going to help a lot of our students. … We've talked with students and an overwhelming majority have said the extra hour would benefit them."
Despite the later start for daily teaching, the campus will open daily at 7:45 a.m., with faculty collaboration and office hours occupying the first 70 minutes of the working day.
The rearranged schedule also clears room for a new advisory program, in which an adult adviser will be paired with 10 to 12 students and meet them for half-hour sessions every other day. That program will be opened to incoming freshmen slated to graduate with the Class of 2020, and Justin-Siena will decide in September how to expand the mentorship to older students, according to school leaders.