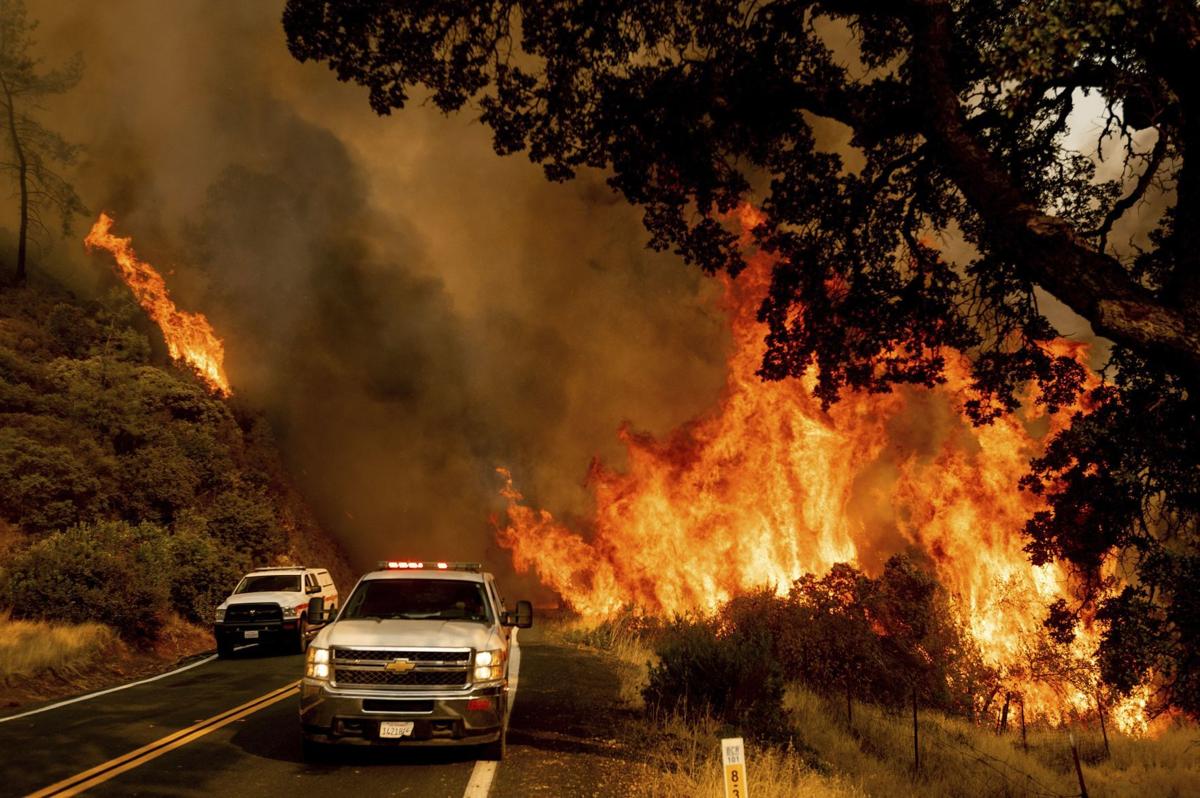 After Napa County escaped a new round of lightning strikes Sunday night, Cal Fire officials said they were optimistic that they now had the upper hand on the Hennessey Fire that has encircled Lake Berryessa and made inroads into two adjacent counties.
"I'm feeling very confident about where we're standing today. Working with all the counties, the plans are coming together," said Cal Fire Chief Sean Kavanaugh at a mid-day news conference at the Napa County Fairgrounds in Calistoga.
Several evacuation orders were lifted two hours later. Orders closing a portion of Soda Canyon Road and Atlas Peak (from Bubbling Well Pet Cemetery to Circle R Ranch) were reduced to an evacuation warning.
Similarly, evacuation orders were also lifted on Monticello Road (Highway 121) from Vichy Avenue to Longhorn Ridge Road, to include the Circle Oaks subdivision along with the communities of Wooden Valley and Gordon Valley to the Napa/Solano county line.
Cal Fire cautioned that utility restoration is in progress and some residents could have limited or no utilities.
At its peak, the Hennessey Fire had 17,000 Napa County residents under mandatory or advisory evacuations.
The red flag warning issued in advance of a possible thunderstorm and lightning strikes Sunday was lifted when the electrical activity didn't materialize.
Cal Fire has begun assessing the damage caused by the Hennessey Fire, an amalgam of seven other fires that as of Monday morning had burned 293,602 acres and killed three people in Napa County.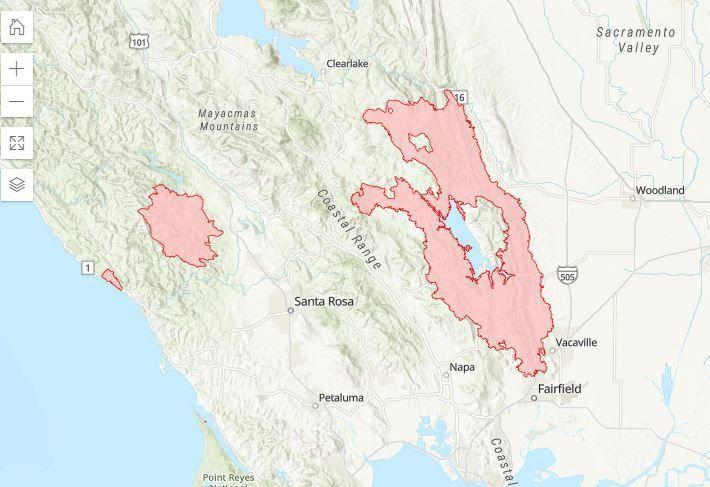 The Hennessey Fire is part of the LNU Lightning Complex that has burned 350,030 acres as of early Monday in five counties and destroyed 871 structures.
Assessing the damage from the widespread wildfires will be a "huge undertaking," Kavanaugh said.
Cal Fire said progress has been good in working from Interstate 80 in Solano County to Atlas Peak in east Napa to tame the fire, allowing people to return to start Monday.
Cal Fire's current priority is solidifying a fire line from Atlas Peak up to Pope Valley and the Palisades behind Calistoga, and on to Lake County, said Operations Chief Chris Waters.
"We're starting to feel better about that containment" even as fire is pushing toward Butts Canyon Road, Waters said.
The Hennessey Fire grew by only 3,500 acres Sunday night and is now considered 26% contained.
The fire has claimed five civilian lives — three in Napa County last week on a residential property near Lake Berryessa, and two in Solano County,
The Hennessey Fire is the largest component of the multi-county LNU Lightning Complex, which has burned 350,030 acres, with 871 structures destroyed. The Walbridge Fire west of Healdsburg in Sonoma County had burned 54,068 acres as of daybreak Monday.
Cal Fire said its firefighting force had grown by Sunday night in Napa, Solano, Sonoma, Yolo and Lake counties to 1,857 personnel, 259 engines, 12 helicopters and 36 bulldozers.
Smoke from regional fires is hurting air quality in Napa County. The air was rated as unhealthy at mid-day Monday in central Napa, with Napa's smoke coming up from Santa Cruz, Alameda and Santa Clara counties, the National Weather Service reported.
Cal Fire issued a news release Monday afternoon thanking the public for wanting to provide supplies to firefighters, but said they could not be accepted.
Cal Fire said it did not have the infrastructure to accept any donations at its Calistoga base camp. This is regulated in fire camp by health and safety ordinances, and adheres to COVID-19 regulations.
In lieu of donations, Cal Fire suggested contacting the Red Cross or other organizations to see if they are accepting assistance for those in need, or for information about how you can help those evacuated.
Editor's Note: Because of the public safety implications of the wildfires, we are providing access to this article free of charge. To support local journalism, please visit
Watch Now: August 18 and 19 Timelapse in St. Helena and OakVille
Cynthia Sweeney, editor of The Weekly Calistogan, contributed to this story.
You can reach City Editor Kevin Courtney at kcourtney@napanews.com or at 707-256-2217.
Get local news delivered to your inbox!
Subscribe to our Daily Headlines newsletter.