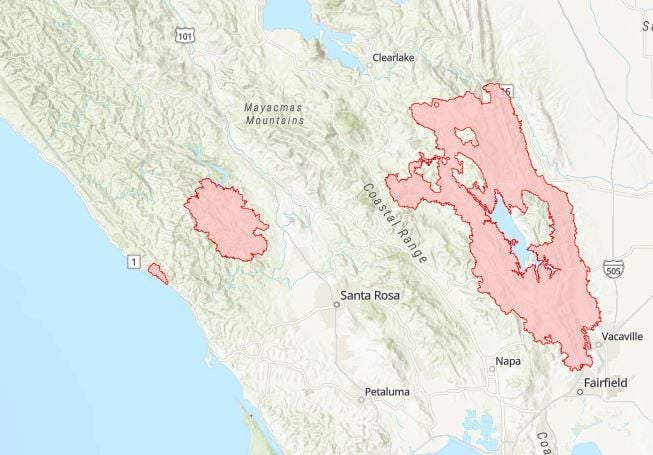 The Hennessey Fire centered in Napa County grew by another 8,000 overnight, but most of the expansion was in Lake County, Cal Fire reported Thursday morning.
Cal Fire painted an optimistic picture Thursday of progress in containing the mammoth blaze in Napa County, and lifted mandatory evacuations on Deer Park Road from Silverado Trail to the upper end of Sanitarium Road.
This means that St. Helena Hospital can reopen and residents can return to their homes in Deer Park, Glass Mountain and Crystal Springs, Napa County's Office of Emergency Services said in a Nixle alert.
The areas north of 975 Deer Park Road will remain under an Evacuation Order, which includes the community of Angwin, Cal Fire said, but the order could be lifted in the next 24 to 48 hours.
The LNU Lightning Complex Fire is still dynamic. "Every day it's picking a battle. And at this point we're trying to win a battle every single day around the entire Complex," said Cal Fire Chief Sean Kavanaugh at the daily Cal Fire press conference at the Napa County Fairgrounds.
"We're making good progress in certain areas. However there are tough spots and new evacuation orders," he said.
With the Hennessey Fire, the highest priority again Thursday was the fires just south and east of Middletown in Lake County.
Operation Section Chief on the LNU Lightning Complex Fires Chris Waters said the weather has been cooperating with a marine layer Wednesday and Thursday, and good progress was expected to continue.
Repopulation efforts Thursday include Deer Park up to and including Adventist St. Helena Hospital. Cal Fire staff has already been allowed back to inspect and make sure the hospital is fully operational, officials said.
Currently, 2,659 Pacific Gas & Electric customers are without power in the LNU Lightning Complex area, the utility reported Thursday. Most of these are in fire zones and are not accessible due to fire risk, the utility said.
As areas are reopened, Napa County Undersheriff John Crawford asked that people not block lanes and roads by stopping to take photos, and strongly discouraged "disaster tourism."
"Avoid the desire to be a disaster tourist. Please remember there are people who have lost everything except what they've been able to carry with them, and in a few places, unfortunately, lives lost as well," he said.
The agency released a map of properties damaged and destroyed within the LNU Lightning Complex Fires of which the Hennessey Fire is a part. The map covering five counties includes a list of damaged and destroyed structures provided by Cal Fire's damage inspection teams.
Cal Fire said 1,080 structures have been destroyed in the five counties and another 272 damaged. This information is preliminary and numerous sites on the damage map still require confirmation, the agency noted.
The Hennessey Fire has burned 311,222 acres, Cal Fire said Thursday morning, with containment growing from 29% to 33% over the previous 24 hours.
The LNU Lightning Complex, which has burned land in Napa, Sonoma, Solano, Lake and Yolo counties, is now at 368,868 acres, an increase of 12,000 acres over the past 24 hours, Cal Fire said in its 7 a.m. report.
Watch Now: A Napa first day of school like no other
Get local news delivered to your inbox!
Subscribe to our Daily Headlines newsletter.