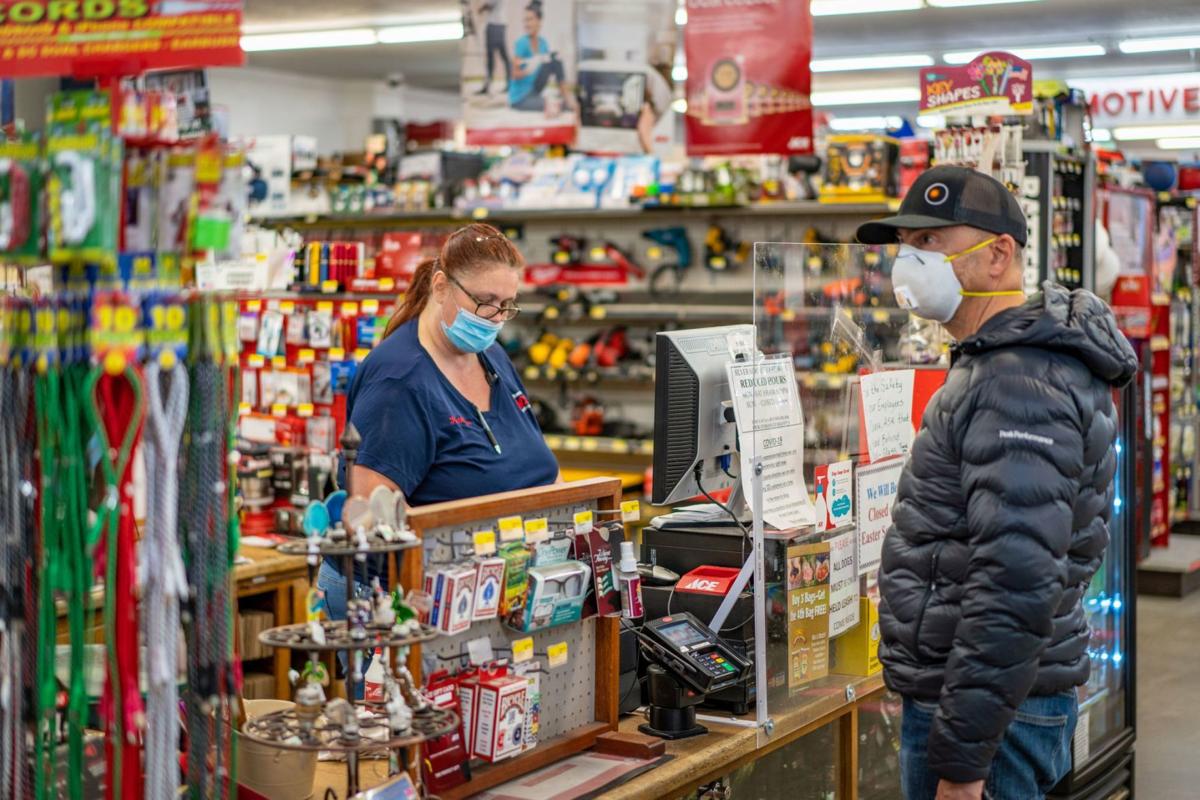 Napa County's updated COVID-19 shelter-at-home order has a cloth face mask requirement and allowances for more retail businesses and outdoor activities.
The county's previous order "strongly recommended" people wear cloth face coverings in public places. The revised order requires Napans as of Saturday to wear coverings in businesses and workplaces "when interacting with any person and six feet of physical distancing cannot be accomplished."
That language might seem to leave wiggle room. Dr. Karen Relucio, county public health officer, and county Board of Supervisors Chair Diane Dillon gave their interpretations on Thursday's Napa County Facebook Live show.
"Face coverings are going to be required if you go in indoor spaces," Relucio said. "Especially if you cannot physically distance from someone. For example, if you go to grocery stores or you do some essential activities indoors, the customers must wear face coverings when they go into a store."
Dillon said as more businesses open, more people will be out-and-about.
"It's why Dr. Relucio in her new order mandates having a cloth mask whenever one goes into a building such as a grocery store, pharmacy or whatever," Dillon said.
Only a few "non-essential" stores seemed to be open Friday morning in Napa, less than 24 hours after the state issued its new guidelines. What Napa County's new shopping world is like under COVID-19 restrictions should become clearer in coming days.
Dana Voshall of Napa on Friday stood outside BevMo! near Jefferson Street wearing a cloth face covering. He agreed that face coverings should be a requirement.
"It should be until all of this is over with," Voshall said. "Why not? Why not be safe?"
Face coverings are not required when doing such things as hiking, biking and running. Children under age 2 are not to wear coverings and coverings are not recommended for children under age 6, the order said.
Violations of the county's latest order are punishable by fines or jail or both, the order states.
The reason for face coverings is to prevent asymptomatic transmission of COVID-19 from the wearer to others. Some Napans have criticized the county for not earlier joining other counties in requiring face coverings.
California is allowing counties to permit lower-risk retail such as sporting goods stores, clothing stores and books stores to reopen with curbside pickup. Napa County's revised shelter-at-home order takes the state up on the offer.
"It does not mean a return to normal," state Health and Human Services Agency Secretary Mark Ghaly said at a Thursday press conference. "We know COVID-19 is still spreading."
Customers could see such things as hand sanitizer outside the door of stores and staff with gloves and masks delivering goods to cars, he said.
But whether customers in any instances might be able to enter these retail stores, as they do grocery stores and other essential businesses that never closed, remained unclear Friday morning.
A state website gives guidance for lower-risk retail stores that includes such actions as closing in-store bars and bulk bins and providing separate entrances and exits. Some locations should be pickup and delivery only, when possible, it said.
Gov. Gavin Newsom on Friday appeared at a Sacramento florist and talked about businesses having curbside pickup. He said restrictions would mean businesses would be surviving rather than thriving.
The guidance also mentions stores having a written, worksite-specific COVID-19 prevention plan, performing a comprehensive risk assessment of all work areas and designating a person to implement the plan.
Dillon on Napa County Facebook Live gave her idea of how Napa County retail might look. She described a St. Helena paint store that as an essential business allows customers to order and pay by phone and then pick up their merchandise at a table outside the store.
"We really need to put our local workers back to work," Dillon said. "We want our sales tax dollars spent here."
That said, she and Relucio stressed safety.
"Just because there is some loosening of the governor's stay-at-home order doesn't mean there isn't the risk of COVID-19," Relucio said. "COVID-19 is here to stay for awhile."
Newsom during a Thursday press conference encouraged businesses to post a checklist to make customers feel more confident. Items include having COVID-19 training for workers, cleaning-and-disinfecting protocols and physical distancing policies.
Furniture 4 Less on Main Street in Napa on Friday morning had its open sign lighted and its front doors open. Owner Luis Salem showed a list of permitted retail businesses under the new state rules issued and one is furnishings.
"It looks OK," he said, wearing a mask inside the store.
No customer was in the store at the time. Salem said maintaining physical distancing shouldn't be a problem.
"We usually get one customer every two to three hours," he said.
He has been waiting for the chance to reopen.
"Absolutely ... I have my house payment," Salem said.
Craig Smith of the Downtown Napa Association on Friday morning addressed the changes to the state and county shelter-at-home orders that allow for more retail.
"That's certainly a move in the direction of getting back open and will be helpful with Mother Day's weekend," he said. "But it's tough. If you put yourself in a shopper's position ... How do you buy and then pick up at the curb? It will work with some items."
The revised county outdoor activity list allows the reopening of public and homeowners' association swimming pools and tennis courts. In both cases, users must practice physical distancing.
Editor's Note: Because of the health implications of the COVID-19 virus, this article is being made available free to subscribers and non-subscribers alike. If you'd like to join us in supporting the mission of local journalism, please visit napavalleyregister.com/members/join/.
Get local news delivered to your inbox!
Subscribe to our Daily Headlines newsletter.