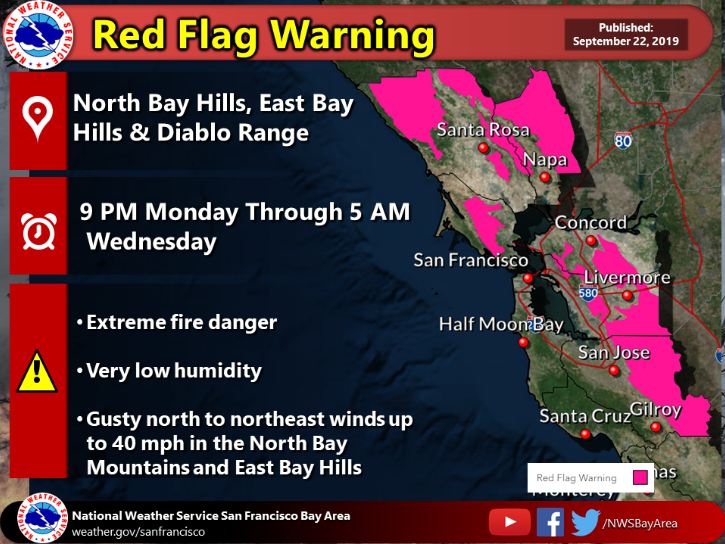 PG&E announced it might cut power to 10,500 Napa County customers Monday afternoon or evening to avoid sparking wildfires in anticipated high fire danger weather.
More information on whether the utility will follow through is expected late Monday morning. A PG&E map of potential affected areas shows the northwestern edge of the city of Napa, including neighborhoods near Alston Park and a sliver of Browns Valley.
Other areas on the potential outage map include the Silverado and Soda Canyon areas, St. Helena, Calistoga and Lake Berryessa.
Go to PG&E's website at https://bit.ly/2myV4ah to see a map of possible public safety power shutoff areas. Customers can get more precise information on whether they might be affected by going to https://bit.ly/2mvpeLy and entering their address.
Potential fire risk is forecast to begin at 8 p.m. Monday, with a peak period predicted to last until 9 a.m. Tuesday, a PG&E press release said. Another fire danger event could begin 7 p.m. Tuesday, with the peak period to last until 10 a.m. Wednesday.
Overall, 124,000 customers in nine counties could see public safety power shutoffs, PG&E said. The other counties are Butte, El Dorado, Nevada, Placer, Sutter, Yuba Lake and Sonoma.
The National Weather Service issued a red flag warning Sunday night for the North and East Bay Hills, and the Diablo Range. The warning was issued from 9 p.m. Monday through 11 a.m. Wednesday.
Red flag warnings indicate conditions more likely to spark fires. Humidity will be low and gusty winds up to 40 mph are expected in higher elevations in Napa and Sonoma Counties, according to NWS.
Those are not October 2017-style winds, but are enough to be concerned about, county Risk and Emergency Services Manager Kerry John Whitney said on Monday morning.
The October 2017 fires destroyed about 650 houses in Napa County. Cal Fire investigations concluded trees and branches falling into PG&E lines on the hot, windy night of Oct. 8, 2017 sparked the Atlas and Partrick fires.
Whitney said the county would have a challenge communicating with visitors about the public safety power outage, given they might not be signed up for local Nixle alerts. This week will see an influx of visitors for the Safety Open at Silverado Resort and Spa.
PG&E announced it could open several community resource centers in the Sierra Nevada foothills in the event of a shutoff, but not in Napa, Sonoma and Lake counties. The resource centers are places with electricity that people can go to do such things as charge a phone or medical equipment or find air conditioning.
PG&E on June 8 shut off power to 1,300 customers in the Lake Berryessa, Gorden Valley and Wooden Valley areas as a wildfire safety precaution. The utility opened no community resource centers. Instead, the county opened electricity charging areas at the Gorden Valley and Capell Valley fire stations.
But Napa County might have to look at another way to establish charging areas if PG&E doesn't do so. Whitney said the county doesn't want to get in the way of fire departments in case they need to respond to a fire.
Bill Senske lives in the Silverado area. He purchased a backup generator powered by propane so he will have electricity in the event of a public safety power shutoff.
"I'm ready," Senske said on Monday morning.
The 2017 Atlas fire burned several hundred homes in the Silverado area, with Senske's house surviving. PG&E in the wake of that and other wildfires instituted the public safety power shutoff program. Senske said the policy makes him feel more secure.
Many thousands of homes were lost over the past two years in California to wildfires sparked by PG&E equipment. Given that scenario, he sees why PG&E is looking at public safety power shutoffs, Senske said.
"Whatever inconvenience it is and whatever meat you have in the freezer that thaws out and goes bad doesn't seem very significant compared to that," Senske said.
Senske helped start the Silverado Firewise group in the wake of the Atlas fire. In August, the group held a presentation on generators for those who might want to install them.
His generator system cost $5,000, with most of the cost coming from a switch he installed to make changing to the generator power source simple, Senske said. The generator will power his entire house except for air conditioning. Someone could buy a $200 generator to power a refrigerator and a couple of lights, he said.
Reporter Courtney Teague contributed to this story.
Get local news delivered to your inbox!
Subscribe to our Daily Headlines newsletter.