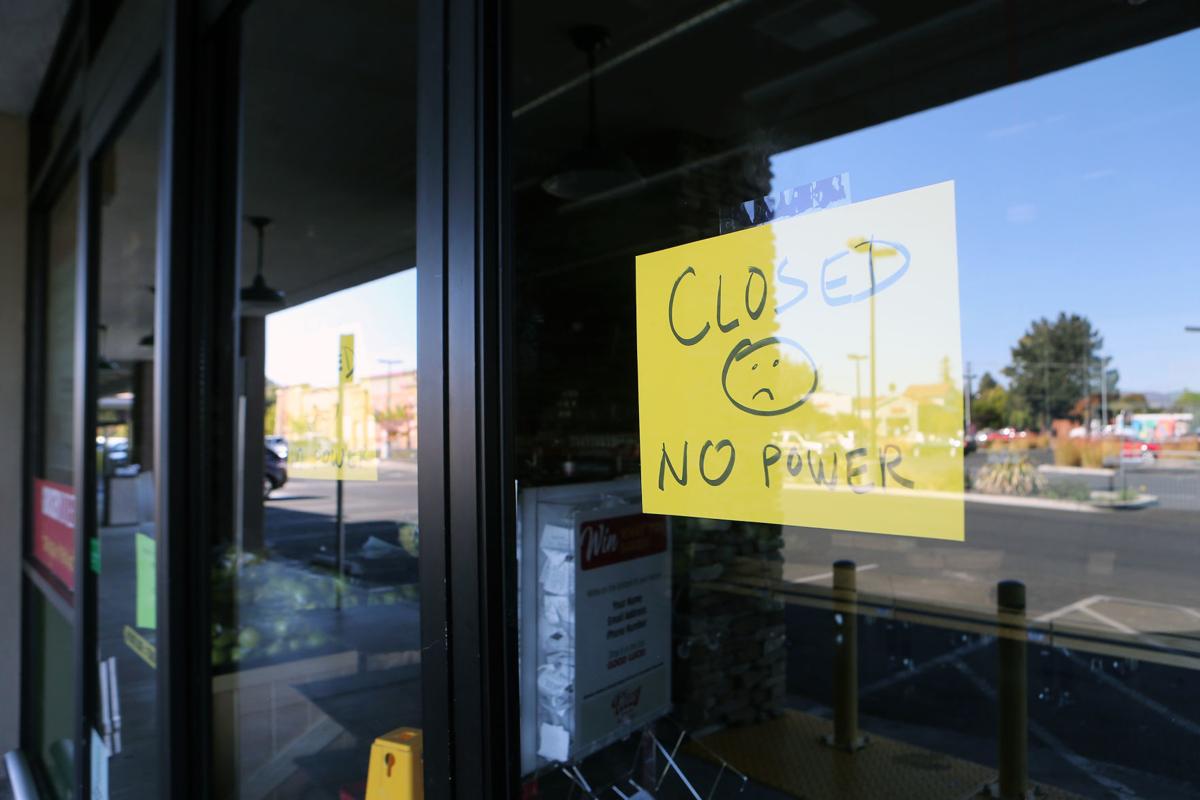 Napa County announced Tuesday that an estimated 7,500 Pacific Gas and Electric Company customers could lose power Wednesday afternoon, a dramatic reduction from two weeks ago when 32,000 were cut off.
The Register provided free access to this article. Please consider supporting our local journalism by purchasing a subscription.
The Napa County Office of Emergency Services said in a Nixle alert Tuesday morning that roughly 7,500 customers — an estimated 22,600 people — could lose power. That's about 15 percent of Napa County residents.
PG&E said a safety shutoff would be set for 3 p.m. in Napa County and would last into Thursday at a minimum, according to the county. PG&E will decide whether it will turn off the lights on Wednesday.
Utility spokesperson Deanna Contreras said PG&E can't elaborate on possible restoration times since the shutoff isn't confirmed, but she said PG&E is piloting an overnight power line inspection system in the Auburn area. If the pilot goes well, the utility may use this technology to conduct nighttime inspections when the winds die down and speed up restoration of power, she said.
PG&E is weighing whether to shutoff power in an attempt to preempt wildfire during a period of windy, dry weather this week. The North Bay mountains and valleys are under a red flag warning, which indicates weather conditions are ripe for the spread of wildfire, according to the National Weather Service.
The warning is in place from noon Wednesday to 4 p.m. Thursday, but the National Weather Service warns that potentially even stronger winds are forecast for Saturday night into Sunday which could trigger another warning of high wildfire risk.
Homes that may be impacted by a power shutoff Wednesday are on the west side of the county, from Mt. Veeder to the northwest side of the City of Napa and parts of Browns Valley, plus in Calistoga, St. Helena, Angwin, Deer Park, Lake Berryessa and Circle Oaks.
Most of Napa and Yountville and all of American Canyon are expected to be exempt from the shutoff.
Napa Valley Unified School District and St. Helena Unified School District said schools would be in session this week.
Napa County Undersheriff Jon Crawford said residents of affected areas can expect to see deputies spend more time patrolling their neighborhoods. Deputies will also be vigilant in light of the fire-prone weather, he said.
Crawford encouraged people to be patient with each other.
"Keep your heads up, keep moving forward and we'll get through it," he said.
The shutoffs are planned to start at various times for 189,000 customers across 16 counties in the North Bay, Northern California and the Sierra Foothills starting Wednesday. Customers were being notified via text, email and automated phone calls which began Monday afternoon, PG&E said.
This power shutoff would be significantly smaller in scope and impact than the mid-October event that left 738,000 customers in Northern and Central California in the dark for two to three days, PG&E said.
Weeks ago, three-quarters of Napa County and more than 2 million Northern and Central Californians were left in the dark during what's believed to be the largest safety power shutoff in history. That shutoff affected much of the City of Napa, which had previously been spared.
Traffic snarled and collisions followed after signal lights went dark at some highway intersections. Long lines formed as some stores were only able to accept cash. Schools closed throughout Napa County and the St. Helena business district went dark, as did south Napa businesses. Several Napa County health care facilities with no or limited power overcame hurdles to serve patients as best they could.
Napa County residents scrambled to get gas and generators the day before much of the county lost power. The hum of diesel generators could be heard in Napa neighborhoods and throughout Calistoga.
Napa County residents may check to see if they're in the potential shutoff zone at arcg.is/0eiq5j. Ensure PG&E has your most current contact information by calling the utility at 1-800-743-5000.
Dangerous weather ahead
The National Weather Service's San Francisco Bay Area branch initially placed elevations above 1,000 feet in much of Napa County and elsewhere throughout the North, East Bay and Santa Cruz mountains under a fire watch, but converted it Tuesday to a red flag warning.
Winds from 50 to 60 mph are expected in the North Bay, with the highest winds coming Wednesday night. The greatest threat is expected to be in the North Bay mountains, NWS forecast.
Humidity levels are expected to decrease as winds increase Wednesday night.
Courtney can be reached at 707-256-2221. Follow her Twitter and Facebook accounts, @courtneynteague, for more on her reporting.
Get local news delivered to your inbox!
Subscribe to our Daily Headlines newsletter.