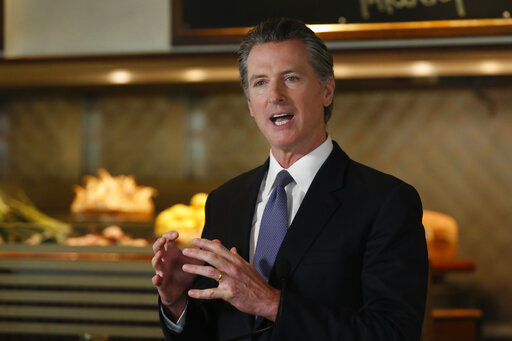 The second time was the charm for Napa County in its quest to reopen more businesses in a COVID-19 world, such as seated dining in restaurants and indoor retail with physical distancing.
The county originally submitted variance documentation to the state on Thursday, seeking to demonstrate it is ready for further business reopenings. That is part of a state program that allows counties to reopen faster than California as a whole, if they meet a list of criteria.
But one of the criteria called for no COVID-19 deaths over the last 14 days. Napa County has had one death during that period, on Mother's Day, bringing the overall total to three.
"We literally missed it by a hair," said Dr. Karen Relucio, county public health officer.
However, Gov. Gavin Newsom on Monday came to Mustards Grill near Yountville for his regular, almost-daily COVID-19 briefing and announced new criteria that he said should allow 53 of the state's 58 counties to move ahead with variances.
Napa County meets the new criteria, county officials said.
"It's not a lesser standard," county Supervisor Belia Ramos said during Tuesday's county Board of Supervisors meeting. "It's a different standard."
A variance doesn't become official until the California Department of Public Health posts a county's documents on its website. Napa County submitted its revised variance request at 8:11 p.m. Monday and the state posted its approval around 6 p.m. Tuesday.
Relucio told supervisors the earlier state variance criteria was geared more toward rural counties that are not next to metropolitan areas. The state website shows 23 counties obtained variances under the original standards, all of them rural.
Some things have changed since the county's original Thursday variance request. That request included office-based businesses with telework encouraged and low-touch services such as car washes and pet grooming. The state has since allowed these uses without a variance, county officials said.
Winery and tasting rooms visitation appeared for a few days to be allowable with a county variance. But the state then once again pushed them back to a latter stage of reopenings, so this prime Napa County economic sector will remain shuttered.
"Wineries and tasting rooms are a moving target," Relucio said.
Supervisor Alfredo Pedroza noted the county's variance request asks for wineries and tasting rooms visitation to reopen, so the county will be ready when the time comes.
"We have been advocating for that point," Pedroza said. "It's a decision the state will make."
That prompted one person during public comments to say that when winery tasting rooms open, then karate, dance and art studios should reopen too. They are safer, because tourists come from places such as San Francisco where COVID-19 is prevalent to visit winery tasting rooms, he said.
Newsom at his Monday COVID-19 press conference said if trends hold, even more sectors of the economy could reopen in coming weeks, perhaps statewide and not just with regional variances, he said.
"This includes, for example, getting a haircut, which is very meaningful," Newsom said.
But for now, hair salons and barber shops will remain closed in Napa County and across the state.
Newsom also talked about professional sports possibly reopening in coming weeks, but without audiences. One thing that will hold the state back is if it moves too quickly and people are no longer practicing the social distancing that has brought things so far along, he warned.
During public comments at Tuesday's Board of Supervisors meeting, a resident by phone asked what she can do at her own home under the county and state stay-at-home orders. She asked if she can use her pool and have people over to her house to visit, something she said she could do more safely for COVID-19 spread than people visiting Target.
People can use their private pools, Relucio said.
But having groups of friends over to a house could be problematic under the shelter-at-home orders, county officials said. Board of Supervisors Chair Diane Dillon said travel is restricted to essential activities such as grocery shopping, not visiting people's homes.
"Going out doesn't mean me coming over and having dinner with you," Dillon said.
Napa resident James Hinton during public comments asked why Napa County is following the state in COVID-19 restrictions. He said the restrictions smack of George Owell's book "1984" and called for a community discussion on how to proceed.
Editor's Note: Because of the health implications of the COVID-19 virus, this article is being made available free to subscribers and non-subscribers alike. If you'd like to join us in supporting the mission of local journalism, please visit napavalleyregister.com/members/join/.
Concerned about COVID-19?
Sign up now to get the most recent coronavirus headlines and other important local and national news sent to your email inbox daily.