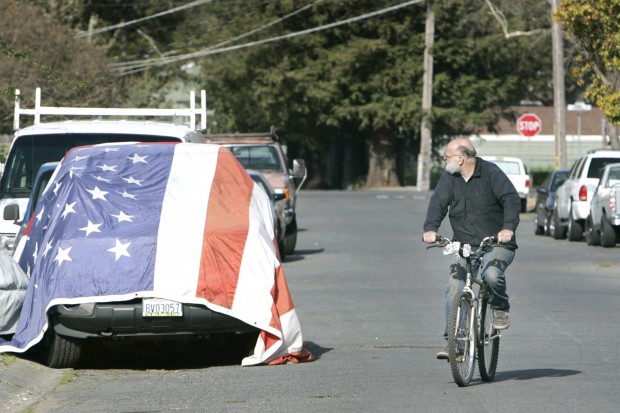 America's most iconic symbol is causing a big fuss in one Napa neighborhood.
For several months, a resident on Westwood Avenue has used a large, American flag to cover his car, an act that neighbors and others who work in the area say is offensive and defiles something they hold dear.
"I was horrified," Michelle Roseland said of the first time she saw a truck parked in the street, draped in the flag. "I teared up. (The flag) is a sign of honor and respect, and to see it dragging in the street, dirty and filthy, there's no respect in that."
On Tuesday afternoon, the flag had seemingly blown off the vehicle into a gutter, where it stayed for at least several hours. That sight was enough for a nearby resident to speak up.
"It's very disheartening. ... I wish I could go over there, take it and dispose of it properly," said Marylou Everhart. Disgraced flags, such as those that touch the ground, should be burned, she said.
The flag's owner, Manuel Chavez, said he means no disrespect in the way he "displays" his flag. He found it in a trash can while cleaning a house and thought using it as a vehicle cover was a better fate for the Stars and Stripes, he said.
"I don't want to throw it away, I want to put it to use," he said, unaware of why anyone would find his use offensive or un-American, as some neighbors said. "It's a nice flag and I don't want to put it in the garbage. Sometimes people get offended for anything."
Chavez would not give his age but said he is an American citizen who has lived in Napa for 25 years. He sometimes flies the flag, along with a Mexican flag, on holidays like the Fourth of July. He has a smaller American flag he flies more frequently.
Because the flag in question is so large, he doesn't fly it daily and thought draping it over one of the eight vehicles on or around his property would be a good alternative.
"I guess I could put it on my roof, but they probably wouldn't like that either," he said, stressing that he wants to show off the symbol. "Some women wear flag underwear or bikinis. That is disrespectful to me."
The home, painted bright blue with red and white trim, is surrounded by vehicles. The yard is filled with toys, many of them lifted in the air on tall poles. There are also toys hanging from fishing poles.
According to the United States Flag Code, an American flag should not be used to cover a vehicle. The code also states that a flag should not be used as apparel, bedding or drapery and should always be allowed to flow freely. Worn flags should be disposed of, preferably by burning.
Although the code is a federal law, there is no penalty for not complying. Indeed, the U.S. Supreme Court has ruled that rigorous enforcement can violate the First Amendment right of freedom of speech.
On Wednesday, the flag covered a truck parked in Chavez's driveway, but it was topped with a traditional vehicle cover. The edges of the flag rested on the ground and were wet from the rain.
"It's offensive to see it mistreated," Al Blevins, who served in the Army and Navy for 15 years, said. "Many people have died for that flag."
Blevins said the way people treat the United States flag has changed over the last 60 years, noting the prevalence of flag bikinis, T-shirts and other items he also considers disrespectful.
"Hopefully there's more to it than he had a big flag and wanted to cover the pickup truck," Blevins said, "because that would be very offensive to me."
Chavez said he uses the flag to prevent sun damage on his vehicles. Though the flag code advises against such use, it is to "be followed on a purely voluntary basis," according to a 2008 report to Congress on the matter.
"I'm not breaking the law," Chavez said, adding that neighbors have complained to the city about his use of the flag. The city's Code Enforcement department said the flag could be used in such a manner, he said.
Code Enforcement staff went to the home in 2011 for a reported violation regarding excessive animals, according to an officer. Chavez was not cited because he reduced the number of chickens, he said.
Chavez said neighbors have complained about the flag before. Asked if he would consider not using it as a truck cover, he said, "I'll have to think about that."
Get local news delivered to your inbox!
Subscribe to our Daily Headlines newsletter.