One second makes all the difference in the world to Tristan Heartt of Napa.
Heartt, 14, is a competitive "speedcuber."
Using what's commonly called a Rubik's Cube, Heartt tries to solve the multi-sided puzzle as fast as he can. To this ninth grader, that means in less than 15 seconds.
Speedcubing "is really fun," said Heartt.
"It's so satisfying to get better," said the New Technology High School student.
Heartt said he received his first Rubik's Cube as gift, but didn't immediately take to the puzzle.
"It sat on my shelf, unsolved," he admitted.
But after hearing that the world record for solving such a cube had recently been broken at a speedcubing competition, Heartt was inspired to try again.
"I wanted to do that," he said. "I wanted to go and place in a competition."
Studying videos on YouTube, he found speedcubing strategies and methods.
It took many, many hours of practice, but soon his times began to get faster and faster.
"Now I'm always improving and getting personal bests," he said.
His most recent "personal best" was a mere 14.64 seconds. While barely more than one second from his previous best, 15.12 seconds, every tenth "definitely" counts, said Heartt.
The current world record for solving a cube is 4.59 seconds, he said.
Technically, the Rubik's Cube has 43 quintillion combinations.
"That's 43 with a lot of zeros after it," explained Heartt.
How on earth can a person solve a cube so quickly?
Using a combination of practice and muscle memory and memorizing algorithms — a sequence of moves — to get the pieces in the right order at the right time, he said.
Algorithms are usually eight to 15 moves. Some speedcubers will memorize up to 77 different algorithms using cryptic-looking abbreviations such as F' U L' U' or U R U' Ri U' F' U F. Heartt has memorized about 40 such patterns.
Heartt said there are other techniques he can use to improve his times. For example, "There's something called 'look ahead.'"
That's when a cuber physically performs one set of moves while mentally plotting the next set of moves at the same time.
Going to competitions, like regional events in Sacramento, Berkeley and Hayward, is another motivator, he said.
To place in a competition, a speedcuber has to solve the cube in about six seconds, he said.
Heartt's goal is to become a sub-10 solver, or finish a cube in 10 seconds or less.
He thinks he can do it. "I just need to work on it. And memorize more algorithms."
Speedcubing is a good fit for his personality, said the high school freshman.
"I fidget a lot," he admitted. "I like something to do with my hands. I'm solving a cube one-handed right now," he said, during a recent phone interview. "I use my left hand," to turn the cube one handed, he noted.
Does all of this speedcubing practice distract him from his schoolwork?
Not really, said Heartt. "I'm getting good enough grades."
His parents don't mind. In fact, they support his hobby.
"It's a good outlet," said his father, Kyle Heartt. "We're proud of his hard work and the focus that it takes."
"It's just amazing," the father said.
Of course, "The clicking and clacking can be a little distracting depending on the time and situation," his father said.
"It's crazy" how fast his son can solve the cube.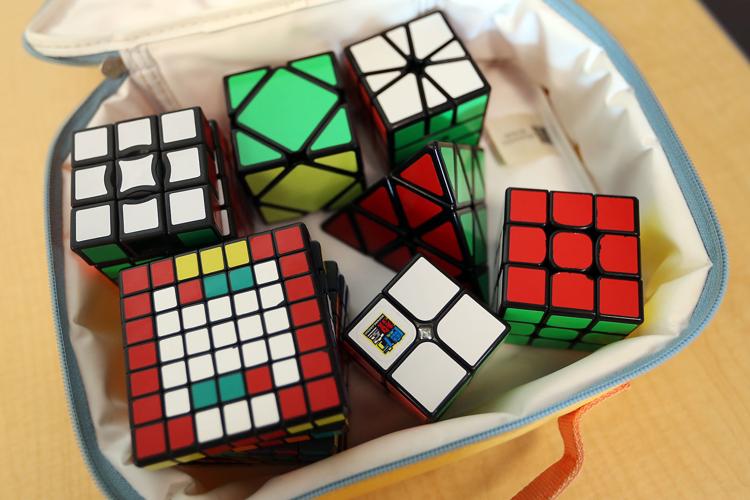 Tristan Heartt also customizes his cubes to make his spinning even faster. First, he uses silicon lubricant to "oil" the spinning mechanism. Then, he installs mini magnets inside each square on the cube to help make the cube more stable while turning it.
"The magnets prevent undershooting and overshooting," he said. He also improves his dexterity by doing "finger tricks" to move the sides of the cube quickly but only with a single finger.
One of his favorite cube models is called the Moyu Weilong that costs about $20.
"I did research on it," Heartt said. "I saw what the top cubers were using."
Of course, sometimes speedcubing can hit speed bumps. Like two weeks ago when one of his favorite cubes was stolen while at school.
At first, Heartt felt panicked – he had a competition that weekend. But he was able to order a replacement, which arrived in time for Heartt to break it in.
While this teenager continues to whittle down his "solve" times, he also hopes to set up a speed cubing club at school or get others interested in the game.
"It's really fun and everybody can do it," he said.