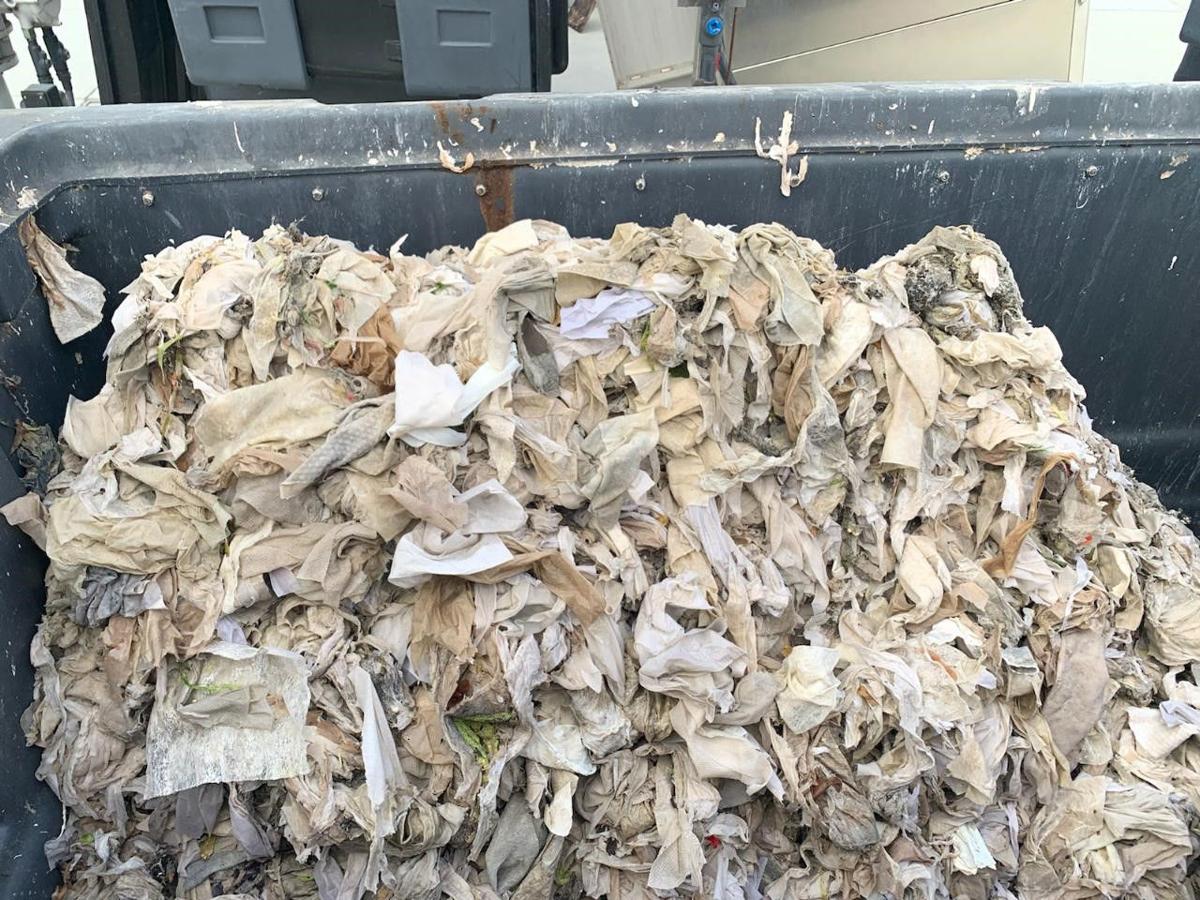 Using wipes or other products in place of toilet paper? Please don't flush them.
Due to the spread of the coronavirus and panic buying of toilet paper, many people have found themselves having to use wipes, tissues, napkins, and paper towels as toilet paper substitutes.
At the Napa Sanitation District, these toilet paper alternatives are causing worry about the health of the sewer system.
Unlike toilet paper, which is engineered to dissolve quickly in water, wipes, tissues, paper towels and napkins are made of fibers that do not break down in the sewer system. These items can clog pipes in residences, cause clogs within the sewer system, get stuck in equipment on the way to the wastewater treatment plant, or cause problems at the treatment facility itself.
Wipes and other items can also combine with other materials in the sewer to create large, costly sewer back-ups that can harm public health and the environment. Even though the packaging of some wipes claim these items are flushable, they are not, and need to be disposed of in the trash, said Tim Healy, the district's general manager.
"We understand that many people haven't been able to purchase toilet paper, and they are needing to rely on alternatives such as wipes, napkins, and other paper products. We just need people to properly dispose of these items when they are done using them, and the proper place to dispose of them is the trash — not the toilet," Healy said.
"Flushing these items could lead to sewer overflows, and we don't need any additional public health challenges right now," said Stephanie Turnipseed, pollution prevention and outreach coordinator at NapaSan.
In addition to using wipes as toilet paper substitutes, many people are using disinfecting wipes for cleaning surfaces within their homes and offices. The same disposal rules apply to disinfecting wipes, the district said.
They are made of woven materials that are too strong to break down in the sewer system. Disinfecting wipes must go in the trash once they have been used.
"We are just beginning to see larger amounts of wipes than normal at our pump station, but it is only a matter of time until they cause an issue if they keep getting flushed. We need the community's help to avoid any major problems and keep our sewer system healthy," said Gabe Snook, treatment plant operator at NapaSan.
The toilet is not a trash can. If it is not human waste or toilet paper — do not flush it, the district advised.
If you find that you are having drain problems in your home, remember to call NapaSan first. If the problem is in our portion of the sewer system, we will fix it free of charge and save you a plumber's fee, the district said. Day, night, or weekends, call NapaSan first at 707-258-6000 extension 9.
Get local news delivered to your inbox!
Subscribe to our Daily Headlines newsletter.