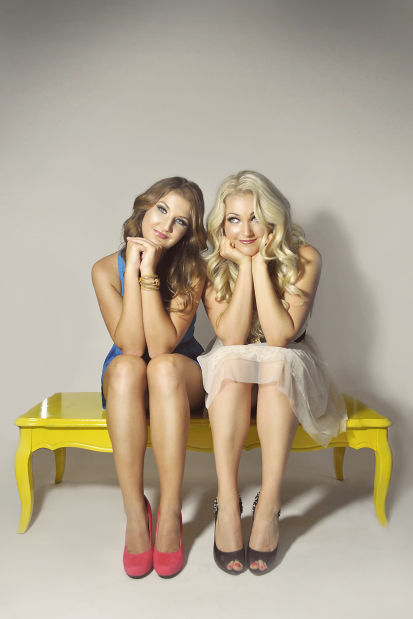 Some young entrepreneurs flock to Silicon Valley, San Francisco or New York to create their business startups. Vintage High School grads Tessa Mini and Natalia Nowak traveled halfway around the world to become small business owners.
Mini and Nowak, both 23, have started their own online clothing and fashion store. The business is called Passionista Boutique and it's located in Sydney, Australia.
Described as a fashion boutique "inspired by local Aussie street style, international trends and love," Passionista sells a range of clothing including jackets, dresses, tops and accessories.
Mini said she and partner Nowak had always wanted to move abroad "and experience that lifestyle."
After graduating from college — Mini from University of Portland and Nowak from California State University Channel Islands — both young women considered their options.
"I knew I always wanted to have my own business," Mini said. Entrepreneur classes taken at college inspired her to make her first big move, to Dubai in the United Arab Emirates. Due to the heat it's hard to ship fresh vegetables in the Persian Gulf. She hoped to start a hydroponics vegetable farming business.
But she soon found out she lacked the infrastructure to set up such an enterprise. When Nowak's boyfriend moved to Australia, Nowak decided to follow and invited her friend Mini to join her "Down Under." The two moved to north Sydney a year ago, Mini said.
Luckily, both women were able to find employment. Nowak works for a foster care company and Mini a digital marketing firm that happens to be based in San Francisco, of all places. Both companies have agreed to sponsor the women, so they can reside and work in the country for five years, Mini said.
One thing the young women noticed right away was that Sydney women are into fashion. Mini attributes that to U.K. and European influences. "Women dress top-notch and look stunning," she said.
Inspired, "we started a blog on fashions we would see" around the city, Mini said. Then in February, Mini took a trip to Bali where she toured a clothing manufacturing company and visited different tailors who create custom clothing.
After that visit, Mini said she thought she and Nowak might create their own online fashion business. They started visiting fashion expos and talking to distributors. Sourcing their initial items from a dozen different manufacturers in Australia, Thailand, Indonesia and Malaysia, Passionista Boutique was born.
To date, they sell about 20 different items, all inspired by looks they see in daily life in Sydney.
Everything — from inventory, to shipping and fulfillment — is done at their Sydney apartment. "We package everything, we write all the slips, it's our baby," Mini said.
In true startup fashion, "at first we couldn't afford a model," she recalled, so Mini and Nowak modeled the clothing themselves. "I did the entire website myself," Mini said, and "we do all digital marketing mainly from Instagram and Facebook."
"We get a steady flow — about five orders a week," Mini said. Their goal is to grow the business, selling closer to 20 items a week, she said. Prices range from $25 to $65 in U.S. dollars. The business ships internationally.
Mini said she developed her entrepreneurial spirit after playing competitive tennis in high school and then college. After she got injured in college, "I didn't have an outlet for that time," so "I joined the entrepreneurs club and started working on independent projects."
Mini had this advice for other young entrepreneurs: "If you are interesting in a business, start researching it. Start finding people in the business and have informational interviews with them,"
With jobs and a new business to grow, the two young women are committed to their new lives on a new continent.
"The Australians have just taken us under their wing," Mini said. "Everyone has been so kind and generous to us. ... I don't think we'll be coming back any time soon."
Having said that, Mini said she does miss certain things from the U.S. such as endless cereal choices at grocery stores and living in the same time zone as her West Coast family, 17 time zones away.
Mini may be based in Sydney for now, but she hasn't lost the travel bug. "At every country I've visited I've learned something new. You don't get that from staying in the same town. It's great to experience other countries and how other people will welcome you into their country. It's an experience that I wouldn't trade for anything else."
Get local news delivered to your inbox!
Subscribe to our Daily Headlines newsletter.