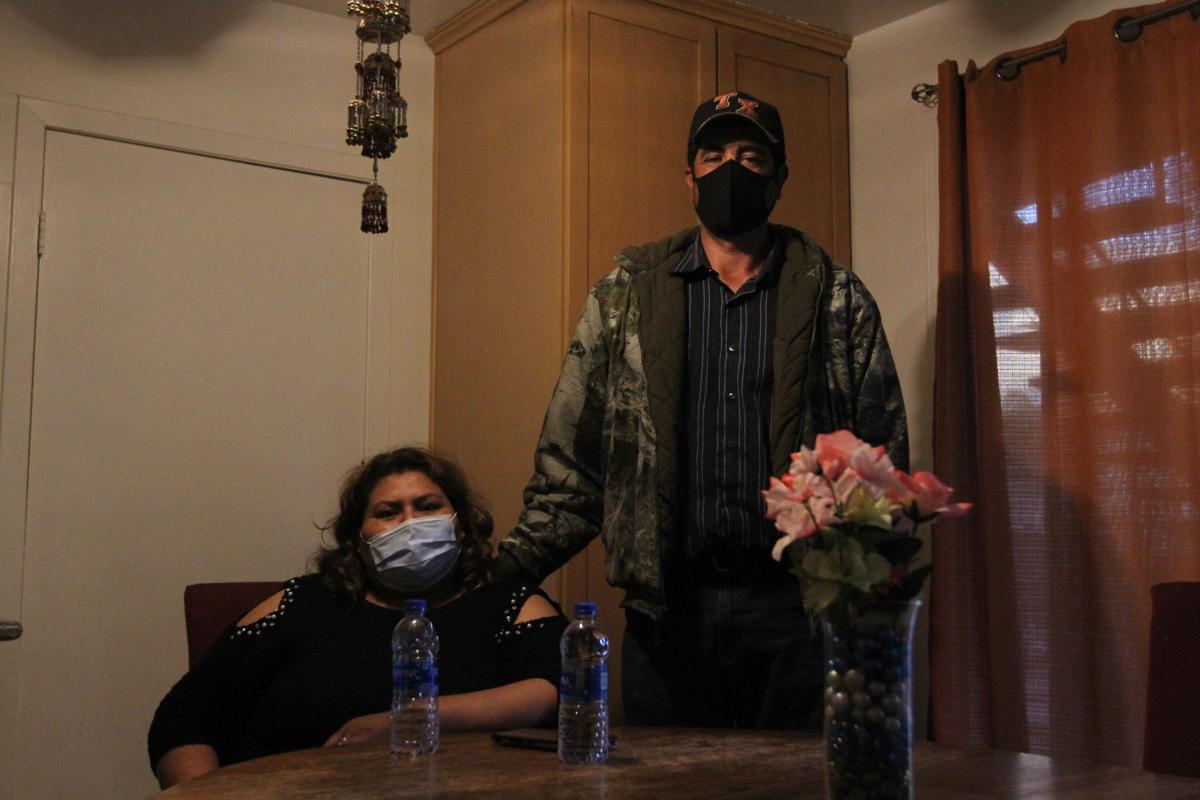 The drive from Santa Rosa to Lodi and back would take almost five hours. There was no question in Eduardo's mind — the trip would be worth it.
At the other end of the first two-and-a-half-hour leg would be a $500 check with his name on it, Eduardo knew. As he'd done once before, Eduardo would pull into the quiet, sunny drive of St. Paul Lutheran Church in Lodi, and park neatly. There, he'd be one of a dozen other drivers, each waiting in their vehicles for Reverend Nelson Rabell Gonzalez to approach with a check, friendly conversation and a short blessing.
A note from Sarah Klearman, the Register's wine industry reporter:
Once finished, Rabell Gonzalez would rap his knuckles amicably on the side of Eduardo's car and send him on his way — another two and a half hours to go until he returned home to Santa Rosa.
Eduardo, who asked to be identified by his first name only because he is undocumented, counts the pair of checks he received from Rabell Gonzalez among the few kindnesses the past year has shown him. He'd entered 2020 a farmworker who had lost significant work — and income — in the wake of Sonoma County's Kincade Fire, which sent smoke unfurling over North Bay vineyards, threatening the integrity of their grape crop.
In March, ahead of the year's harvest, the coronavirus pandemic reached California, and Eduardo lost more work as the farming management company he worked for thinned its crews, fearful of men working in clusters among the vines and hoping to prevent the spread of disease. In August, the LNU Lightning Complex Fire brought more smoke; not long after, the Glass Fire in Napa County tore through wine country, in some cases burning vines and destroying winery property.
After all was said and done, it seemed to Eduardo, 36, a father of four, that he'd spent just a single month of the past year able to find consistent work and pay.
"We would work three days a week, or sometimes not at all," he said in Spanish of the stoppages amid fires and the pandemic. "They gave us a little help, but when you have bills and you're not making enough to pay them — it just was not sufficient income."
Support local news coverage and the people who report it by subscribing to the Napa Valley Register.
Eduardo's story is not a unique one; Rabell Gonzalez, perhaps more than anyone in San Joaquin County, knows that fact well. Since early summer of last year, he has distributed more than $800,000 in direct, emergency financial assistance — almost exclusively to migrant field laborers, some of whom commute from San Joaquin to Napa or Sonoma counties, where pay is higher.
"The response (to this crisis) at every level of government has been so pathetic that when you get to the margins of society, they're the ones suffering the most," Rabell Gonzalez said in January. "That drove the responses I got to (offering up this aid)."
As of February, Eduardo had not paid rent in more than six months; he relies heavily on local food banks to help him put food on the table. His family is making ends meet thanks to flexibility from their landlord, he said, and owing to the fact he was able to find fairly steady construction work as of late January. His immigration status makes him ineligible for unemployment benefits or stimulus payments, so there is no other help on the way.
"It's been very stressful, because it never seems to end. You pay one (bill) and another pops up," Eduardo said in Spanish of the financial pressure his family is under. "Things are different for… people who don't have (legal) residency. The government cannot help them; it's more difficult to fight to get help."
As many as 85% of farmworkers in the North Bay may be undocumented, according to Zeke Guzman, 67, a community organizer in Sonoma County who is himself the son of farmworkers. Undocumented workers are often forced into low-wage work because of their immigration status, according to Guzman, and without the safety net of unemployment insurance, loss of any amount of wages can pose a threat to the stability of farmworkers and their families.
"If they lose all of their income for six weeks, it takes 12 to 18 months for them to recover, if they recover at all, because of all the back rent and bills they've got to pay," Guzman said. "When you make $25,000 or $30,000 and you owe that kind of back rent — it is devastating."
A number of workers living in the greater Northern California region — including some among Rabell Gonzalez's congregation — make a pointed commute into the Napa and Sonoma valleys, where picking wine grapes pays better than comparable work in other agricultural sectors.
Harvest time in the North Bay is the single most important time of year for those field workers; it is by far the busiest season, the days long and ripe with overtime pay. It also immediately precedes the slow winter season, a dynamic that means workers and their families typically rely on the financial boon of the harvest to float them for anywhere between 10 and 12 weeks, according to Guzman.
"Farmworkers make more money in those six or seven weeks (of harvest) than they have in the previous seven or eight months," he explained. That crucial period typically falls between August and October — months that in 2020 were defined by wildfires that raged through Napa County.
Napa Valley's grape growers and vineyard management companies worked hard this year to find alternative work for their year-round crews, according to Napa Valley Farmworker Foundation Board Member Mike Wolf, who owns an eponymous vineyard management company in Napa County. Seasonal, migratory farmworkers hired on just for harvest "were the ones who were hurting the most," Wolf said.
"If there's limited work, virtually all of us had to give that to our full-time guys," he explained. "Seasonal workers were the ones more in need (of help) from community organizations."
Not every year-round employee was so shielded; work throughout harvest was stop and start at best for Napa resident Rogelio, a vineyard worker for a well-known estate producer in Sonoma County's Carneros region. Rogelio estimates he lost between $5,000 and $6,000 of his annual salary over subsequent smoke taint concerns — about the average loss of the North Bay's farmworkers in 2020, according to an estimate from Wolf.
Farmworkers in Napa County made between $15 and $20 an hour in 2020, according to the most recently available data from California's Occupational Employment Statistics and Wages program. In Sonoma County, wages range from between $13 and $19, the same data shows.
For Rogelio, who requested only his first name be used because he is in the process of applying for citizenship, the financial loss is a titanic one. In its wake, he and his partner, Maria Pizano, have struggled to keep their heads above water, especially as a chronic illness has in recent months forced Pizano to step away from her work in eldercare.
"We're behind on rent, on bills — we just don't have the money," Rogelio said in Spanish. Like Eduardo, they'd been partially reliant on a local food bank. In February, the pair managed to pay only half of their $2,000 rent they share with Maria's teenaged daughter; the rest, they knew, would come due eventually.
Paros por la cuarentena y los incendios ha reducido los salarios de muchos campesinos en Napa y Sonoma. El impacto por su bien estar ha sido serio.
"We had to take out a loan, and we're paying it back little by little," Pizano added in Spanish, describing how she and Rogelio had qualified for a loan from a small-dollar loan company.
For Rogelio, the impact of the shortened harvest on his wellbeing has gone far beyond the financial: he has bouts of depression and anxiety, Pizano said, seated across from him at their dinner table. Sometimes he might suffer from seemingly worry-induced headaches, or go a whole day without eating very much at all — the stress strips him of his appetite, according to Pizano.
"We are more indebted than we have ever been," she added.
Even before the pandemic, low-income communities and communities of color were "already more likely to experience risk factors for poor mental health… which are rooted in historic structural inequities," wrote Laura Choi, vice president of community development for the Federal Reserve Bank of San Francisco. Those risk factors—including economic insecurity—have been greatly exacerbated by the pandemic, Choi said in an interview.
"Insecurity plays out into a person's living conditions: it impacts food security and housing security, which have a direct impact on physical health. And that feeling around (economic) insecurity—the loss of control, loss of agency—can have really significant impacts on mental health," she said.
Both economic "shocks" and climate-related disasters like the wildfires are what experts call "threat multipliers" for people who are already economically vulnerable, Choi said.
"Systemic issues like depressed wages, unaffordable housing costs, lack of documentation—they can cause catastrophic economic harm to a family," she said. "Without a formal safety net, whether that's inability to access insurance or benefits, the role of community-based crisis organizations, like food banks, becomes critical. But we know they do not have sufficient funding to meet the scale of the need in this moment."
For the North Bay's farmworkers, the cycle of insecurity has been relentless, according to Guzman, who said housing and food insecurity have led to "some pretty heavy-duty mental health issues" among families.
"There has been continuous underemployment of farmworkers," he added, citing quarantine stoppages and fires. "That is what (this year) has done — it's economically devastated them."
Register reporter Sarah Klearman reported this story with support from the Impact Fund, a program of the USC Annenberg Center for Health Journalism.
Watch now: Massive holiday food lines reveal deep economic toll of pandemic
Photos: Napa Valley grape harvest 2019
Photos: Napa Valley grape harvest 2019
Napa Valley grape harvest 2019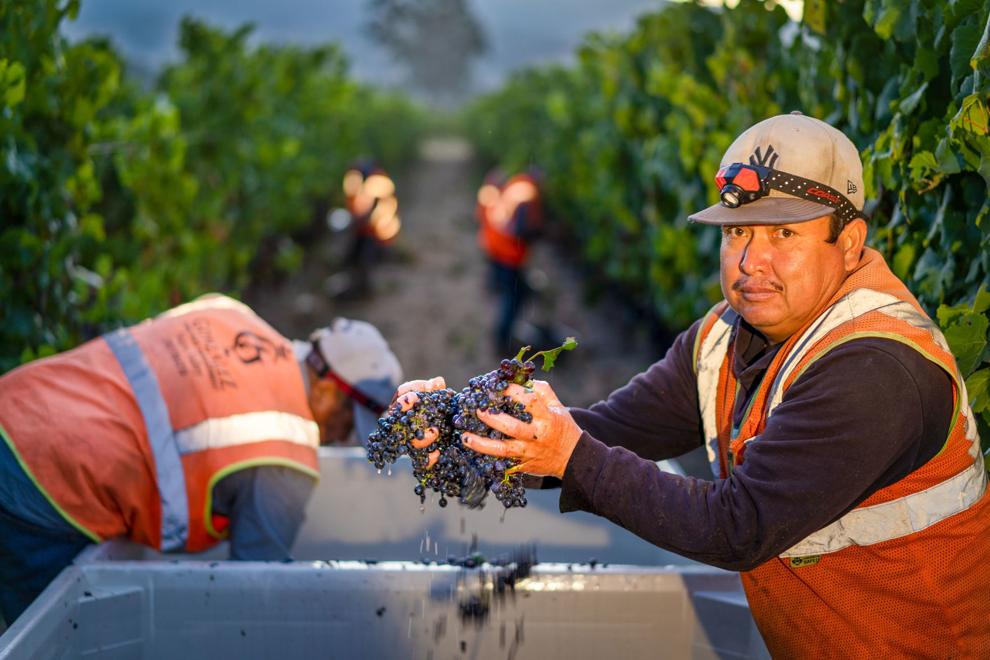 Napa Valley grape harvest 2019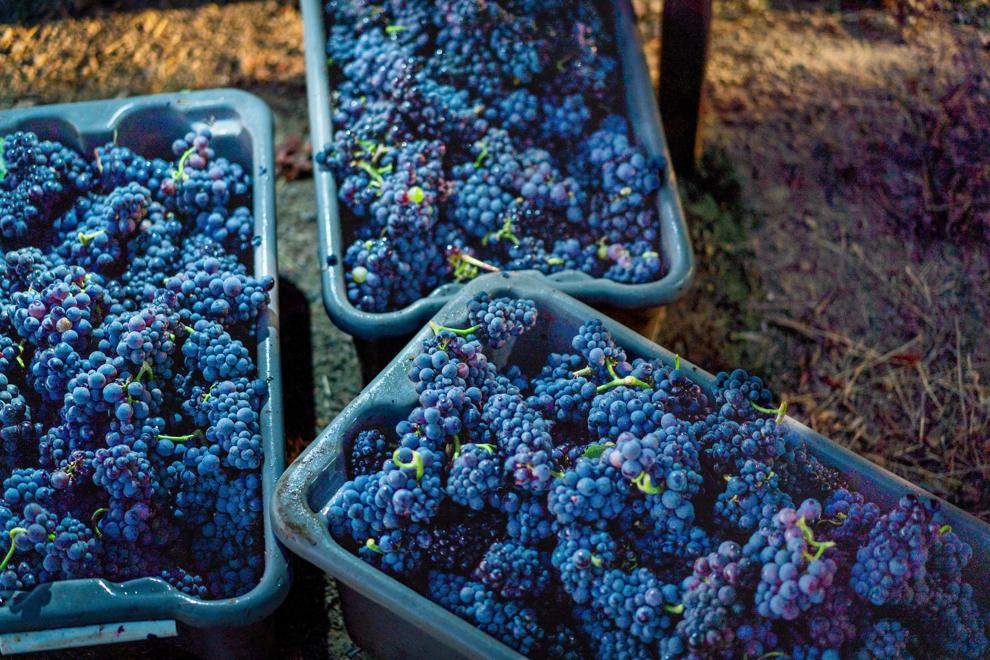 Napa Valley grape harvest 2019
Napa Valley grape harvest 2019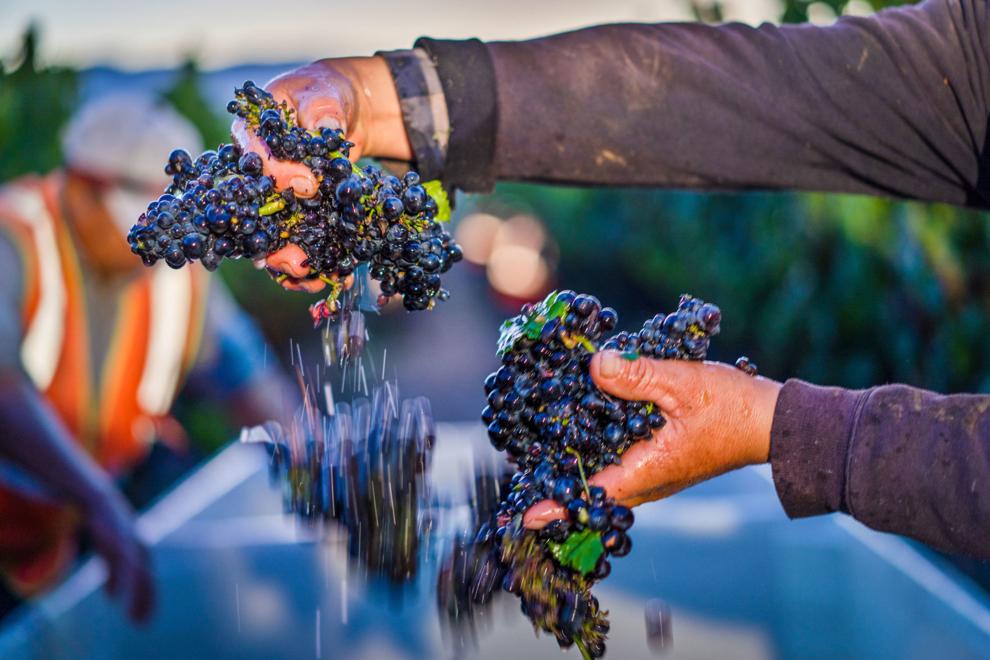 Napa Valley grape harvest 2019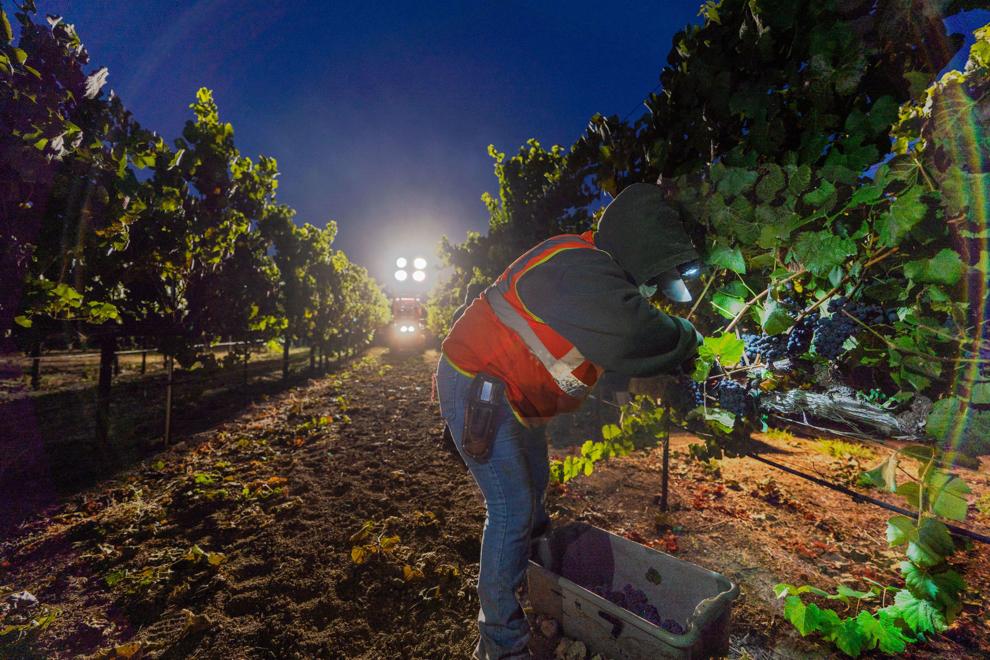 Napa Valley grape harvest 2019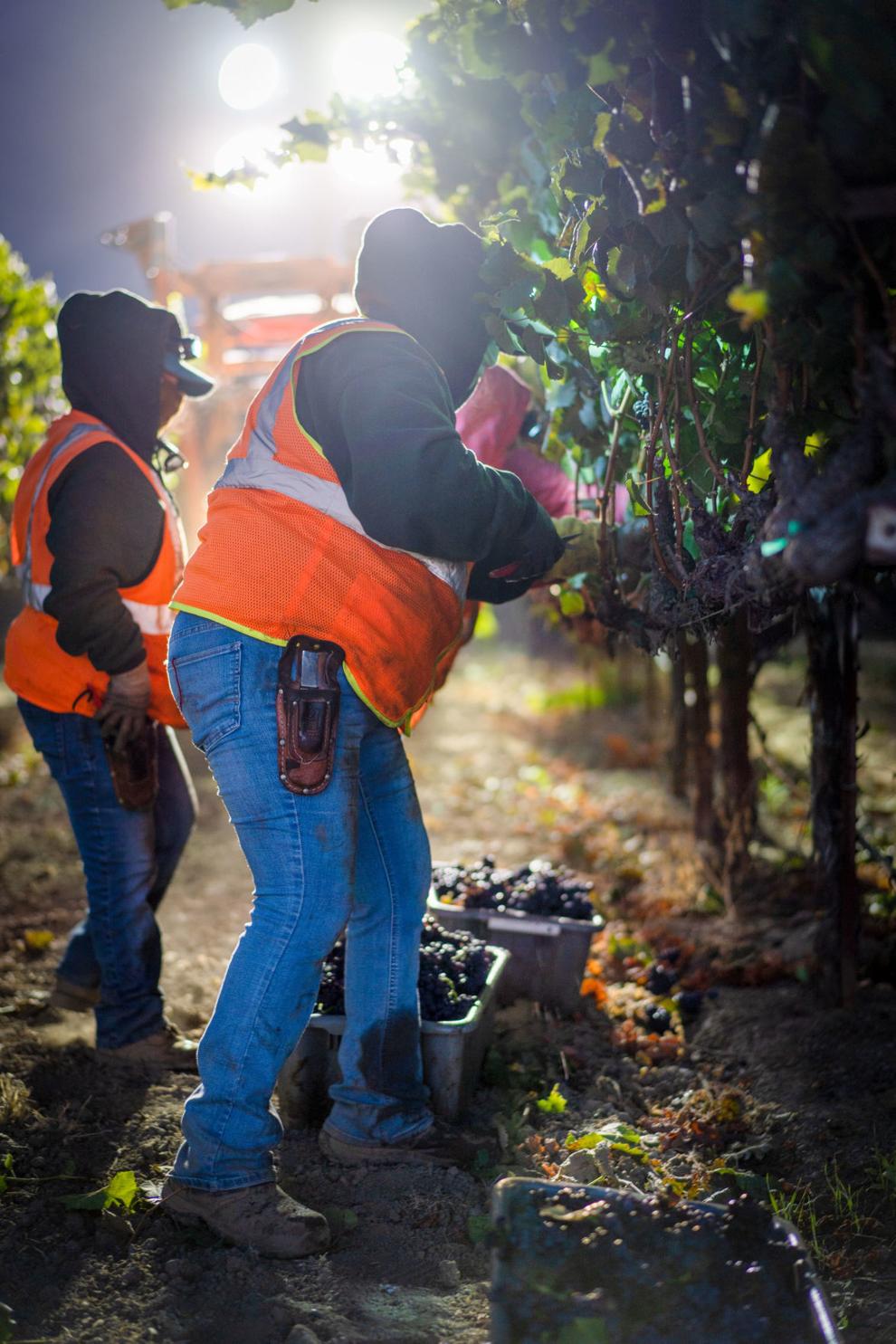 Napa Valley grape harvest 2019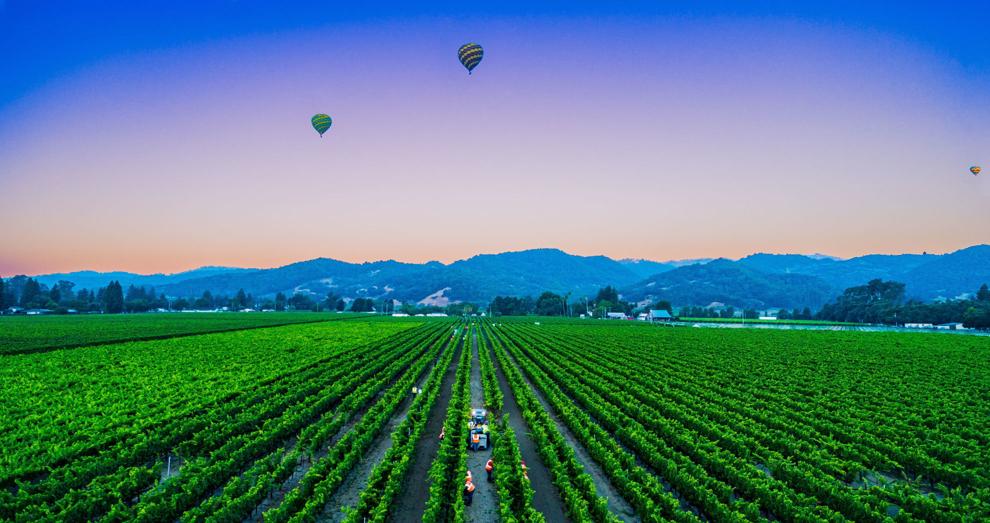 Napa Valley grape harvest 2019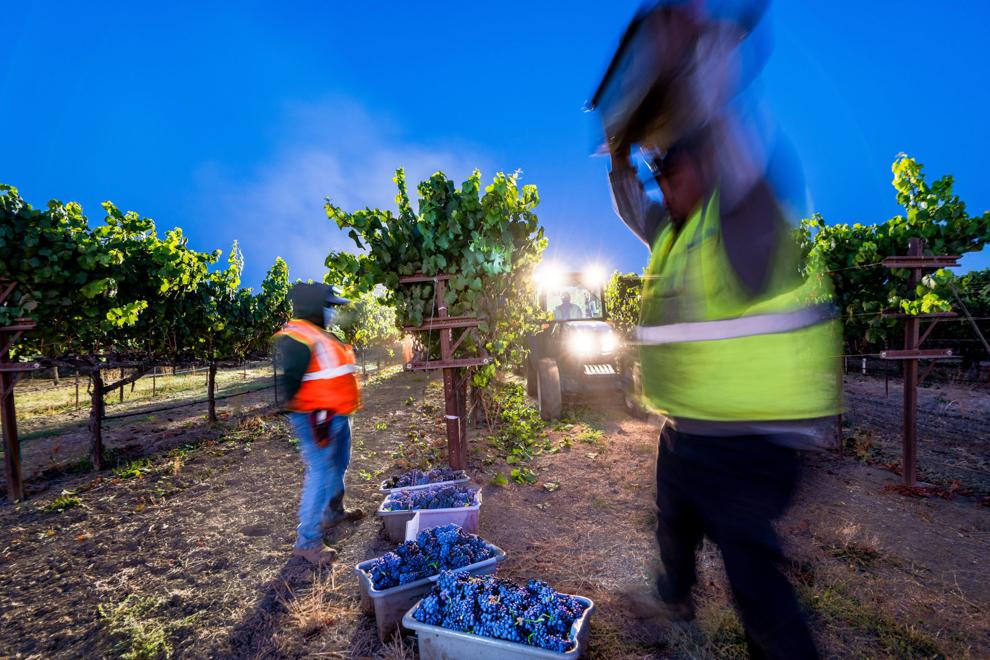 Napa Valley grape harvest 2019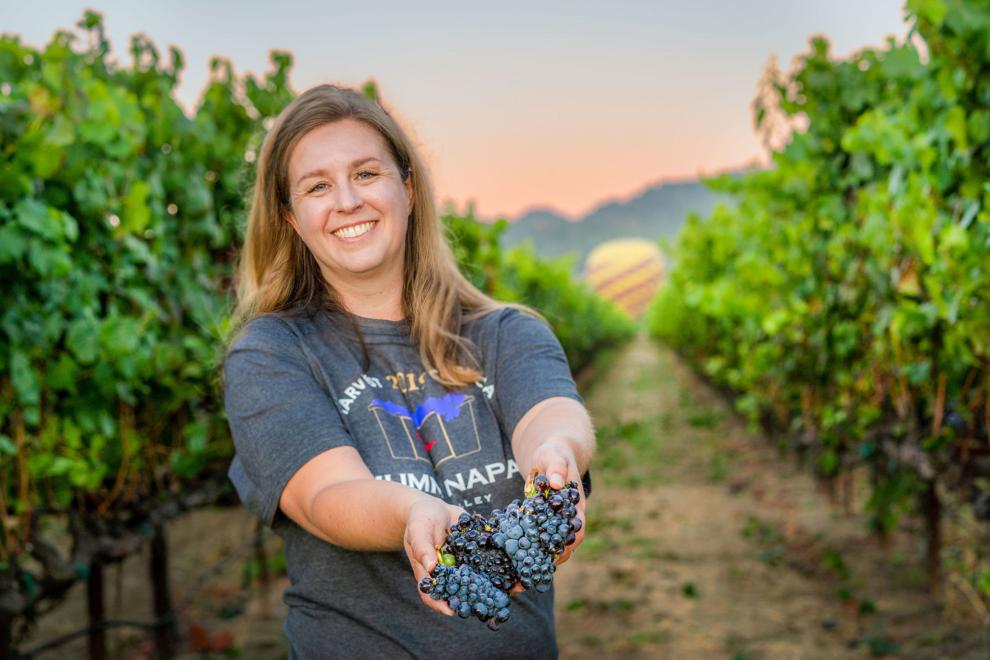 Sarah Klearman's most memorable Napa Valley Register stories of 2020
Sarah Klearman's most memorable Napa Valley Register stories of 2020
On a Sunday in mid-March of this year, I stood watching as Gov. Gavin Newsom announced the coronavirus had arrived in California - and that the state would soon shut down to prevent its spread. He began listing impacted businesses and industries; the moment I heard 'wineries,' I knew I was on the clock. 
It feels now like that press conference, held just before the nation plunged deep into lockdown, was a clear demarcation of 'before' and 'after.' In both my professional and personal life, I've sometimes struggled to come to terms with just how much has changed this year, and with how much has been lost: 300,000 dead from the coronavirus in the United States. So many small businesses seem to be facing extinction. It's enough to make my head spin, and that's not even touching upon the wildfires that ravaged Napa County this year.
So I've been making sense of everything that's happened to our community through my work at the Register, because my reporting this year has been all about listening. I've lent my ear to anyone who will talk to me: folks made homeless by the wildfires; communities, including the valley's agricultural workforce, disproportionately impacted by the virus; business owners and their employees who rightfully fear for their future. This list - my top five stories of this year - is all about them.