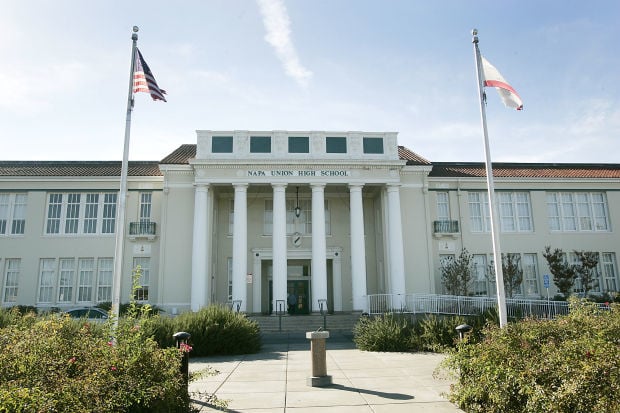 Those who cast their ballots for Napa's board of education this November will do so only for candidates living in a voter's district, under a newly approved election map that may enable American Canyon citizens to pick two of the board's seven members.
The Napa Valley Unified School District's revamped election map and rulebook, which arose from a January petition alleging watered-down minority influence, will for the first time assign races for each board seat solely to one of seven areas in Napa, American Canyon, Yountville and surrounding county-held territories.
A redrawn voting map gained approval from NVUSD trustees Thursday night, setting the stage for a boundary shift that affects four trustees running for re-election this fall – and may force some to instead pursue new seats into which they will be reassigned.
Under the redrawn voting map, two of the four NVUSD board members up for new terms this November will have to compete for the same seat. Joe Schunk of the current Area 4, which includes American Canyon and the southern tip of Napa, will share a voting zone with Icela Martin of Area 5, which covers Browns Valley and Carneros.
Another trustee up for re-election, Jose Hurtado of the north Napa-based Area 7, will be mapped into the same district as Robin Jankewicz, whose term runs through 2022. The fourth trustee whose term ends this fall is David Gracia of Area 4, who will not share his new voting zone with another colleague.
Two of the seven new voting areas, one in west Napa and the other in eastern American Canyon, have no current school board members as residents.
Although board members already must live in the voting areas they represent, voters from all parts of NVUSD currently may cast ballots for trustees throughout the district.
One of the new election map's key changes will be its division of American Canyon from a single voting area to two new ones, with Highway 29 separating the two. That plan won out over an alternative in which the city of 20,000 people would have remained mostly within one district, virtually assuring at least one resident will serve on the school board but making the chance of a second advocate remote.
Although the splitting of American Canyon into voting zones that also include portions of south Napa theoretically could leave the city shut out of local trustees, most board members appeared assured the number of city voters would be high enough for board candidates to have to take their concerns to heart.
The zone east of Highway 29 would consist of 68 percent American Canyon residents, compared to 31.7 percent in the zone west of the highway, according to Tamina Alon, the Oakland-based demographer working with NVUSD to redraw the voting map.
The voting map gives the south county "a fair shot at two seats," said Joe Schunk, the trustee whose soon-to-be-redrawn district currently includes American Canyon. "You would be hard-pressed to win an election without taking into account the 30 to 40 percent who live in the (western) area."
The decision to give American Canyon a chance to place two residents on the school board follows NVUSD's cancellation last year of a planned second middle school for the city. Although the district later approved plans for an expansion of the current junior high campus on Benton Way, the decision not to build a new school riled residents who felt the campus was an implicit campaign promise to voters who approved the Measure H school construction bond in 2016, although the ballot language did not mention any city or school by name.
Despite the board's approval of the new area-based voting system, tension remained between some trustees and the team that triggered the rapid overhaul – a process David Gracia said was carried out under the duress of a possible lawsuit.
The petition, filed Jan. 15 by the Walnut Creek lawyer Scott Rafferty and the Napa County Progressive Alliance, said NVUSD's voting system violates California voting rights law by diluting the pull of minority groups. The filing began a 45-day clock for the school district to approve area-based voting in principle, followed by 90 days to hold four public forums and approve a new election map. (Trustees approved a move to district-based representation in February.)
"It's going to give them a voice; they deserve that voice and American Canyon deserves that voice," said Rafferty, who predicted a single district for American Canyon voters would virtually guarantee a board seat to a resident while concentrating as high a percentage of Filipino-Americans as possible.
But when Rafferty denied that NVUSD was acting under pressure, Gracia pushed back. "He says we're not in litigation? Well, the only reason we're not in litigation is becaue he can't sue yet, because we're still in the 90-day protected period," the trustee said in reply.
While the push for district-based elections may have been organized on one group's behalf, trustee Jose Hurtado castigated Rafferty and his allies for not heeding another – Latino residents who said the change was too rushed and left no time for Spanish-language forums to explain the process fully, especially with public gatherings shut down by the coronavirus epidemic.
"With the voting rules changing for this year's school board election, "my hope is that there is an effort to inform the communities of interest about the political process," said Jose Hurtado, one of the board's three Latino trustees. "I don't think we've done that very well, I don't think the Progressive Alliance has done that at all, and I'm not sure that given the fact this election is in November, there's adequate time to organize those communities to actually exercise what the alliance believes is their new franchise.
"Please pay attention to comments from the people you purport to speak for, because it's a little unnerving to have the people you're supporting actually speak out against your proposition," he told Rafferty.
While casting his vote in support of the new election map, Schunk warned that no system will truly give south-county voters a stronger voice unless more people are willing to run for office and volunteer their time for a demanding job that has often gone unfilled by outsiders.
"We are making it easier and less expensive to run; we should encourage people of modest means to step up and run," he said. "But none of these maps make any difference whatsoever unless we have some contested races.
"I'm sure there are plenty of people here tonight that will assert that a change in the method of election will accomplish that. At the same time, we are running into the second economic buzz saw in the last 10 years, so I don't know how readily I believe that people will step up. If American Canyon wants two people from their town to represent them, then they will have to step up, and people will have to run."
A goal of the mapping project under state voting law is to create seven voting areas with one-seventh of the district's population, or 16,506 residents each, Alon, the demographer, said in March. Each voting zone is allowed to have up to 5 percent more or fewer residents than its target population, a maximum adjustment of 825 people.
Voting zones are required to cover a "community of interest," which may be be based on a school, an area's shared culture or heritage, or other "common social and economic interests that should be included within a single Trustee Area for purposes of fair and effective representation."
The vote for the new election system came near the end of a meeting conducted by videoconference from trustees' homes, as in-person meetings and other group gatherings remain suspended by California's stay-at-home order during the COVID-19 outbreak.
Get local news delivered to your inbox!
Subscribe to our Daily Headlines newsletter.