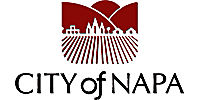 Napa's longstanding city logo is so old that current city officials don't know who designed it or when it was created.
And the city's seal – the stamp plastered on all official city documents – is so old that it is literally falling apart.
"Napa's seal has fallen into disrepair," Barry Martin, Napa's community outreach coordinator, said Monday. "It pre-dates the city's logo, which was most likely created in the 1970s or '80s. When this all came to light, it was a motivation to update both."
City officials have batted about the idea of updating the city's public logo and official seal for some time. "But it has never been a high-priority item," said Martin. "Eventually, we came around to it and realized we want to work on these items because they are so visible online."
City Manager Mike Parness recently told the Napa City Council that redesigning the city's logo could be completed in the current year's budget. He said the project would likely take a couple of months to complete, and wouldn't cost the city more than $10,000.
"We'll revisit the logo and come up with a new design," he said at last week's City Council meeting. "What we have is getting a little old."
The city has not chosen a designer, but plans to meet with several candidates this week. Martin said that staff will explore multiple design options, including making the official seal and the city's logo the same image.
"The idea will be for the designer to put that into their work, knowing that we could have one or two images in the end," he said. "If they are the same, that's fine. If they are different, but related, that's fine too."
The city's current logo consists of a rustic, red and white sketch of stylized fields or vineyards stretched out before a cityscape, with large hills in the background and the words 'City of Napa' typed in black below it. Its graphic elements reflect an earlier design aesthetic that, in today's marketing world, appears antiquated, Martin said.
"There isn't anything wrong with the existing logo, other than its outdated look," he said. "We have a lot of other important projects around the city that we have prioritized first. But with so much exposure and reproduction online, we know we can do this better."
The focus of the city's new logo will be an image that conjures reliability, responsibility and accountability, Martin hopes.
"How a designer converts that into a graphic image – I'm going to let the designer do that work," he said. "But we'll have conversations and look at examples. For us, modernizing is the main point."
Parness and Martin plan to bring a presentation to the City Council by August. The changes coincide with other updates to the city's website, which will finish later this month. Though the changes aren't significant, the city started advertising for the county's VINE Transit routes as a way to boost bus ridership in the county.
In April, American Canyon also updated its city logo with a graphic meant to appear "friendly," according to American Canyon officials. The image features sweeping strokes of color that suggest water and hills. The city's seal was not altered.