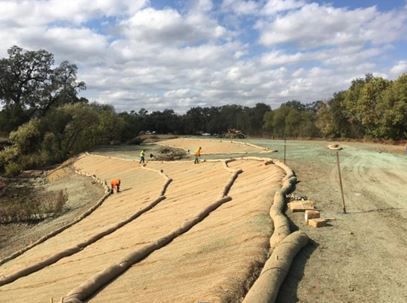 Various environmentalists are saying that the old adage about "water being for fighting over" doesn't have to apply to Napa County.
The group called Water Audit California has used lawsuits to pry water releases from local reservoirs for fish and has threatened a groundwater-related lawsuit against Napa County. The group last week co-sponsored a forum to suggest another way.
Nearly 150 people packed the 105-year-old Native Sons of the Golden West hall in downtown Napa on Friday for the Napa watershed forum.
"We're here because you folks have a golden opportunity," William McKinnon of Water Audit California said. "You have the ability to show everyone else how to take care of the problems not by litigation and fighting and saying, 'Mine, mine, mine.'"
At issue are the Napa River and its watershed. The river travels the length of Napa Valley, winding past vineyards and through the city of Napa carrying storm runoff to San Pablo Bay during the rainy season.
Unlike waterways in some places, such as Los Angeles, the Napa River was never stuffed into a concrete-lined canal. Its watershed isn't paved over with streets and buildings.
"Previous generations have really gifted us with a gem of watershed," Amber Manfree, a Water Audit California adviser and Napa County supervisor candidate, told the forum audience.
Still, tensions have arisen. Measure C in 2018 divided the community over how much additional county watershed protection laws are needed. Water Audit California and its members sued to have more water for fish released from Bell, Kimball and Rector reservoirs serving St. Helena, Calistoga and Yountville.
Peter Moyle during the forum suggested an approach he called ecosystem-based management. Moyle is associate director of the Center for Watershed Sciences at the University of California, Davis.
"Basically, it's a management designed to support good ecological conditions in a river system and these conditions are supposed to be good for both people and fish," Moyle said.
Moyle supports a holistic approach that manages water, land and species to improve the ecosystem for both native biodiversity and human use. Various stakeholders and experts come together agree on a desired ecosystem condition.
"This is 'desired ecosystem condition' is an important aspect of it, because it says we're in charge," Moyle said.
He mentioned such techniques as releasing water flows from dams at certain times to benefit different species, improving river habitat and managing at a watershed level.
"Why we need this kind of approach is simply because we've screwed up our (California) water systems so much that controversies are arising that are heralded as disputes between people and fish," he said. "It's making life a lot more difficult for people than I think it needs to be."
The forum included a look at how Solano and Yolo counties manage the 23 miles of lower Putah Creek.
Lower Putah Creek has water supplies squeezed by 300-foot-tall Monticello Dam, built in the late 1950s to create Lake Berryessa reservoir. During the 1987-1992 drought, fish died in a dry lower Putah Creek streambed.
That led to Yolo County environmentalists in 1991 suing Solano County water interests that use Lake Berryessa water for farms and cities. The parties reached a settlement in 1999 to work together.
Among the results is additional water flows being released from Lake Berryessa for Putah Creek fish at certain times. Lower Putah Creek has a streamkeeper to work with landowners on creek restoration.
"I don't think there is any other way but engagement of the community to solve the problems," streamkeeper Rich Marovich told the forum.
Putah Creek has seen its salmon population increase from a dozen to more than 500 per year, Marovich said. Over 20 years, the Putah Creek effort has attracted $14 million in grants for monitoring and restoration.
What might all of this mean for Napa County? County Supervisor Brad Wagenknecht attended the forum and said on Monday that he found it interesting.
"One of the things I thought most promising is they are talking more broadly about water and how we're going to do water in the county," Wagenknecht said. "I think there's a good part of our board that wants to do a broader water conversation. I'm very interested in that."
Wagenknecht also noted that forum organizers passed out and praised a document called "Napa River Watershed Owner's Manual." That community effort prepared by the Napa County Resource Conservation District dates to the 1990s.
Mike Hackett of Growers/Vintners for Responsible Agriculture said the forum was meant to be educational. The goal is to collaborate with the county.
"I would like to say at the outset that this is not a political event," Hackett told the audience.
Attendees at the forum ranged from several Napa County planning commissioners and Open Space District board members to local environmentalists such as Jim Wilson and Chris Malan.
As Manfree noted, the Napa River has seen its own share of restoration projects. Among them are the Rutherford Reach and Oak Knoll to Oakville efforts to recreate Napa River flood plains near vineyards, the "Living River" Napa County flood control project and tidal wetlands restoration in the south county.
Sponsors of the Napa watershed forum were Water Audit California, Growers/Vintners for Responsible Agriculture and Napa Vision 2050.