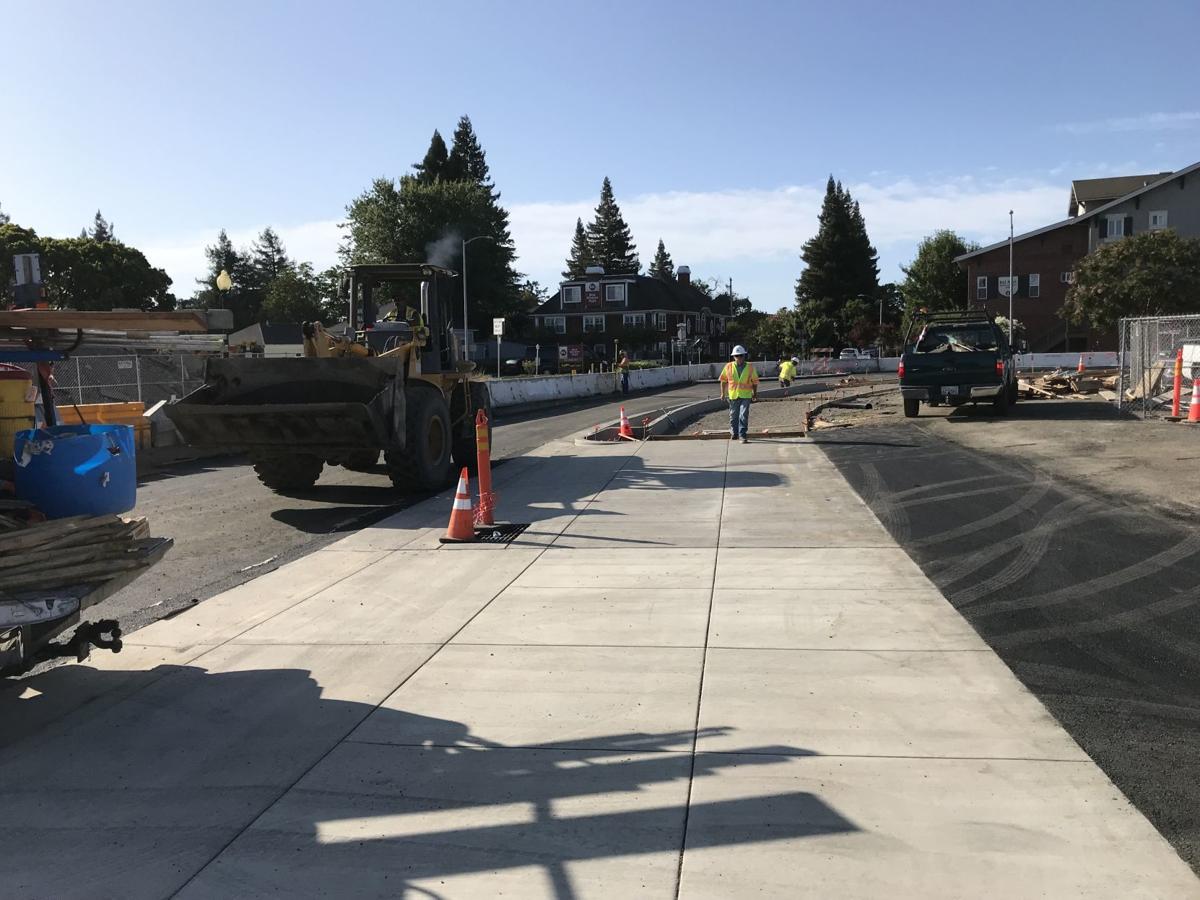 Before seeking artists to create a sculpture for one of Napa's busiest gateways, advisers are asking: What form should such an artwork take? Who should the audience be? And what should the monument say about Napa?
A triple roundabout project in the early stages of construction near Highway 29/First Street will be the backdrop for a new art installation, at a spot where some 15,000 vehicles pass by daily.
On Tuesday, the city's Public Art Steering Committee began grappling with what the nature of that sculpture should be – whether it should be best appreciated up close or driving past, and how best it can capture the community's nature beyond its world-famous wine industry.
How large the work should be, what materials may go into it, even the choice between abstract and tangible imagery are questions still to be settled. What was not in dispute for committee members was the opportunity – and responsibility – of creating a strong visual impression on numerous visitors every year.
"I feel this is a really important piece for downtown Napa, for the identity of Napa as a place to stop, which Napa has never really had," said Kristina Young, a member of the volunteer public art committee.
Budgeted by the city at $350,000, the public art project would be the visual flourish on an ambitious re-ordering of the traffic pattern linking four-lane Highway 29 to First and Second streets, which will have their one-way flows reversed to send inbound motorists east on First Street while departing drivers head westbound on Second. Street closures and detours began in June for the joint effort between Napa and Caltrans, and construction is expected to continue into 2020.
The monument would be placed on a 20-by-30-foot concrete pad within a plant-lined drainage swale hugging California Boulevard's east shoulder, a rough rectangle between two of the three roundabout hubs connecting California with First and Second streets.
Napa's Parks and Recreation department does not aim to unveil the artwork at the same time as the opening of the new traffic pattern, but shortly afterward, said Recreation Manager Katrina Gregory.
The visibility of Highway 29's main turn-off into Napa's heart demands the utmost imagination not only of artists but of the city that will award the commission, said Young, a local artist and Art Walk curator who asked officials to look beyond the obvious and well-worn tropes of wine country.
"We do not need another grape crusher," she said in reference to the monument farther south along the freeway. "We do not need another bunch of grapes. I want this to be about what else Napa is all about. I don't want to see any grapes anywhere near this thing – seriously, we already have plenty of that."
Advisers, city staff and ultimately the City Council will need to decide how easily viewed a sculpture needs to be for those walking or bicycling past, said Gregory, who predicted about 90 percent of observers will pass by the site in motor vehicles. An artwork largely designed for those walking or even stopping may be required to have more 360-degree appeal than a piece geared to the eyes of drivers, she told arts commissioners.
Although observers would be able to park farther away on First and Second and walk up to a monument, there are no plans for curbside parking in front of the property, and the location will not be designed as a pocket park, she said.
On the question of whether Napa should concentrate on finding a California-based artist for its gateway sculpture, committee members instead recommended opening the project to candidates regardless of location, so long as they visit Napa and take the time to understand its nature.
"This has the potential to be an iconic piece for Napa," said Young. "It would be a feather in the hat for any artist to create a piece that so many people will see – and who doesn't want to come to Napa?"
"We do not need another bunch of grapes. I want this to be about what else Napa is all about. I don't want to see any grapes anywhere near this thing – seriously, we already have plenty of that." Kristina Young, a member of Napa's public art committee. 
Get local news delivered to your inbox!
Subscribe to our Daily Headlines newsletter.