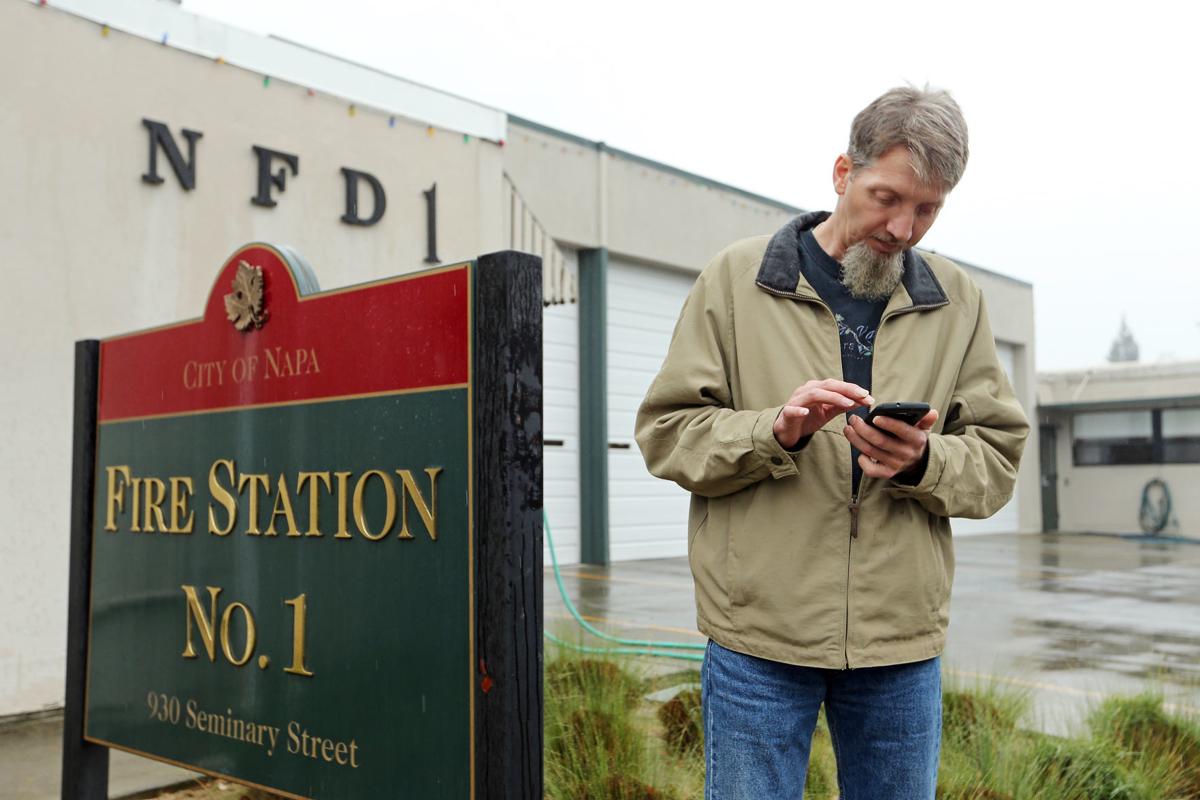 A witness phones the dispatch center, and within minutes police officers or firefighters dash off to some part of Napa County. But even for those following the action on a radio scanner or a website, the question often remains: is the "emergency" a mundane fender-bender collision, or an immediate threat to life and property like a shooting or a wildfire? Or does it fall somewhere in the middle?
For two years, a Napa computer repairman has operated a Facebook page that seeks to untangle fact from rumor – by posting alerts from scanners, websites and smartphone apps as quickly as possible.
"Napa Valley, CA – Fire, Police & Emergency Info. (unofficial)" is a Facebook repository for public safety alerts in unedited form, curated by its administrator, Corey Edwards, from scanner traffic, law enforcement and power company websites, and other primary sources.
In an atmosphere where rumor and misunderstanding can spread at the speed of the internet, the 51-year-old Edwards sees the emergency alert page as a one-stop destination for those wanting to know what presents a danger and what does not.
"Rather than having people speculate, I'm there to put out accurate information as it comes off the scanner," Edwards said recently of the emergency alert page, which counts more than 12,400 members. "I think that's what a lot of people appreciate, that there's no crap."
Edwards' toolbox includes such items as a battery-operated scanner on his hip, as well as online incident logs posted by the California Highway Patrol, Pacific Gas & Electric Co. and other agencies to track the response to crashes, fires and power outages.
Other programs he pulls up literally by tapping his phone screen – PulsePoint to quickly locate vehicle collisions, Flightradar24 to track planes in Napa Valley airspace, and Google Maps to nail down an address within seconds.
A police scanner enthusiast, Edwards already was a member of the Facebook group before Oct. 8, 2017, the night when a trio of firestorms wreaked billions of dollars of damage in the North Bay and killed more than 40 people, including six Napa County residents.
"I was just watching TV and working on computers, as on any other night," he recalled of that night at his home, where he runs a repair business. "I first heard about it on the scanner, but it didn't sound serious at first – it didn't sound serious until the first units arrived on scene. The whole way it started is kind of a blur."
"Once that second report comes in and you check the wind meter online and see it's not good, that's when the TV volume goes down and the scanner volume goes up. I don't think I slept that first night."
What followed was a torrent of fast-moving updates about the spread of flames and the evacuations and closures they forced, as the blazes eventually spread over much of Napa and Sonoma counties.
Except for a few trusted members of the Facebook group, Edwards requires all postings to be approved before they appear online – an effort, he says, not only to keep out unfounded rumors but to prevent irrelevant chatter from slowing down those who need urgent updates in a hurry. (Among the exceptions are postings for the Toys for Tots and Shop with a Cop donation programs each December, because of their links to local law enforcement agencies.)
"I try to keep the clutter down so when there's an actual emergency, they can find info about that emergency," he said. Since becoming administrator following the 2017 wildfires, he added, he has narrowed the Facebook page's focus more closely on public safety matters rather than "every domestic violence case, every petty theft, unless there's a chase involved."
Among recent online comments that didn't make the cut were postings from people trying to contact Edwards in early December about an unusual street closure outside First Presbyterian Church in downtown Napa. The shutdown was not the result of an emergency, but of filming for the Netflix television drama "13 Reasons Why," for which Paramount Television reportedly rented the 145-year-old sanctuary.
"It's not important, it's not an emergency and no one is in danger," said Edwards.
In his two years marked by fires and power outages – and the more routine roadblocks of life – the experience of helping fellow Napans stay abreast of emergencies large and small has confirmed his view of the community that has been his nearly lifelong home.
"We're a tight-knit community. For the most part, everybody cares about everybody else," said Edwards, whose family moved to Napa when he was a year old. "We have our good and our bad, just like any other place."