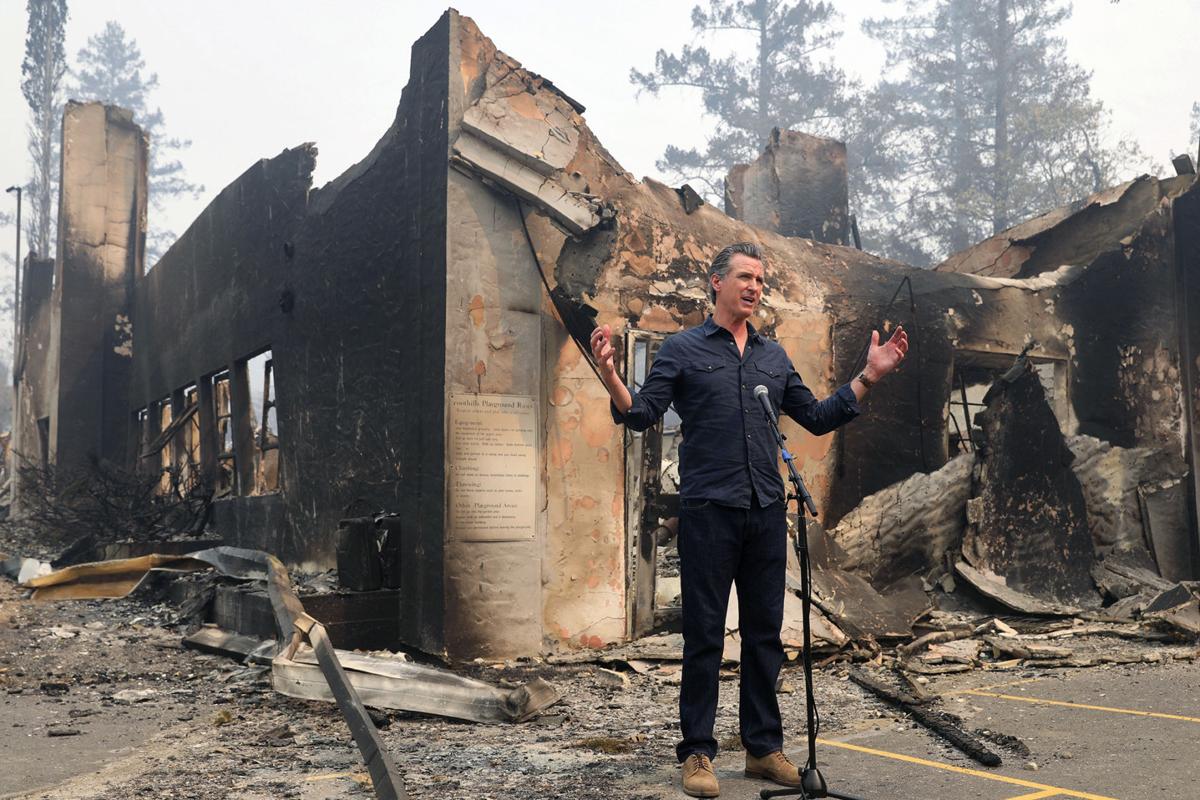 Gov. Gavin Newsom toured the site of a burned Napa County elementary school Thursday morning, while an army of firefighters prepared for winds that threaten to fan four-day-old fires burning outside Calistoga and on the valley's western edge.
Surveying the charred remains of the Foothills Elementary School in Deer Park, Newsom said he intends to commit more money in the coming year's budget for the state's firefighting forces.
"I've got four young kids in elementary school, and I can't imagine for the parents what's going on in their minds, with all the anxiety going into the school year, to see their precious school burned down… We have your backs," Newsom said.
As of Thursday morning, the Glass Fire had destroyed 107 Napa County homes, damaged 31 more and sent shock waves through the Upvalley wine industry.
The fire had grown to 56,781 acres in Napa and Sonoma counties Thursday, prompting new evacuations in the Calistoga area and in the western hills in the mid-valley.
Winds of 10 to 15 mph were expected from the northwest, with gusts to 25 mph or more, with the National Weather Service issuing a Red Flag warning that runs until 6 a.m. Saturday.
There are currently more than 18,000 Napa County residents under mandatory or advisory evacuation orders, with shelter centers set up at CrossWalk Community Church and at Napa Valley College in Napa.
A third location at American Canyon High School was set up Wednesday to serve the "vulnerable elderly" and those with special needs, said Janet Upton, the county's public information officer. It is not a shelter for the general population, she said.
Smoky air from the Glass Fire continued to hang over the Napa Valley Thursday, with air quality crossing into the "very unhealthy" range at mid-day, according to the Bay Area Air Quality Management District.
Napa had the unhealthiest air in the Bay Area. The Bay Area Air Quality Management District extended its Spare the Air alert until Tuesday because of smoke from Napa and other regional fires.
When air is rated "very unhealthy," active children and adults, and people with respiratory disease such as asthma, should avoid all outdoor exertion. Everyone else, especially children, should limit outdoor exertion, the district advises.
The Napa County Board of Supervisors held a special meeting Thursday afternoon to talk about the Glass Fire and the even more devastating Hennessey Fire in August that destroyed 300 homes.
"While we have lost some buildings, more than we've ever lost before, I am confident we saved the vast majority of them thanks to the heroic efforts of our firefighters," Supervisor Ryan Gregory said.
For those who suffered losses in the fires, the county will be with them to the end in the recovery effort, Gregory said.
The Glass Fire started early Sunday morning outside Deer Park, then quickly spread from the east side of the Napa Valley to the west side, then into Sonoma County where it has destroyed 36 single-family homes, Cal Fire reported.
The Glass Fire is now 5% contained, but continuing to spread overnight Wednesday and Thursday near Calistoga and west of St. Helena, Cal Fire said.
A handful of Napa County wineries have been destroyed, as well as several resort properties. Cal Fire said Thursday that five "commercial buildings" had been destroyed in Napa County and four had been damaged, but assessments are still being made.
Earlier evacuation orders remaining in effect over a broad swath of the Upvalley, include Calistoga, St. Helena and the communities of Deer Park and Angwin.
Pacific Gas & Electric said it does not expect to call a Public Safety Power Shutoff due to the predicted winds.
Because of the high heat over California, PG&E said the state power grid had issued a Flex Alert asking that the public conserve energy between 3 and 10 p.m. Thursday to reduce the demand on the electrical system.
PG&E on Thursday had restored power to about 1,500 homes and businesses in Calistoga, utility spokesperson Deanna Contreras said. Calistoga is under an evacuation order because of the Glass Fire.
About 6,600 customers as of Thursday at noon were still without power. They were in Calistoga, Angwin, Deer Park, St. Helena and Pope Valley. The reason is because of Glass Fire damage or because firefighters asked that lines be de-energized for safety, Contreras said.
Newsom was accompanied by a cluster of dignitaries during his Napa visit, including Cal Fire Director Thom Porter; Rep. Mike Thompson, D-St. Helena; State Sen. Bill Dodd, D-Napa; Assemblymember Cecilia Aguiar-Curry, D-Winters; and Napa County Sheriff John Robertson.
Newsom said he hoped the explosion of wildfires in California would put the global predicament of a changing climate into the forefront of more people's minds, if not President Trump, whom he described as having "a different point of view than 98% of the world's scientists."
Trump accuses California of mismanaging its forests, and Newsom agreed that more forest and vegetation management was needed.
In California, 57% of forestland is owned or maintained by the federal government, the state owns roughly 5% and the remainder is private property.
Register reporter Barry Eberling contributed to this report. Julie Johnson, a reporter at the Press Democrat, contributed to this story as the pool reporter for Newsom's visit.



Watch Now: Deer Park decimated by Glass Fire
Get local news delivered to your inbox!
Subscribe to our Daily Headlines newsletter.