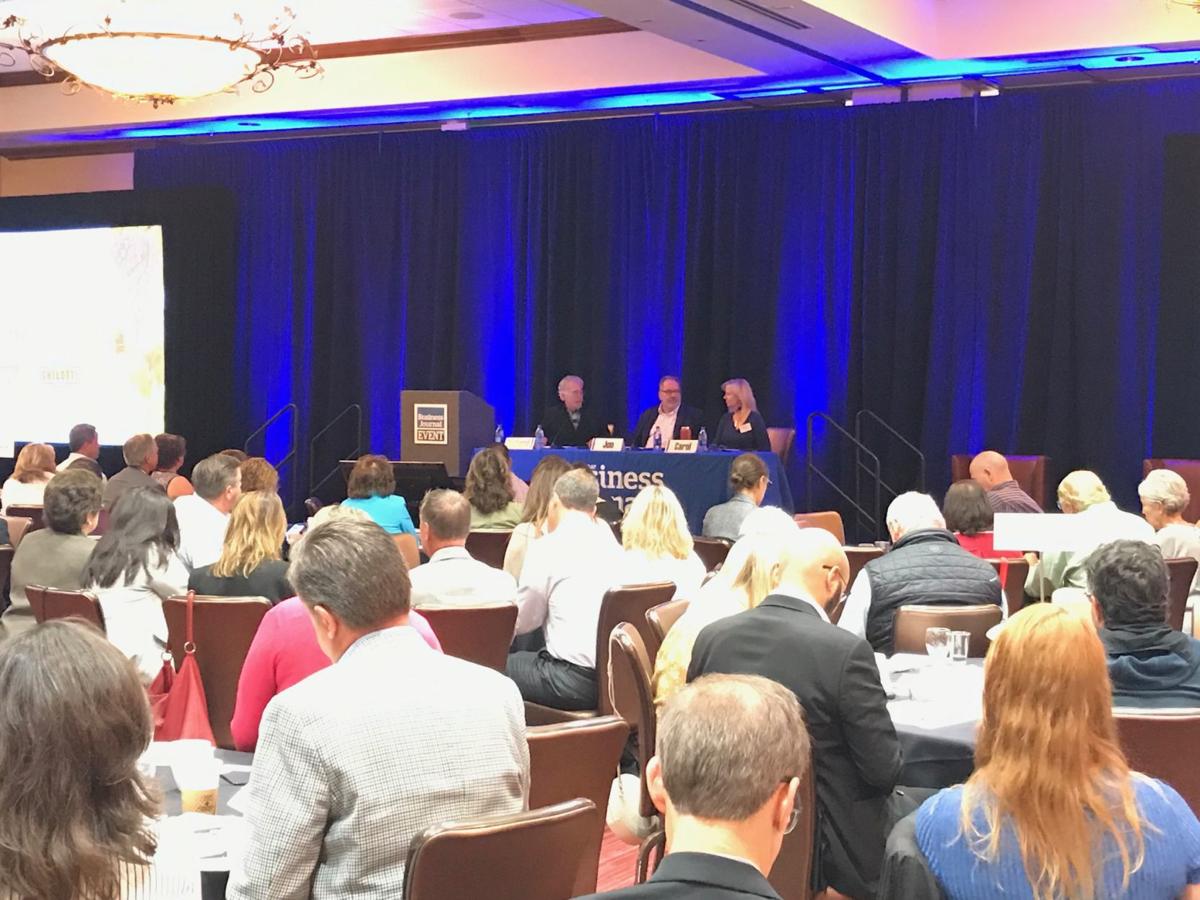 Aging baby boomers, turning millennials into wine drinkers, rising labor costs and supply versus demand.
These are just a few of the challenges that the Napa Valley wine industry faces, according to a panel of industry experts who spoke on Tuesday morning at the 2019 Impact Napa Conference.
Held at the Westin Verasa resort and hosted by the North Bay Business Journal, the program included presentations including a panel titled "State of the Local Wine Industry."
Moderated by Richard Mendelson of Dickenson Peatman & Fogarty, panelists included Jon Moramarco, the managing partner of wine industry advisory business BW 166 LLC of Santa Rosa and Carol Reber, SVP chief marketing officer at Duckhorn Portfolio.
Mendelson started the discussion with a summary of the state of the wine industry.
The 2018 harvest was "quite large," and 2019 is likely to be larger than normal, said the attorney. At the same time, market prices for Cabernet Sauvignon grapes and bulk wine have fallen and the cost to produce wine has risen, including labor and grape prices.
Millennials appear to be less brand loyal and are just as interested in craft beer as they are wine, he said. And then there are bigger economic cautionary signs to consider: trade wars, government policies and a potential recession, said Mendelson.
"Napa has done a wonderful job" with creating and developing its wine industry, Moramarco said. "There are great opportunities."
Yet since 2010, "We've seen a diminishment of the growth rates. It's something that is probably going to continue and something we have to deal with," he said.
Generational differences between older baby boomers and the up-and-coming millennial generation are another factor.
In the last 25 years, the baby boomers have been driving the growth of the wine industry, he said. In the future, "We probably are going to see slower growth," he said. The question is: "How do we target more specifically" new wine drinkers?
Moramarco noted that in terms of cost per serving, wine has become more expensive than beer or spirits. This is likely impacting younger consumer choices, he said. "They are choosing where it's less expensive to get a drink."
And then there's what these younger drinkers want from a visit to Napa Valley.
"Younger consumers that are migrating to Napa tend to want more experiences than collecting things," said Moramarco. "How does all of this shake out?" was his question.
Reber gave the audience the equivalent of a good shake to the shoulders. Yes, there is plenty of doom and gloom about wine drinkers, the economy and climate change, she said.
"There's some real concern but we don't have to be depressed," said Reber. "We're Napa, for God sakes."
"We have survived recession, floods, fires, Prohibition," trade wars, grapevine diseases and more. "We've got it going on here. Napa has exhibited there are so many ways to be successful and resilient."
Reber detailed five specific case examples of such resilience.
Frog's Leap Winery has used innovative farming techniques, is exported around the world and also sells direct to consumer.
John Anthony's wine business took a risk during the Great Recession and brought a stable of lower-priced wines to consumers, virtually all sold retail.
St. Clair Brown Winery & Brewery created "an awesomely conceived boutique urban winery" and brewery, sold direct to consumer.
Daryl Sattui, "an absolute genius and business operator and character," created V. Sattui winery and Castello di Amorosa.
"He used every asset he had and leveraged it in smart ways," including building an authentic Italian castle.
"Those two properties are a contrast in leveraging what you have; incredible bookends in Napa Valley," Reber said.
The owners of Failla Wines in St. Helena chose not to create Cabernet wines, instead focusing in cool climate vineyard varietals. "It's another example of going your own way," she said.
"All these vintners focused on their assets and what they cared about the most and leveraging that to the hilt."
"I believe passionately we have to tell this story," Reber said.
"There are so many different things, and those are the things that make us unique. If we start with those, we are winning before we even start."
"It's important that we fight for the nobility and soul of wine," especially with millennials who can be cultivated into wine drinkers, Reber said.
Moramarco said new wine drinkers have to be educated "to understand that wine has an appropriate place" in their lives.
"Younger people may not end up being collectors" of wine like baby boomers have, "but younger people like experiences, and those build relationships, and that's a long-term business advantage," Moramarco said.
Perhaps legendary winemaker Warren Winiarski put it best. Rising from the audience, he shared his thoughts with the crowd.
The nobility of wine should not be underestimated, Winiarski said.
"Wine is a food," he said. "It's one of the few things we take into our bodies whose sensory experience of it in the mouth goes to the head."
The room was silent as Winiarski spoke.
"In the head, it gives the experience of completeness, which very few other things do," said Winiarksi. There is a beginning, a middle and an end.
"The pleasure of the completeness is what gives wine its nobility. It elevates us for a moment in that experience."
The crowd, seemingly in agreement, applauded.
In addition to the panel, Linda Reiff, president and CEO of the Napa Valley Vintners, was interviewed by Mendelson at the Impact Napa event.
Calistoga Mayor Chris Canning and Ryan Gregory, chairman of the Napa County Board of Supervisors, District 2 spoke about wildfire preparedness.
Napa Mayor Jill Techel hosted a session titled "Napa Today and Tomorrow."