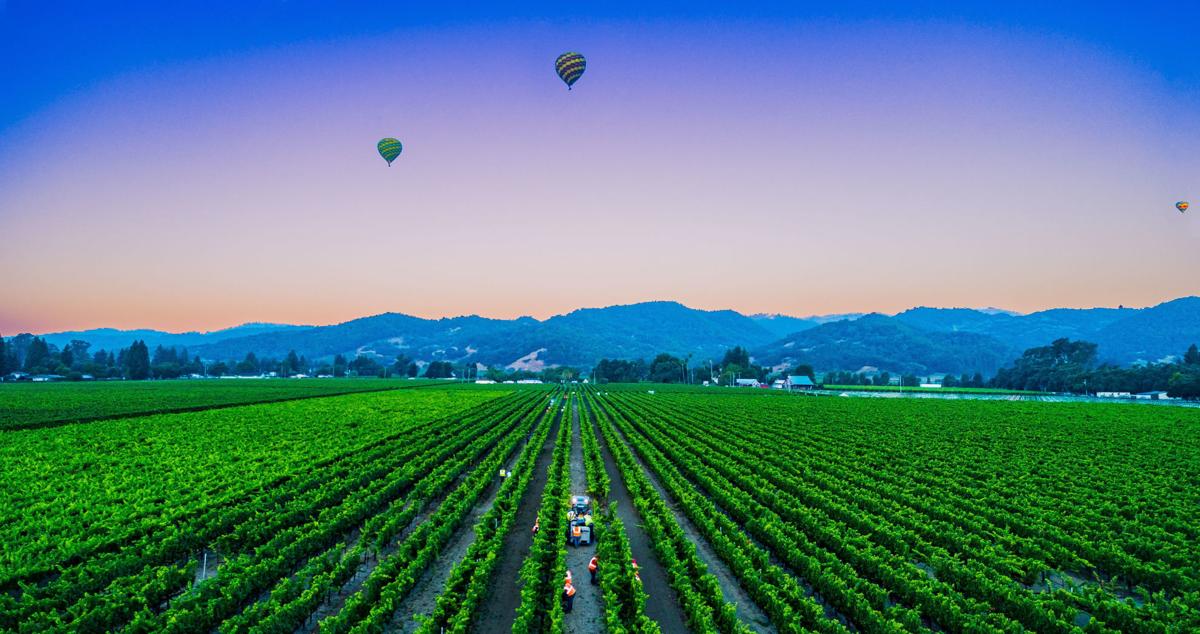 Growing numbers of Napa Valley's wineries are shuttering their tasting rooms in the wake of Governor Gavin Newsom's call for wineries, breweries and nightclubs in the state to close as part of the effort to curb the spread of the novel coronavirus.
On Monday, Napa Valley Vintners' board voted unanimously to support Newsom's recommendation. Similarly, the Wine Institute sent out an email to its statewide membership recommending that tasting rooms follow the Governor's directive and discontinue tastings and events.
"We believe this is a non-essential function in our state, and we believe it is appropriate under the circumstances," Newsom said Sunday at a press conference. He acknowledged that the call had no legal mandate, but expressed faith in the private sector's voluntary compliance.
While tasting rooms may be a "non-essential function in our state," as Newsom put it, they are a vital part of the Napa Valley tourism economy.
The governor's request won compliance from both the Napa Valley's largest producers, including Treasury Wine Estates, an international company that sells its wine in more than 100 countries, and some of its smallest family-owned wineries, like Smith-Madrone.
Ed Feuchuk, director of consumer marketing for Farm Collective, which represents three wineries in Napa Valley, said the company had closed each of its tasting rooms. He had previously hoped to ramp up sanitation efforts at James Cole Winery, Tank Garage Winery and T-Vine Winery in an effort to stay open for customers who were still planning to honor their tasting appointments.
"Being stewards and community members ourselves, we want to help the public health effort as much as we can," Feuchuk said.
Smaller wineries could be hardest hit by the closures, according to Napa Valley College marketing instructor Paul Wagner. Larger wineries might find some relief in their distributions on a national level despite slow-downs in sales to retailers like restaurants, he said, nodding to sales of wine in grocery stores.
"A huge percentage of (small wineries') sales come from direct to consumer sales," Wagner said. "Shutting down the tasting room is turning off the money."
Still, as painful as the decision might be, the country is facing a national health crisis, Wagner said.
"The likelihood of this self-quarantining is that there are going to be relatively few visitors anyway," Wagner said. He recommended that wineries with tasting room staff in need of work re-position them, perhaps to communicate with customers. "It's almost self-defeating to open your tasting room."
Wineries like Farm Collective's members were discussing the implementation of curbside pick-up of wine bottles or delivery options for customers in the area, Feuchuk said.
Ste. Michelle Wine Estates' wineries – including Conn Creek and Stag's Leap Wine Cellar in the Napa Valley – were internally discussing similar ideas, according to Ryan Pennington, senior director of communications and corporate affairs. The group's wineries had moved to shut its doors on Friday evening, two days before Newsom's announcement, he said.
"We're exploring options to conduct pickup or delivery, and if we can do that safely for our employees and the public, then our intention is to do so," Pennington added.
The wineries had rerouted some of their tasting room staff to fulfill other functions at the winery, Pennington said, but was communicating with employees on an individual basis about "their status" in the wake of the closures.
Matthiasson, too, had chosen to close its doors Friday, prior to Newsom's announcement, according to owner Jill Klein Matthiasson. Out of concern for employees working in their "very small and intimate tasting room setting," Matthiasson said, the winery cancelled its tasting room appointments.
The closure would be "a financial hardship on all of us," Matthaisson said, though she believed it necessary in the wake of the "public health crisis" at hand.
"It is hurting a lot of people in this valley," she added. "But it's our responsibility as citizens and community members to balance this short term loss versus the much-worse long term consequences. They're both bad options, but I think this is the lesser of the two."
Prior to Newsom's directive, Stu Smith, co-owner and vintner for Smith-Madrone, said he'd received two cancellations from customers from Kansas and New Orleans who had had their flights to California cancelled.
"It's not really our decision," Smith said, asked if he would comply with the Governor's recommendation. "It's being made by people just dropping."
Six Bay Area counties Monday announced shelter in place orders, which would effectively close all "non-essential" businesses and ask people to remain home as much as possible in order to curb the spread of the virus. Though Monday's order did not Napa, Solano and Sonoma Counties, it effectively left much of the Bay Area frozen.
Smith's business is around 50 percent direct to consumer, he said, making in-person tasting room appointments an especially crucial part of the winery's public-facing operations. In 2008, Smith said, direct to consumer relationships became especially important for the survival of wineries as the restaurant and wholesaler business "went off a cliff".
"It all starts with (customers) walking through the door," Smith said. "That's a huge issue, and now that's all gone."
He spoke of an industry that had faced repetitive challenges over the last few years – fires, floods, power outages, and now a pandemic. Plus, Smith said, the industry was facing other challenges even now: a drought, among other things. For Smith-Madrone, the closures were yet another obstacle to grapple with.
"There's just no way of sugar coating it," he said. "It's not just going to be tough, it's going to be brutal."
Editor's Note: Because of the health implications of the COVID-19 virus, this article is being made available free to all online readers. If you'd like to join us in supporting the mission of local journalism, please visit napavalleyregister.com/members/join/.
Concerned about COVID-19?
Sign up now to get the most recent coronavirus headlines and other important local and national news sent to your email inbox daily.