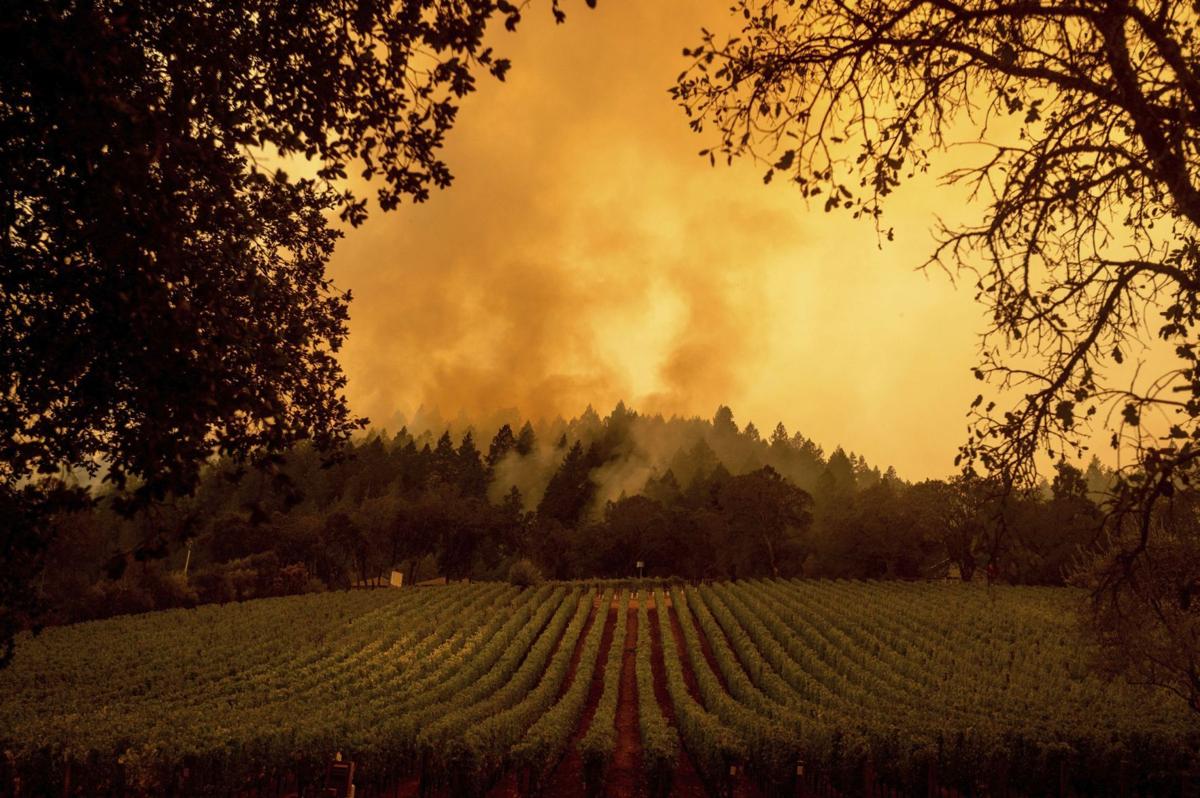 As waves of hazy smoke coated vineyards in Napa Valley last week, it was hard not to notice the masked men and women hard at work amid the vines.
Conventional advice for keeping safe amid wildfires and subsequent poor air quality is fairly simple: evacuate when ordered to. Stay inside – windows and doors closed – as much as possible.
Of course, those things are not always possible for Napa Valley's agricultural workforce, especially during a time-sensitive harvest season.
There have long been wildfires in California, but their impact on the North Bay's wine industry has grown observably worse in the last five years. In 2017, wildfire struck in Napa Valley the first week of October, punctuating only the last weeks of harvest. In 2019, too, it was late October by the time the Kincade Fire began in neighboring Sonoma County; Napa Valley was largely spared the worst of the smoke.
Then this year the LNU Lightning Complex began in August, marking an unseasonably early start to fire season. And it caught Napa Valley in the thick of harvest.
One of Don Clark's vineyards sat squarely inside of an evacuation zone prompted by the LNU Complex fires on the day grapes were set to be picked. That particular vineyard was "physically fairly far from the fires," Clark, who co-owns Nord Vineyard Services, explained, and so his company eventually decided it would be safe for crews to enter the evacuation zone.
"We were fortunate the fires were pretty far away," Clark said. "I wouldn't send crews in if the fires were close – for any reason. The grapes are not worth the chance of someone getting injured."
And before crews set off, Clark made it clear: anyone uncomfortable with the day's pick should feel no shame in sitting out. He had supervisors and workers examine evacuation routes, just in case; he reviewed the proper way to wear an N95 mask to limit exposure to harmful air as much as possible.
Emergency regulation passed by Cal/OSHA in the summer of 2019 now requires Clark to review such things with employees whose work exposes them to wildfire smoke. Employers must communicate the health risks of working in poor air quality and do the most they can to limit exposure to harmful particulate matter. (In indoor workspaces, that may mean bringing in air filtration systems; in Clark's case, it meant ensuring each employee had a working N95 mask.)
Beyond that, though, there is no existing regulation for agricultural laborers working in proximity to wildfires—partially because that had never happened until just a few years ago. In Napa County, agricultural workers can enter evacuation zones to complete essential business – vineyard work included.
But how best to keep workers safe once they do enter those zones is a topic just now being broached by regulatory bodies, according to Teresa Andrews, education and outreach specialist with the Western Center for Agricultural Health and Safety at the University of California, Davis. Andrews orchestrates bilingual training on smoke exposure for farmworkers and their employers, helping them understand the risks and protection against them.
She does not yet have recommendations to offer for employers looking to better understand how to protect their workers when they must work in an area that's been evacuated.
"We are looking into creating some materials – educational materials – and maybe offering training on how to enter (an evacuation zone) in a safe way," Andrews said. "We understand that this kind of material is needed, but we are not yet there."
That growers cannot simply abandon their grape crop in the wake of evacuations and poor air quality is "common sense," Andrews said. Oftentimes workers are themselves eager to conduct picks despite the circumstances, according to Andrews, concerned a cancelled day of work could impact their financial wellness.
Air quality can be measured based on the concentration of particulate matter in the air, according to Irva Hertz-Picciotto, director of the University of California, Davis's Environmental Health Sciences Center. Mostly commonly utilized today is measurement of PM 2.5; the concentration of particulate matter with a diameter of 2.5 microns (particles so small more than 19,000 of them could fit in a penny). Researchers know exposure to even "fairly low levels of particulate matter over time has a measurably negative cumulative impact, Hertz-Picciotto said.
"We've documented pretty high rates of people reporting things like cough, wheezing and irritated eyes," she explained. What is lesser-known, Hertz-Picciotto said, are the health impacts of short-term exposure to high levels of particulate matter, she added.
During the Glass Fire, air quality for portions of Napa Valley was for hours and days at a time so bad it was classified as "hazardous." Clark—who this time around has not had to enter any evacuation zones to tend to vineyards—pulled his men from work for a day or two late last week as air quality worsened observably.
"It was so bad, it was like—we can't send crews out into this," Clark said. They rescheduled the harvest date for two days later.
Having large fires in urban settings is something of a new phenomenon, according to Hertz-Picciotto.
"There's not a lot of data about its biological impact on humans. It's mostly uncharted territory," she said.
N95s masks, when worn correctly, do protect workers against particles measured by PM 2.5 readings. "Much less studied" are particles even smaller than PM 2.5 readings pick up, called "ultrafine" particles. Whether or not they might be harmful—as well as how much protection an N95 might provide against them – is still mostly unknown, Hertz-Picciotto said.
Still, the N95s are the best protection currently available for workers. This year they've been in high demand – both for workers exposed to wildfire smoke and healthcare workers exposed to coronavirus.
"In the early season it was a stretch (to procure additional N95 masks)," Nord Vineyard Management's Clark said. The company had "a couple of cases" from last year's harvest that lasted them through the early weeks of the fires, he added. The Napa Valley Grapegrowers distributed "a few" masks to growers, according to Clark; the Napa County Farm Bureau (NCFB) also has an available supply, which it received through the County Agricultural Commissioner's Office.
The Agricultural Commissioner's Office received the masks from the state's Office of Emergency Services, according to NCFB CEO Ryan Klobas. Demand has been "extremely high," Klobas added, which has prompted Cal/OSHA to issue temporary guidance about how to optimize mask supply during wildfire events.
Growers have been authorized to have employees reuse masks, per the temporary guidance. That's not ideal, according to Andrews – masks can only be worn for so long, and should be considered useless if a wearer can smell smoke even through the mask. She has heard from some farmworkers in the state whose employers have not provided masks, or have provided only one mask for the entire week.
"There are some bad actors out there," Andrews said, noting that working conditions for farmworkers have improved steadily in the last few years.
"I think fortunately more and more growers and supervisors are conscious… of showing respect for workers," she added.
In Napa – where she says growers have "spearheaded" the movement to protect farmworkers – she'll conduct four trainings on protecting workers against smoke exposure this month. No doubt there will be more to come.
Watch Now: Firefighters record drive through intense wildfire