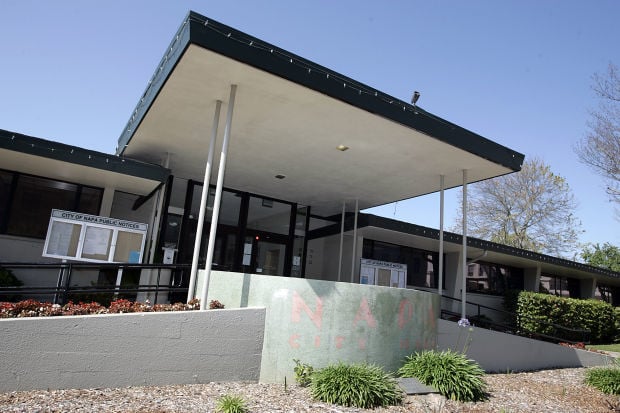 A once-in-a-century pandemic and the resulting economic stress led Napa to pump the brakes on a new city hall and police station, but city officials say the need to improve on aging, inefficient and leaky facilities remains as acute as ever.
With planning for Napa's civic center frozen indefinitely, the City Council on Tuesday voted to move funds set aside for that project toward maintaining existing offices, including the current City Hall built in 1951.
Looking ahead, the city's Public Works department also recommended allotting $11.6 million over the next three years to fix structural, utility and plumbing problems at several of the 27 city-owned buildings — a foretaste of what was described as a potential nine-figure upkeep cost over three decades without new construction.
City Manager Steve Potter announced Napa does not expect layoffs through June, barring any "additional unplanned decreases of revenue from our budget."
Among the maneuvers council members approved to settle Napa's 2019-20 budget was a shift of $2.2 million from the city's general fund into a facilities reserve, with $1 million of that money to cover deferred maintenance or install COVID-19 safety upgrades at existing buildings.
The remaining $1.2 million from the transfer will be moved into the budget for the city hall and police station project, for which Napa in 2017 set aside $2.6 million to pay the project's developer, the Plenary Group of Los Angeles, in case of the civic center's cancellation.
The decision followed an appeal by City Manager Steve Potter to refit current city offices for greater safety, even after the pandemic abates enough to allow more Napa staff currently teleworking to return to their desks.
"Even though some staff are working virtually from home, we are taking advantage of this time to focus on maintenance so both staff and our community can conduct business safely when they are ready to return to City Hall," he wrote in an open letter published Monday.
While Napa's dreams of a new headquarters have gone away for now, a pressing need for sturdier and more modern workspace remains, according to Public Works Director Julie Lucido.
An assessment of existing city offices indicates Napa will need at least $61 million during the next 20 years — and $115 million over the next 30 — just to keep up current functionality, without any retrofits for safety or conservation, Lucido told the council.
Structural, plumbing, electrical and climate-control upgrades are required at various city buildings, roof leaks plague the Community Services Building and corporation yard, and smoke from this year's wildfires infiltrated some offices seriously enough to force some of those still working on-site to head home, she said.
In the interim, Lucido said, Napa should consider modifying the current City Hall on School Street to create more office and conference space. Other recommendations included unfreezing an engineer's position to develop a facility improvement plan, and reassessing staffing at each building in case some of the workforce continues working remotely even after the COVID-19 emergency passes.
A 'temporary' budget for fiscal year 2020-2021 has finally been approved, with employee vacancies to be left unfilled.
Napa responded to the abrupt economic slowdown triggered by COVID-19 by passing a budget in June that projected $87 million of revenue against $90.6 million in expenditures, with $3.6 million of emergency reserves to plug the gap — a sharp drop-off from the pre-pandemic forecast of $104.7 million revenue and spending of $103.3 million. Hiring was frozen for 31 vacancies, including 11 jobs at Napa Police and 10 in the Public Works division.
The city shelved more draconian measures suggested during the spring, such as a split of the Parks and Recreation department between two other agencies, Public Works and Community Development, that drew criticism from staff and residents. The city also paused discussions of layoffs with staff bargaining bodies, and city manager Potter affirmed in his Monday letter that Napa would not seek employee concessions through the end of the fiscal year in June 2021, barring "additional unplanned decreases of revenue from our budget."
Napa had been laying out plans for its new city and police headquarters since 2017, when it joined forces with Plenary to build new downtown facilities, bypassing a competing proposal to shift city offices a mile west to Soscol Avenue. The project was intended to gather together department currently scattered across multiple sites, while also replacing a police building that was damaged in the 2014 earthquake.
Early proposals focused on uniting law-enforcement and civilian functions in a single four-story building, but Napa leaders eventually changed their plans after complaints from residents about a lack of public input and from public safety workers concerned about combining police and civilian functions into a single hub.
By the fall of 2019, the City Council focused on two possible layouts on and around the downtown block at School, First and Second streets where the current City Hall and police station are located. The council's eventual choice was a plan that included building a new city hall and police hub, but also replacing the downtown Napa Fire station rather than renovating it.



Watch Now: U.S. hits record number of coronavirus hospitalizations
Photos: Faces and Places, Nov. 8(tncms-asset)68b08a14-1e1a-11eb-8776-00163ec2aa77[3](/tncms-asset)