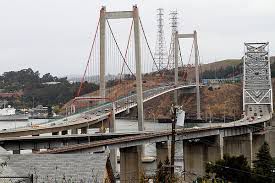 Napa County's transportation agency is supporting a Bay Area toll hike ballot measure that would bring millions of dollars for local roads and mass transit projects, with a lone voice of caution.
The Napa Valley Transportation Authority Board of Directors last week endorsed Regional Measure 3. Voters in the nine Bay Area counties – including Napa County – will decide on the June 5 ballot whether to increase tolls on seven state-owned bridges by $3 in three phases by 2025.
However, Boardmember and Napa City Councilwoman Doris Gentry can relate to citizens who see pros and cons to Regional Measure 3. She revealed Monday that what appeared to be her "yes" vote in favor of the agency's endorsement in her own mind wasn't a vote at all.
The NVTA Board of Directors' "yes" vote was done verbally. But Gentry said her voice wasn't among the blend loudly saying "yes." Nor did she say "no."
"In reality, I said nothing," Gentry said.
Her mixed views on Regional Measure 3 were on display during the March 21 NVTA presentation and discussion of the ballot measure.
"Really, the toll is a tax," Gentry told her colleagues. "It's another tax on the backs of the hard-working citizens of the community."
NVTA Executive Director Kate Miller instead called the toll "a users' fee."
Napa County would receive $20 million from the toll increases for south county Highway 29 projects. Money could go toward such things as improving the congested Highway 29 and Highway 221 intersection and making the highway easier to bike and walk in American Canyon.
The NVTA could compete for still more money. Regional Measure 3 would set aside $100 million for North Bay transit projects that could go to local park-and-ride lots and express bus service.
The measure also sets aside $150 million for the San Francisco Bay Trail and for Bay Area pedestrian and bike links to mass transit stops, with a trail connection along Imola Avenue a possibility.
"From a Napa County perspective, Napa County does very well, including our cities and towns," NVTA Boardmember and county Supervisor Alfredo Pedroza said.
NVTA officials also see Regional Measure 3 projects outside of county borders as helping local commuters and drivers. They point to $500 million set aside for new BART cars, $100 million for Highway 37, $150 million for improving the Interstate 80/Interstate 680/Highway 12 interchange in Fairfield and $300 million for ferry improvements, including the Vallejo ferry.
Still, Gentry after hearing the NVTA staff presentation had doubts.
"I have to wrestle with this in my brain, because I don't support taxing people and putting more money in government's pockets at the expense of our hardest working people," Gentry said at last week's meeting.
Her mixed feelings persist. Regional Measure 3 would bring money that might not otherwise be available for important road work, she said Monday.
"In essence, that is the whole Bay Area paying for work we need done in Napa County," Gentry said.
And yet, there are those toll increases on the Carquinez, Benicia-Martinez, Antioch, San Francisco-Oakland Bay, San Mateo-Haywood, Richmond-San Rafael and Dumbarton bridges. The typical toll would rise from $5 to $6 in 2019, to $7 in 2022 and to $8 in 2025. The Golden Gate Bridge is not included.
Gentry said the higher tolls would burden the people who can least afford it.
The toll hikes would raise money for a $4.5 billion expenditure plan. Among the biggest-ticket items are $375 million for the second phase of BART to San Jose, $325 million for the Caltrain extension to downtown San Francisco, $300 million for freeway express lanes, $210 million for the Interstate 680 and Highway 4 interchange in Contra Costa County and $210 million for Richmond-San Rafael Bridge access improvements.
Napa County residents are responsible for 2 percent of the toll revenue at the Bay Area's state-owned bridges. The leaders are Alameda County at 31 percent, Contra Costa County at 18 percent and Solano County at 14 percent, according to the Metropolitan Transportation Commission.
Napa County also has 2 percent of the Bay Area voters who will be asked to decide the toll increase.
Get local news delivered to your inbox!
Subscribe to our Daily Headlines newsletter.