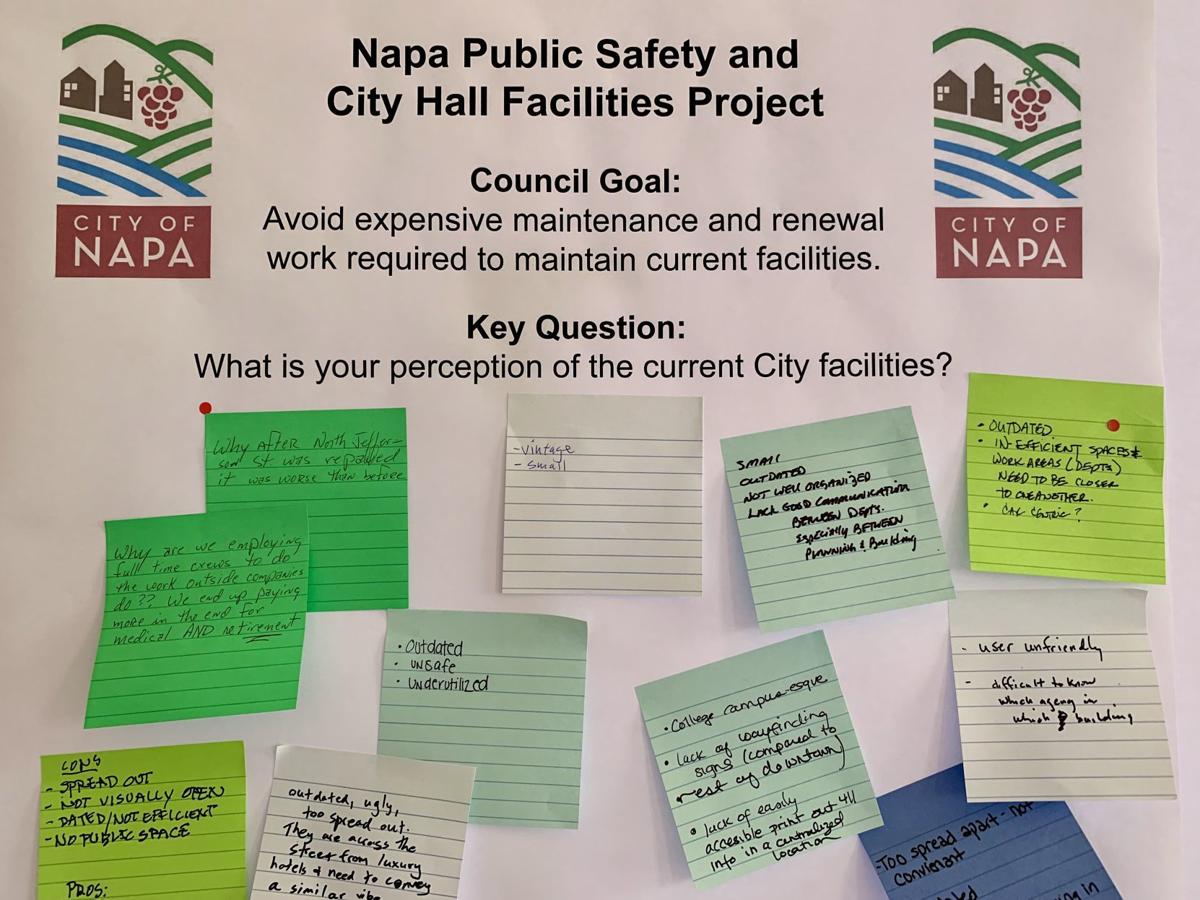 Before the plowing of backhoes or the pouring of concrete, Napa's future city hall and police station began taking shape on Thursday – in the form of signboards, stickers and suggestions.
Visitors at a city-sponsored open house used colored adhesive dots to mark a grid of priorities for a new Napa headquarters: sharp design, easy navigation or energy efficiency. Three-by-five-inch memos affixed to another placard bore the writers' criticisms of existing city offices: cramped, outmoded, scattered confusingly across town.
Over two hours, visitors covered still other signs inside the Napa Women's Club with their requests for new public buildings – more open space, the ability to get basic information without waiting for a clerk, and the ability to get things done at one location.
Through public forums, surveys and online updates, Napa will gather residents' opinions with the goal of presenting a slate of plans and locations to replace decades-old and antiquated city and law-enforcement offices on Second Street. The City Council is expected to study the alternatives this fall.
"I'm hoping people will get a better understanding than before of the need," said Nancy Weiss, Napa's manager for the project approved by the City Council two years ago.
Thursday's sedate, low-key gathering marked the beginning of a campaign to draw Napans deeper into the process of replacing undersized offices that have sprawled beyond the 68-year-old City Hall to seven locations, and a police headquarters that has fallen behind modern safety and earthquake resistance standards. It also represented a first step toward avoiding what critics had called an aloof, unresponsive planning process that had led to a combination four-story city and police headquarters – branded as a "civic center" on downtown First Street – dogged by cost estimates that rose from $110 million to more than $143 million.
Council members in March effectively restarted the planning process, agreeing to look into other alternatives that could be built on different sites or split law-enforcement and civilian hubs into separate buildings. The city then announced a series of community meetings to gather residents' opinions on how new city facilities should function, and also has launched an online outreach – part of a campaign officials have relabeled the Napa Public Safety and City Hall Facilities Project.
Among the Napans weighing in with paper and pen at Thursday's forum was Elizabeth McKinne, an Old Town resident who hoped the city would use its new central hub to set a sustainability example for other downtown buildings. On one sticky note she wrote "Beyond LEED" and "zero net energy" – calling on designers to exceed the "green" building standards of Leadership in Energy and Environmental Design, and create offices that would generate as much energy as they consume.
Moreover, McKinne added, Napa should avoid combining its public safety headquarters with the rest of city government – as the earlier civic center design proposed – given the risk of future disasters threatening many city services at once.
"I don't think it's smart in this day and age to have the entire government in one place, between the natural disasters and the security risks," she said, referring to the 2014 earthquake and the 2017 wildfires. "We have to learn from these things and be smart about it, be proactive about it."
Another visitor, Maria Pavlou, was as curious about fellow townsfolks' views as she was about the shape of the project itself. "I wanted to see what plans they had in mind, see what kinds of opinions are out there," said Pavlou, who works for a digital marketing company downtown.
While supporting a more centralized and energy-thrifty Napa hub, Pavlou added a fresh look also is in order. "I work across from a lot of the city buildings and they're ugly," she said. "I think we can do better."
A public meeting on the City Hall and police station project is scheduled for July 23, with forums also planned in September and October, according to project manager Weiss. Meanwhile, city staff working with project consultant The Plenary Group will develop a list of options with pros, cons and cost estimates, in hopes of nailing down a specific plan by year's end.
Get local news delivered to your inbox!
Subscribe to our Daily Headlines newsletter.