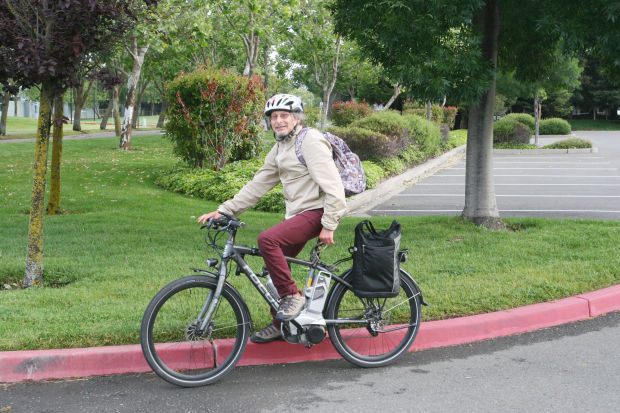 The elderly woman who killed well-known Napa County cyclist Paul Schapiro with her vehicle last year was sentenced to three years of probation in Napa County Superior Court on Wednesday. Her driving privileges were ordered permanently revoked.
Patricia Ann Hill, 77, of Vallejo pleaded no contest to hit and run with injury or death and vehicular manslaughter without gross negligence, both misdemeanors, last month. She had originally been charged with felony leaving the scene of an accident and misdemeanor vehicular manslaughter.
Hill was arrested June 3, 2016 after drifting onto the shoulder and striking Schapiro with her 2009 Honda CR-V while travelling south on Highway 29 north of Airport Boulevard, according to California Highway Patrol. Hill, who had left the scene, was stopped just down the road by Napa County Sheriff's deputies and transported to Sutter Solano Medical Center in Vallejo.
Schapiro, 58, was pronounced dead at the scene.
Schapiro, a former Napa County Bicycle Commuter of the Year, was recognized in 2014 for being a devoted bicyclist who commuted 6.5 miles daily from his home in American Canyon to his job in south Napa.
Although her sentencing was scheduled for Friday, it was moved to Wednesday in an advanced hearing before Judge Elia Ortiz. Schapiro's family supplied two victim impact statements to the court.
"This was a catastrophe for my family," said Schapiro's brother, Michael Schapiro. "Paul will never again be here to watch and enjoy as the wonderful uncle to my children and grandchildren as they cross each milestone."
He requested that the court order Hill pay restitution to the California Bicycle Coalition.
"We want Patricia Hill to always remember what she has done," Michael Schapiro said.
"Finding out that this woman killed my uncle and then fled the scene was devastating to me and my family," wrote Schapiro's niece, Alissa Gargano. "I feel that Patricia Hill has shown no sorrow as to what her actions have done."