The latest work from a seminal writer on Napa Valley is out, hitting the shelves everywhere and striking a nerve here.
Released this week, James Conaway's third book on the Napa wine region, "Napa at Last Light: America's Eden in an Age of Calamity," marks the author's latest update on the area's social history, which he has tracked in two previous books over as many decades.
Those books — the bestselling "Napa: The Story of an American Eden," published in 1990, and its 2002 sequel "The Far Side of Eden" — each told of the shifting shape of Napa Valley at the time and cemented Conaway as a leading chronicler of the region and its vintner denizens who grew the valley into the wine epicenter and destination it is today.
Taking center stage in the latest installment are those who hope to check Napa's continued development by its iconic industry, driving what Conaway considers to be a new wine country zeitgeist.
"Napa at Last Light" offers an account of a valley increasingly divided, with proponents of development pitted against those bent on preserving an agrarian ideal of Napa that may already be beyond safeguarding.
As Conaway writes, with wine industry development spreading across the county largely unabated, a blend of homegrown citizen groups, as well as conservation-minded winemakers and grape growers, have risen to limit the industry's advances.
Speaking by phone Tuesday morning, the day of the book's release, Conaway noted his return to the area several years ago to find that "the citizenry had finally sort of woken up, in a good way."
That waking is recounted from one chapter of growth struggles to the next, with Conaway relaying his witness to an "anti-corporate reaction among the populous" in Napa Valley today.
"I thought, well, maybe somebody really is going to try to put a lid on this and we'll just have Napa as it is now. It's already successful, world-renowned and it still has some of its original character. Why not try to hang on to that and stop this move to ever increase acreage for vines and wineries?"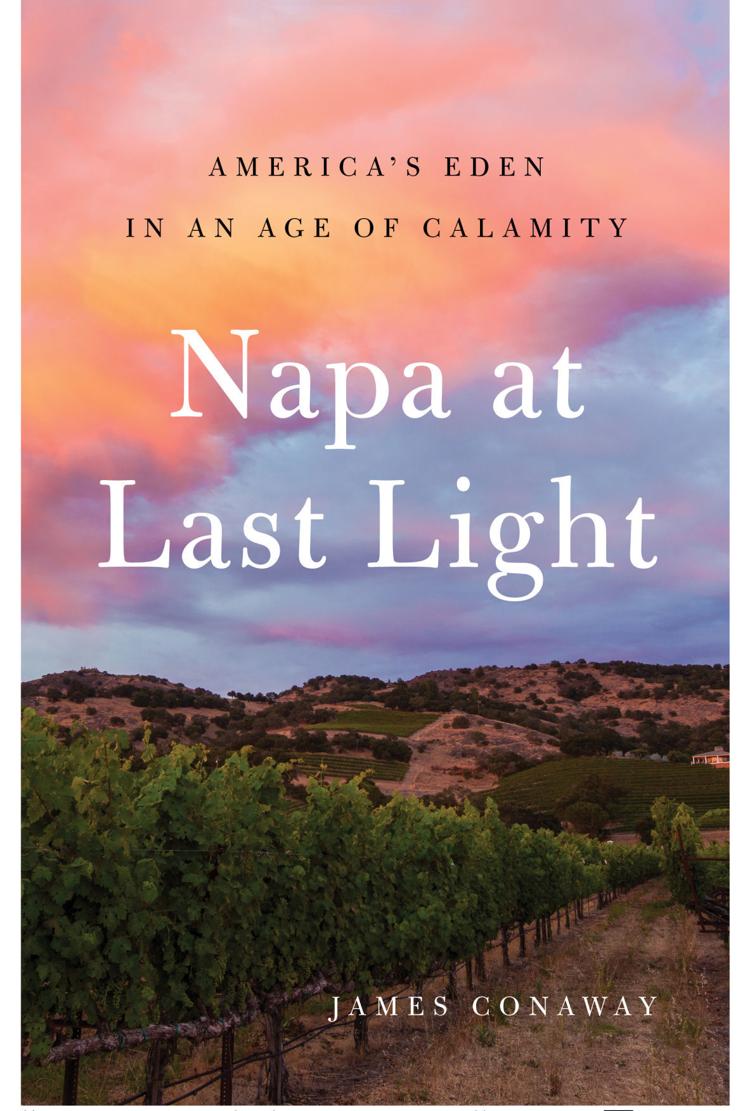 With the book's release, that perspective has drawn considerable ire from more than a few individuals and groups within the Napa wine industry that feature prominently in its pages.
Looming large among the development battles detailed in the book and still ongoing today is the controversial Walt Ranch vineyard project, spearheaded by Kathryn and Craig Hall of HALL Wines. The project would see more than 200 acres of vineyard go in among the hills of eastern Napa, and was approved by the county in 2016 amid strong opposition from neighbors. Following lawsuits from opponents, the project's future is currently being decided in court.
Having read Conaway's account of the struggle in his book, the Halls offered a statement this week, claiming the work to be "inaccurate in many respects," though they did not elaborate. The Halls declined to participate or be interviewed by Conaway for the book.
"We have always championed the well-being of our community and we try to put this philosophy into action every day …. More broadly, we believe the Napa wine industry continues to be the national and international model for agricultural and environmental stewardship, and we are proud to be a part of this community," they said in their release.
Other noted clashes include those between the activists of Citizens' Voice and the Davies family of Schramsberg Vineyards over construction of the Davies Vineyards tasting room in St. Helena, and the fight between vintner Mike Davis, of Davis Family Estates, and a mix of vintners and citizens over Davis' plans to develop a vineyard on Howell Mountain near the Dunn-Wildlake Ranch Preserve.
Perhaps the book's most significant showdown, and one poised to alter the course of modern Napa Valley, is centered on the Watershed and Oak Woodland Protection Initiative. Created by Napa residents and members of the wine industry, the initiative would sharply curb vineyard development in Napa's hillsides. Last month it was added to the June 5 ballot as Measure C for Napa voters to have the final word on.
Proponents of the measure include citizens' groups like Napa Vision 2050, as well as wine industry members like Andy Beckstoffer and Randy Dunn, each of whom appear at length in "Napa at Last Light" – Dunn in the creation of the Wildlake Preserve and Beckstoffer in an effort to curtail development by Raymond Vineyards in St. Helena.
Authors of the initiative and Napa Vision 2050 leaders Jim Wilson and Mike Hackett each declined to comment on Conaway's account of their efforts, as they had not read the book as of this week.
Meanwhile, response from leadership groups of both the county and the wine industry, including the county Board of Supervisors, the Napa Valley Vintners, the Napa Valley Grapegrowers and the Napa County Farm Bureau, has been largely negative, as Conaway paints each organization as being aligned with development interests and seeking to impede the oak woodlands initiative.
Though he noted the groups' significant roles in establishing the county's Winery Definition Ordinance in the 1980s, a focus of his first book, Conaway asserted that in the case of the current initiative, the groups appear to have changed course.
"And now, because the memberships themselves have become dominated in some cases by the big money in the county," Conaway said this week, "they have in this particular fight, to my mind, diverged from what they used to represent."
The Napa Valley Grapegrowers declined to comment for this article, while the Napa Valley Vintners discredited the book in a statement, positing that Conaway's "highly embellished tales about Napa Valley, while entertaining, are not accurate accounts of real events."
Members of the Napa County Farm Bureau had not yet read the book, policy director Ryan Klobas wrote in an email this week. However, he urged that "readers shouldn't mistake the historical agricultural protections such as the Napa Ag Preserve with the desire by some, such as the proponents of Measure C, to limit vineyard development while allowing for hard-scape construction of housing, wineries, and other structures in the hillsides."
As for the Board of Supervisors, referred to in the book as "the recognized graveyard of conservation dreams," former chair Alfredo Pedroza refuted Conaway's portrayal of him and the board in a phone interview this week.
"I think Mr. Conaway chose to rather focus on his own predetermined story that he wanted to write and what came out I think was a product that was more fiction rather than fact," Pedroza said, adding "a lot of the claims that he makes about the county's involvement in the oak woodland initiative were not true, my involvement in the oak woodland initiative, were not true."
Conaway denied having a preset narrative in mind when approaching the project.
"I did not have an agenda when I wrote this book," he said. "People say I had or have an agenda; that isn't true. I reported what was going on from the community's point of view for a change, instead of from the wineries' point of view. And they're very unhappy about it."
Vintner David Graves, a co-founder of Saintsbury winery, noted several of what he called factual errors in the book, including a mention of geographical origin rules, a conflation of referendums and initiatives and an incorrectly identified chair of the General Plan Steering Committee, among others.
Graves, who stressed he is now neither a supporter nor an opponent of the oak woodlands initiative, said his critique was not based on Conaway's support of the initiative.
Conaway said that he did not recognize some of Graves' references to errors in the book. "There are mistakes in any book that has as much stuff in it as this one does," he offered, and noted that some mistakes had already been corrected in the electronic edition of the book and would be corrected in the next print edition.
After the strong response to the book, Conaway said he is unsure whether this will be his last chronicle of Napa Valley. Per the prospect of another book, he said, "Six weeks ago I would have said 'no.' But something is being revealed here, with the reaction to this book that I hadn't expected. And who knows? There are a million stories in the naked vineyard."
As for struggles lying before Napa in the near and distant future, Conaway offered a final thought.
"There's never been a civilization really – or a rural setting that was near a city or a huge community — that was able to resist the spread of real estate development and other sorts of development, to take it over and change it into something that is no longer rural," he said. "Napa still has a chance to do that."
"The only thing that Napa can do – I hate to say, but it's a kind of un-American thing – Napa could say 'no.'"